Struggling to loosen lug nuts on your vehicle's wheel? It's a common issue that can lead to unnecessary stress.
Our comprehensive guide demystifies the process. Learn the right techniques and tools for effortless lug nut removal. Say goodbye to your wheel woes today.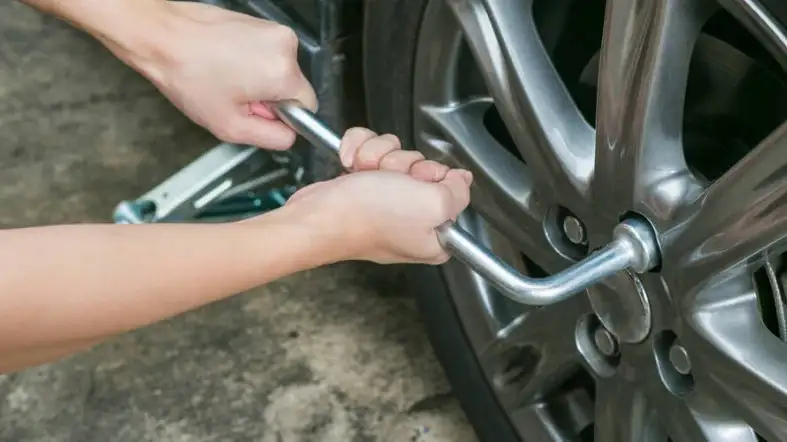 Which Way Loosens Lug Nuts?
To loosen lug nuts, turn them counterclockwise. This is often remembered by the phrase "lefty loosey, righty tighty." Always use a lug wrench or an appropriate tool and apply steady force to avoid stripping the threads.
Steps for Loosening Lug Nuts
Here are the step-by-step instructions to loosen lug nuts: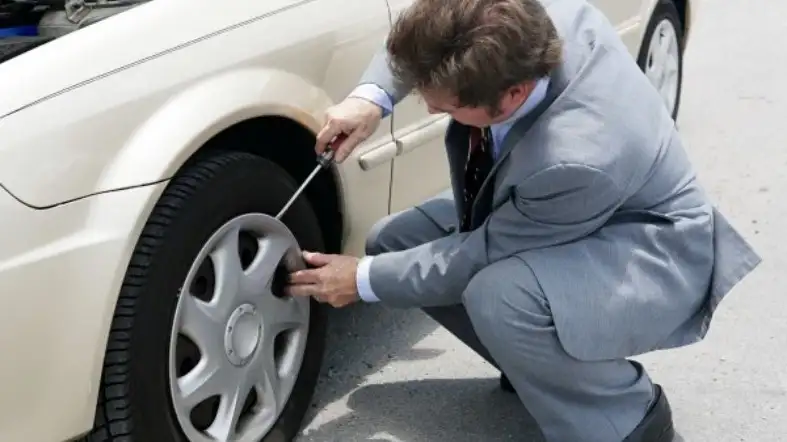 Identify the Lug Nuts
Start by locating the lug nuts on your car's wheel. These look like big metal caps. They hold your tire onto the wheel.
Make sure you identify all of them. Some wheels have four lug nuts. Others might have five or six.
Select The Correct Lug Wrench
You'll need the right tool to do the job. Pick a lug wrench that fits your lug nuts snugly. Wrenches come in different sizes.
If you use the wrong size, you might damage the lug nuts. Always double-check to make sure it's the right fit.
Align The Wrench Properly
Place the lug wrench onto a lug nut. Make sure it fits well. Alignment is crucial here. The wrench should be parallel to the ground.
This helps you apply force more effectively. A wrong angle can slip and cause injury.
Pre-Treatment of Stuck Nuts
Sometimes lug nuts get stuck. They won't budge. This often happens due to rust.
If you find a stuck nut, spray it with a penetrating oil. Let the oil sit for at least 10 minutes. This helps to break down the rust.
Initial Loosening
After treating stuck nuts or if none are stuck, start loosening. Apply a steady force on the lug wrench. Turn the wrench counter-clockwise.
Do this until you feel the lug nut begin to loosen. Do not remove it completely yet.
Applying Adequate Force
A gentle force won't always work. Sometimes you'll need more power. Use both hands to grip the lug wrench.
Your arms should be straight. Push down with your full body weight. This helps to apply more force.
Leveraging Torque
Torque is a fancy word for turning power. You can increase your torque. Use a breaker bar. Attach it to your lug wrench.
This makes the handle longer. A longer handle makes it easier to turn hard-to-move lug nuts.
Nut Rotation and Release
Once the lug nut starts to turn, keep going. Turn it counter-clockwise until it comes off. Use your fingers for the last few turns.
This helps to ensure you don't drop the lug nut. Store it in a safe place. Remember, this guide is about loosening lug nuts. Keep all the lug nuts in a safe spot.
You will need them again when putting the wheel back on.
Factors Influencing the Lug Nut Loosening Process
There are several factors that can influence the lug nut loosening process, including: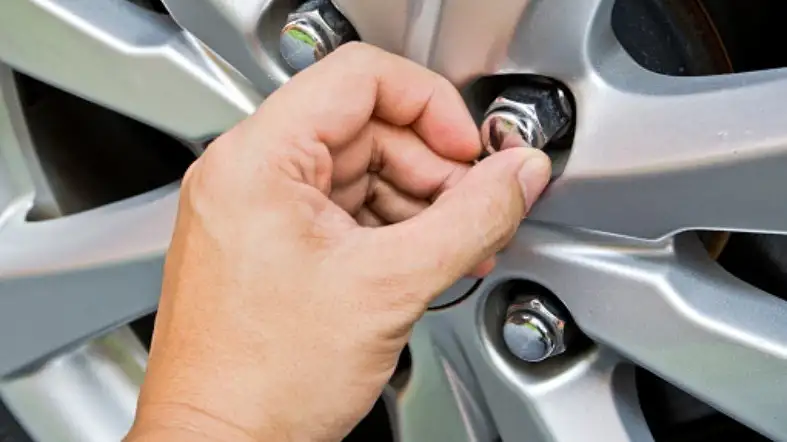 Material Quality
First up is the material quality of the lug nuts. If they're made of poor stuff, they're more likely to loosen. Imagine building a tower with weak blocks; it'll collapse sooner or later!
According to a study, high-quality lug nuts are made of strong metals like steel or titanium. These metals can handle a lot of stress and stay in place for a long time.
Installation Techniques
Next, let's talk about how these lug nuts are put on. Imagine trying to tie your shoelaces in a hurry. They'll come undone, right? The same goes for lug nuts.
Mechanics use special tools to attach them, and if they're not careful, the nuts might not hold well. Data shows that using a torque wrench, a special tool for tightening can make a huge difference in keeping those lug nuts secure.
Torque Specifications
Speaking of torque, every vehicle has its own "recipe" for how tight lug nuts should be. Think of it like baking cookies; if you don't follow the recipe, they might not turn out right!
Mechanics refer to guidelines to make sure they're tightening lug nuts just enough, but not too much. If they ignore this, the lug nuts might get too tight and break or too loose and fall off!
Temperature Fluctuations
Ever notice how a balloon shrinks when it's cold and expands when it's hot? Lug nuts behave similarly.
When it's hot outside, the metal expands, and when it's cold, it contracts. This can cause the lug nuts to loosen over time. That's why it's super important to check them in both summer and winter.
Environmental Conditions
Think about going to the beach. Sand gets everywhere, right? Well, dirt, sand, and even water can get into the lug nuts and make them loose.
Plus, road salt in the winter can speed up rust, making the lug nuts even weaker. Studies show that cleaner environments help lug nuts last longer.
Maintenance And Rust
Last but not least, taking care of your lug nuts is key. Imagine never brushing your teeth; they'd get pretty gross, right?
Rust can build up on lug nuts if they're not checked and cleaned regularly. In fact, about 20% of wheel-related problems come from poor maintenance!
Common Mistakes When Loosening Lug Nuts
There are several common mistakes that people make when loosening lug nuts, including: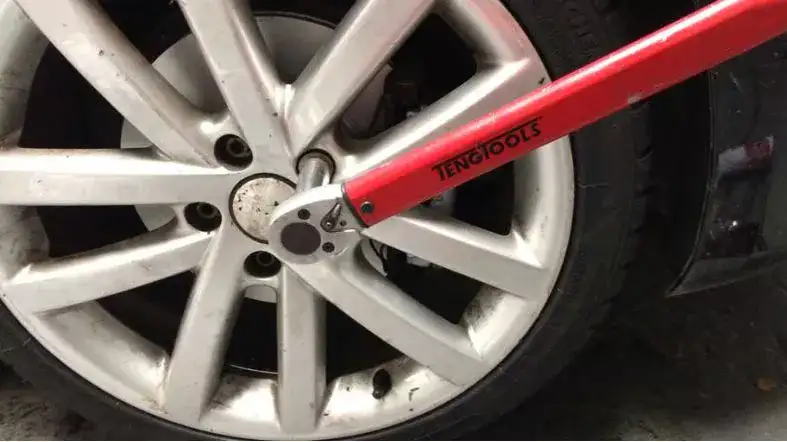 Using The Wrong Size Socket Or Wrench
When loosening lug nuts, the first common mistake to avoid is using the wrong size socket or wrench.
Your vehicle's lug nuts have a specific size, typically measured in millimeters. Using the incorrect size can damage the lug nuts or the wrench itself.
To prevent this, always check your vehicle's manual or the lug nut size chart and ensure you have the right tool for the job.
Over-Torquing
Over-torquing is a significant blunder when dealing with lug nuts. Over-torquing means tightening the lug nuts too much, which can lead to excessive pressure on the wheel, causing damage.
To avoid this mistake, use a torque wrench set to the manufacturer's recommended torque specification. This ensures proper tightening without overdoing it.
Uneven Loosening Sequence
One mistake often made is an uneven loosening sequence. Lug nuts should be loosened in a specific order, typically in a star or cross pattern.
Loosening them randomly can put uneven stress on the wheel, potentially leading to warping or damage.
Always follow the vehicle's manual or the manufacturer's guidelines for the correct loosening sequence.
Ignoring Manufacturer Guidelines
Neglecting the manufacturer guidelines is another common mistake.
Each vehicle may have unique requirements for lug nut maintenance. Ignoring these guidelines can result in improperly torqued lug nuts, leading to safety hazards.
Be sure to read and adhere to the manufacturer's recommendations for lug nut maintenance.
Inadequate Safety Measures
Lastly, neglecting adequate safety measures is a grave mistake. When loosening lug nuts, always prioritize safety.
Use jack stands to secure the vehicle, wear appropriate safety gear like gloves and safety glasses, and never work under a car solely supported by a jack.
Failing to take these safety precautions can result in accidents and injuries.
Tips for Safe and Effective Lug Nut Loosening
Correct Tools
Start by picking the right tools for the job. Socket wrenches work well. Choose one that fits snugly over the lug nuts.
A wrench that's too big or too small is a no-go. You'll risk damaging the lug nut. This is crucial for a safe and efficient process.
Always double-check the size of your wrench. Test it on a lug nut to make sure it fits before starting the real work.
Safety Gear
Safety is not a joke. Always wear gloves to protect your hands. You also need safety glasses to shield your eyes.
Small pieces of dirt and rust can fly off. They can hurt your eyes if you're not careful.
Make sure the gloves are tight-fitting but not too snug. Your safety gear must be in good condition. Examine them before each use.
Proper Positioning
Stance and position matter a lot. Stand with your feet shoulder-width apart. Hold the wrench at its end for better leverage.
This helps you apply force more effectively. Your arms should be straight but not stiff. The car should be on a level surface.
Make sure the parking brake is engaged. This prevents any accidental movements.
Use of Breaker Bars
A breaker bar is a longer handle for your socket wrench. It adds extra leverage. This makes it easier to loosen tough lug nuts.
Slide the breaker bar onto the socket wrench. Hold it near the end for maximum power. Apply a steady and even force. Don't jerk the bar.
You want to avoid damaging the lug nut or hurting yourself.
Application of Lubricants
Lubricants can make the job easier. They reduce friction between the wrench and the lug nut.
Use a spray lubricant like WD-40. Spray a small amount directly onto the lug nut. Let it sit for a few minutes.
This helps to break down any rust or dirt. Wipe off any excess lubricant before you begin.
Torque Specifications
Torque is the force you apply to turn the lug nuts. Each car has its own torque specs.
Follow the guidelines in your car's manual. Using too much force can strip the threads. Too little force and the lug nuts might come loose.
Always refer to your manual for the right amount of torque to apply.
Avoiding Stripped Threads
Stripped threads can ruin your lug nuts and bolts. They make it difficult to tighten or loosen the lug nut.
Always turn the wrench slowly and steadily. Rushing can cause the threads to strip. Be aware of how much force you're applying.
If it feels like too much, stop and reassess. Always keep your movements smooth. Avoid quick jerks or twists.
By following these tips, you'll become an expert at safe and effective lug nut loosening. Always put safety first and use the right tools for the job.
FAQs about loosening lug nuts
Can I use a regular wrench to loosen lug nuts?
No, it's not recommended to use a regular wrench as it may not provide enough leverage. It's best to use a lug wrench or a socket wrench designed for lug nuts.
Is it safe to heat lug nuts to loosen them?
Yes, heating lug nuts can help expand them and make them easier to loosen. However, use caution and follow safety guidelines when applying heat.
Are breaker bars necessary for loosening lug nuts?
No, breaker bars are not necessary, but they can make the process easier, especially for stubborn lug nuts.
Do I need to apply lubricants to all lug nuts before loosening them?
No, you only need to apply lubricant to stuck or rusted lug nuts. Lubricants help reduce friction and make loosening easier.
Does the torque specification vary for different vehicles?
Yes, the torque specification for lug nuts can vary between different vehicle makes and models.
Is it important to follow a specific sequence when loosening lug nuts?
Yes, it's important to follow a specific sequence, often in a star or cross pattern, to avoid putting uneven stress on the wheel.
Final Thoughts
In conclusion, when dealing with the task of loosening lug nuts, it's crucial to approach it with the right techniques and tools.
Remember the simple rule: turn counterclockwise, or as we often say, "lefty loosey, righty tighty." This article has walked you through the steps of identifying lug nuts, selecting the correct tools, and applying the right amount of force.
We've also discussed factors that can affect lug nut tightness and common mistakes to avoid.
Safety should always be a priority, so ensure you use proper safety gear, follow the recommended torque specifications, and maintain your lug nuts regularly.
By doing so, you'll not only make the process of loosening lug nuts easier but also contribute to the longevity and safety of your vehicle's wheels.