How To Remove Swollen Lug Nuts?
Every now and then we hear people say the lug nuts in their car have swollen. It is possible for lug nuts to "swell" in your car as well. 
So, you might want to know how to remove swollen lug nuts. Or how to prevent the lug nuts from swelling in the first place.
In this article, we will discuss exactly that. I spent a lot of time putting it all together for you.
Do Lug Nuts Really Swell?
Yes, lug nuts do swell. In fact, it troubles a lot of vehicle owners nowadays very frequently.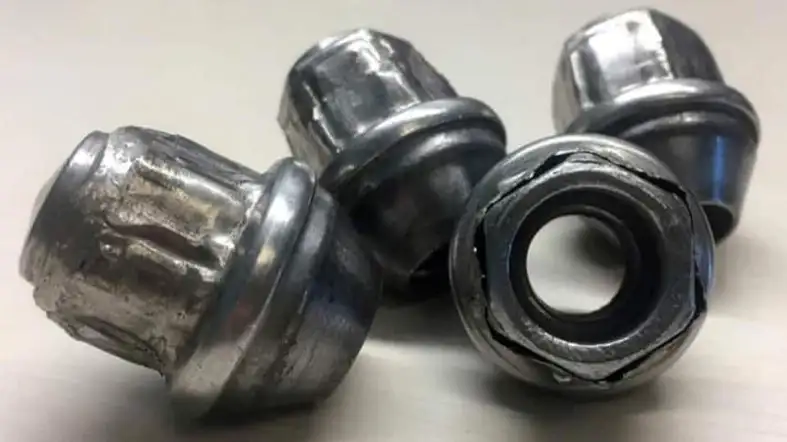 For instance, we hear very often that this swelling problem is costing the ford owners a lot of money and time. Jeeps, 
Like Ford, the problem is also very common in the Dodges, Jeeps, Chryslers, Toyota, etc.
Keep it simple, in the automobile sector, swollen lug nuts have become a typical problem. The swelling severity and frequency might be different base on the specific model or nuts' design.
But it happens here and there.
What Does Swollen Lug Nuts Mean?
If you want to deal with the lug nuts swelling and fix it, you have to know what swollen lug nuts mean in the first place.
Imagine your car's lug nuts car are larger than their usual size and cannot be removed using the standard technique.
This is the problem that we refer to as "swollen lug nuts". Another term for this issue is "bulging lug nuts."
It's difficult to swap out your spare tire because of the problem. When detaching the wheel, the situation renders it challenging for the typical impact socket to fit in properly. 
So, if this happens, you may have to wind up needing the aid of a qualified auto technician. 
Why Do Lug Nuts Swell?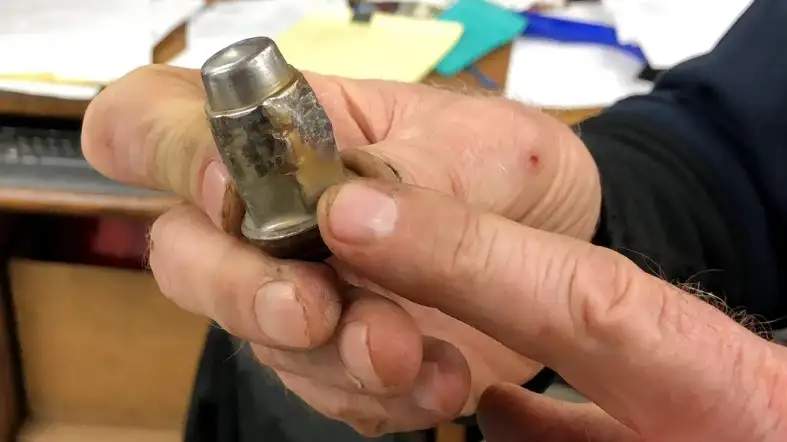 For years, the causes of swollen lug nuts were a mystery. It was hard to figure out the exact cause.
But, today we know exactly what causes the problem, the moisture between the steel lug nut and the ornamental cap.
Cars Have Metallic Lug Nuts:
Metallic lug nuts have become commonplace among automobile manufacturers. 
Shiny lug nuts were presumably a request made by a designer who wanted the automobile to have a more polished appearance. As a result, several automakers began employing them.
The goal is to have an appearance that is more fashionable for current automobiles. It would also ideally encourage more people to purchase their automobiles. 
The lustrous appearance of the lug nuts is the result of a metal beauty cover on the metal nut. Also, this is the reason that contributes mostly to causing the lug nuts to swollen.
Metallic lug nuts cause the swell: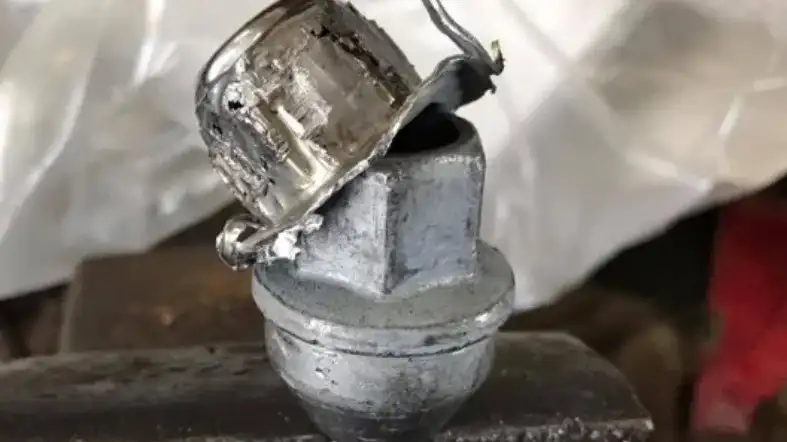 There is a gap between the steel lug nut and the ornamental cap. It allows moisture to get. Put simply, the moisture eventually leads to corrosion and then swollen lug nuts.
Because of the situation, the ornamental cover is forced outward by the corrosion as it accumulates. The two layers begin to separate from one another and become more expansive.
Thus, the lug nut's overall size increases. Due to this, you cannot remove the lug nuts correctly using a standard-sized socket wrench or the lug wrench that came with the car.
What Happens If A Lug Nut Swells?
You may think that there is nothing in a swollen lug nut to think hard about. Actually, there is. It might sound scary, but it can lead to very expensive repairs or anything catastrophic. 
As a result of swelling lug nuts, the right socket for your lug nuts will no longer fit. Imagine you are on a long journey and you have to change your spare tire. The standard socket will not fit in.
What do you do then?
You have to have a costly repair. If you prefer not to change the tire, there could be a catastrophic accident.
If there is no repair shop around, you may have to walk miles and whatnot! You don't even want to think about it.
For some car brands, it is easy to identify swollen lug nuts. Such brands are Chryslers, Ford, Toyotas, Dodges, and a few more.
But it is not easy for the other brands to know easily if the lug nuts have swollen or not.
How Do You Know If The Lug Nuts Are Swollen?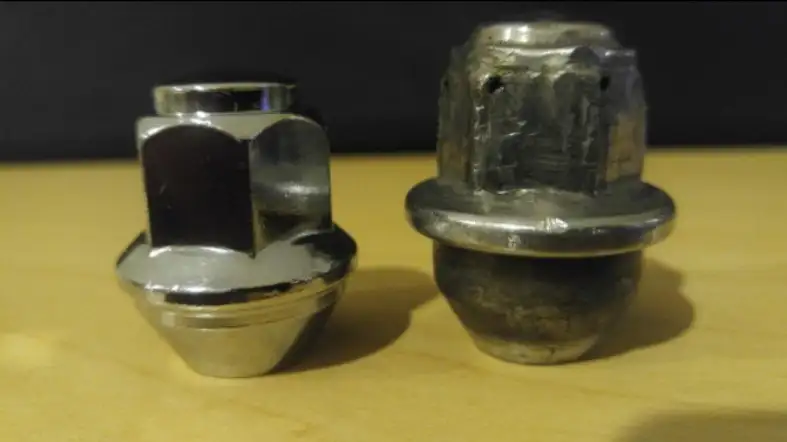 It's possible that you're dealing with swollen lug nuts if you're having difficulty putting a standard socket onto them. 
The sockets that you have used on the nuts previously don't fit now. Or, the factory tire iron (socket wrench) won't fit on them.
In all these situations, there is a huge probability that you have swollen lug nuts.  Now that the lug nuts have swollen, you will need a bigger socket.
This can happen to someone who is attempting to replace their spare tire roadside without being aware of the problem. But you will see the swell with your bare eyes in some models.
So, removing the old lug nuts and replacing them with better-quality ones requires finding the best-fitting bigger socket. 
For instance, if you have a 19mm lug nut on your car, you may need a 20mm socket to remove it. This would depend on the size of the nut. So, you may even need a 19.5 mm or 20.5mm socket as well.
What Cars Have The Most Swollen Lug Nuts?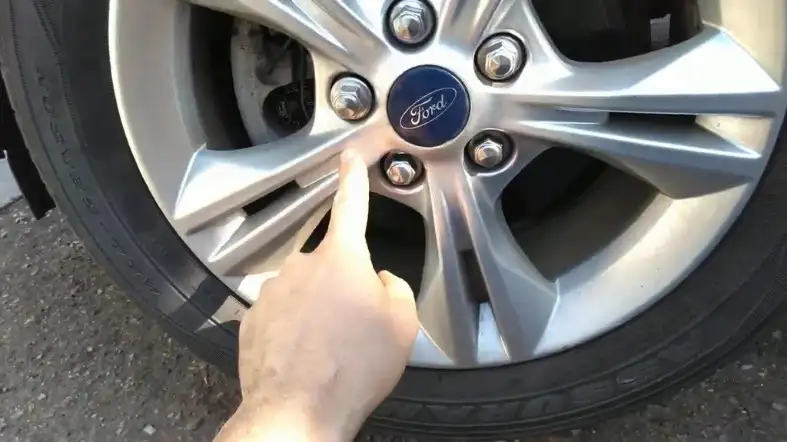 Swelling is a common problem with two-piece lug nuts made of different metals. You already know that Ford vehicles produced between 2010 and 2015 or later are among the worst on the market. 
Most notoriously, Fusion, F-350, Flex, Escape, F-150, etc. may give you more trouble. 
Dodges also have swelling issues with Chargers, Rams, Magnums, Darts, etc. People also have reported swelling issues in Chevy, Jeep, Toyotas, Chrysler, etc.
Put simply, chrome-plated lug nuts became more popular in 2010 or later. And swollen lug nuts are a potential issue for any vehicle that is equipped with such nuts.
How To Fix Swollen Lug Nuts?
As we all know, swollen lug nuts can turn out to be a severe issue. So, it is ideal to take preventive measures if your car or truck has these glossy and "beautiful" lug nuts.
Ideally, the only solution is to maybe look into replacing the lug nuts that have become bloated. You have to remove them eventually. So why not today and prevent catastrophic events from occurring?
Take them off as soon as you can and replace them for ones that are of a higher grade and won't expand.
However, the entire procedure may be stressful and expensive for the customer. The removal methods for the lug nuts will be decided based on the degree of swelling they have experienced.
It is in your best interest to conduct the replacement by a trained expert. It will help you avoid the risk of causing extra damage to the wheel or the lug nut.
Note: Always make the initial contact with the dealership you purchased the vehicle from and inquire about the warranty and recall coverage options for your vehicle.
How To Remove Swollen Lug Nuts?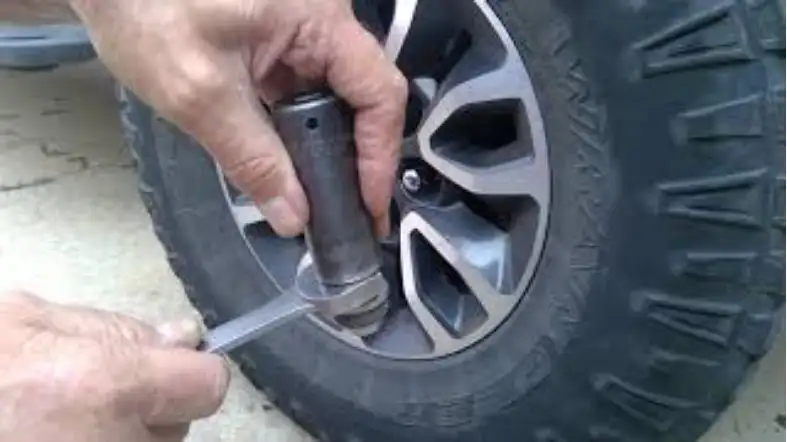 In all honesty, the answer to this question is going to be determined by how swollen your lug nuts are. So, we have to ways to remove the swollen lug nuts. Always try to apply the method first. 
Method 1-Use The Correct Size Socket: 
If your lug nuts have not swollen too much, a right-size socket will do the job. Just pick a larger size socket than before. Then, employ it will a little more force than usual. You can have a hand to do the job. 
To simplify, for your 16mm lug nuts, try using a 16.5mm socket wrench. If it doesn't fit, try employing a bigger wrench than this.
The process is simple. And it will not damage the integrity of the socket. The lug nuts will also be okay. So, it is also the safest option. 
Method 2-use a hammer and impact wrench: 
The swollen lug nuts will be tighter compared to the not-swollen ones. But it can get so tighter that bare hands cannot help it.
So, considering this, the best possible option for you is to utilize a hammer on the correct size socket. Finally, use a breaker bar or impact socket to remove the nut.
Be aware that this will cause serious damage to both the socket and lug nuts. So, you have to sacrifice your socket in this method. 
Note: use the proper socket size, and after removing the lug nuts, replace them right away.
If You Have Heavily Swollen Lug Nuts: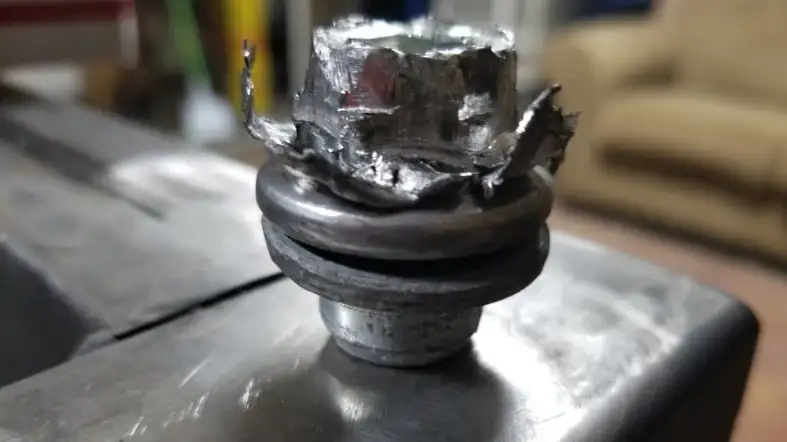 The common size socket will not work here. You can still try using the largest size socket available for the particular lug nuts. 
But the best pair of tools will be both an air-powered or cordless impact wrench and a pair of impact sockets.
They are essential pieces of equipment to have on hand in order to successfully remove the heavily swollen lug nuts.
If you are aware that the lug nuts on your vehicle have expanded in size, a set of metric lug nut sockets will serve you the best.
These are the best impact sockets. They increase in size by 0.5mm rather than 1mm. Removing lug nuts that had expanded over time is the sole purpose of these impact sockets. 
For instance, you should get an 18.5mm and 19.5mm for your Ford 19mm lug nut.
For your Dodges 16″ – 17″ aluminum wheels and chrome-capped 22mm lug nuts, you should have a flip socket of 22mm/22.5mm.
5mm sockets are recommended because they provide a good fit for the lug nuts and can remove them in any condition, including when they are bloated.
If You Have Rounded Off Lug Nuts:
If you have severely rounded off lug nuts, removing them is the hardest job. You may try but simple equipment will not work. You will need a twist socket here.
They perform admirably and are inexpensive. You have to use a hammer like before along with a breaker bar or an impact socket.
It will further damage the already damaged lug nuts. However, they will make it simple and hassle-free to remove the lug nuts.
Pro Tips For Removing Lug Nut:
To get rid of bloated lug nuts, follow these simple steps:
Carefully clean the lug nuts
Make sure to clean all of the corners and crevices using a fine brush.
Use a thick freezer bag to wrap each lug.
Wrap the lug nut around the lug wrench for a secure fit.
Are Swollen Lug Nuts Dangerous?
Yes, they are dangerous in various aspects. A change in the size of the lug nuts causes the wrench to no longer fit.
So, it is more than dangerous if your tire goes flat road size. You would be stuck there as you cannot remove the nuts and wheel. 
Especially, if you are in the countryside, you won't even get any help. No one wants to be in such a situation. 
FAQs about how to remove swollen lug nuts:
Is It Safe To Drive With Swollen Lug Nuts?
It is usually safe until your tire goes flat and you are stuck on a roadside or countryside.
What Is The Best Lug Nut For Replacement?
This depends on the car's brand and model. Contact the manufacturers and get details information on this including insurance or other coverage.
How Often Should You Change Your Lug Nuts?
According to experts, it is best to replace them every 15 years.
Final Words:
Swelling of the lug nuts is common for car owners. So, knowing how to remove swollen lug nuts can save your day. But, if the usual socket doesn't fit, you might want to seek professional help.
Immediately replace the lug nuts that have been damaged with high-quality ones following extraction.