Learn how to prevent engine damage and overheating by cleaning your car's engine block water passages with our comprehensive guide.
Whether you're a DIY enthusiast or simply want to understand the process better, we've got you covered.
Keep your engine running smoothly with our guide on "How to Clean Engine Block Water Passages".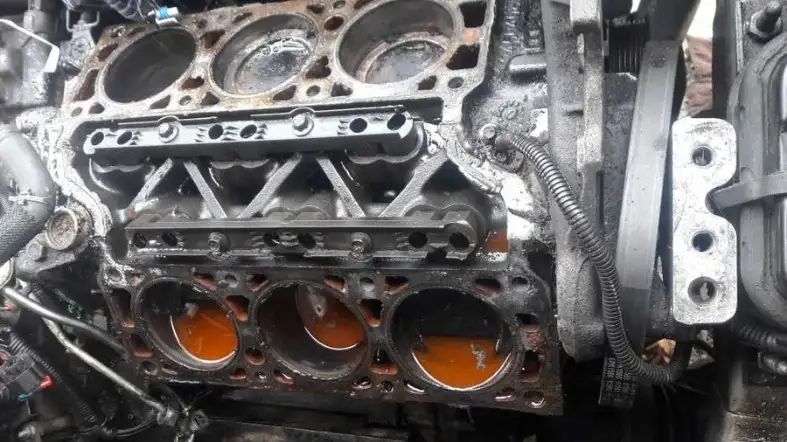 How to Clean Engine Block Water Passages?
To Clean Your Engine Block Water Passages, here are the general steps you should follow:
Drain the Cooling System
First things first, safety is key. Put on your gloves and goggles. Locate your car's radiator drain plug. It's usually at the bottom of the radiator.
Open the plug and let the coolant flow into a bucket. You've just drained the cooling system. This step gets the liquid out so you can clean it better later.
Remove the Thermostat
Find the thermostat housing. It sits at the engine's end of the upper radiator hose. Use a wrench to remove the bolts.
Take off the housing, and you'll see the thermostat. Carefully pull it out. Remember how it looks. You'll need to put it back later.
Accessing Water Passages
You need to access the water passages. Usually, they're under the intake manifold or cylinder head. Unbolt these parts using your wrench.
Keep track of each bolt and where it goes. This helps when it's time to reassemble everything. Lift off the parts. Now, you see the water passages.
Manual Scrubbing
Time for manual scrubbing. Use a handheld scrubbing brush. Pick one that fits into the passages. Scrub away any rust, grime, or mineral buildup.
The cleaner it is, the better your cooling system will work. Make sure to scrub all areas, even corners that are hard to reach.
Flush the System
Grab a hose and some water. It's time to flush the system. Insert the hose into one end of the water passage. Turn the water on.
This pushes out any remaining dirt. Run the water until it comes out clean at the other end. You've just flushed the system.
Use a Cleaning Brush
Sometimes a specialized cleaning brush can help. This brush is long and thin. It helps in cleaning places your regular brush can't reach.
Push the brush through each water passage. Twist and turn it for a thorough clean. You aim to remove any remaining gunk or rust.
Reassemble the Thermostat
Now, it's reassembling time. Place the thermostat back into its seat. Bolt the thermostat housing back on.
Make sure it's snug but not too tight. Double-check every bolt. Everything needs to be in its proper place.
Refill the Cooling System
You're almost done. Bring coolant and a funnel with you. Slowly pour the coolant back into the radiator's resevior. You can use either fresh coolant or the old one that is still good.
Put the cap back on the radiator. Start your car. Wait a while before running it again. This helps circulate the coolant.
Make sure to do proper disposal of old coolant. It can be harmful. Bring it to a recycling center or a local auto shop, where it is accepted.
And there you have it! You have flushed your engine's water ways. Now your cooling system is ready for maximum performance.
Different Methods for Cleaning Engine Block Water Passages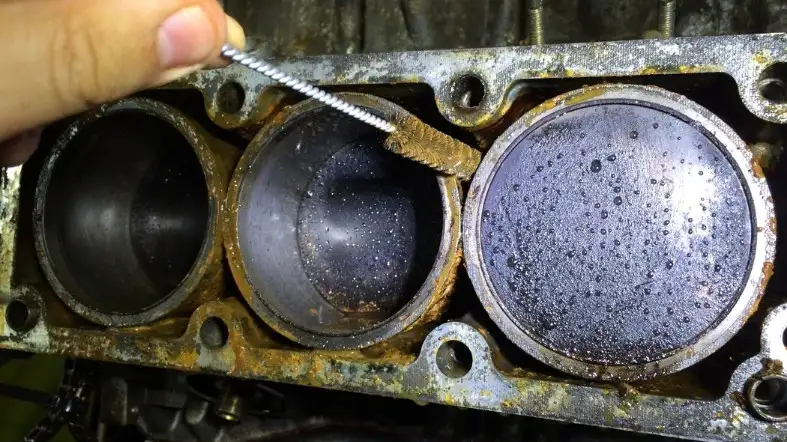 Mechanical Cleaning
In mechanical cleaning, we use manual tools like wire brushes and sandpaper.
First, we start by reaching the water passages of the engine block and use the wire brush to clean off rust and scale from it.
After the initial debris are removed, sandpaper is used to even out the surfaces.
Such technique works best in removal of loosened matter, but may entail an arm's power and a close look to the corners and bends that may still be present.
Chemical Cleaning
Chemical cleaning relies on the application of particular chemicals that disintegrate rust, scale and deposits from the water channels.
In this regard, it is necessary to use the chemical cleaner into the passages that are stated in the product label.
Light scrubbing with a soft brush may be used, as it will facilitate the penetration of the chemicals and degrade the materials.
Lastly, one should flush out the chemicals with clean water to get a clean passage.
High-Pressure Water Jetting
---
The machine used in high-pressure water jetting drives water at high pressure into the water passages. The water force removes scale, rust, and other deposits.
The method is particularly effective for cleaning the complex geometries of the engine block that may otherwise be hard to reach with mechanical or chemical methods.
The nozzle of the high-pressure machine is inserted into the water passages, and the machine is moved back and forth to completely clean the area.
It is an effective cleaning method that needs careful consideration to avoid causing any harm to the engine block.
Factors Affecting Engine Block Water Passage Cleaning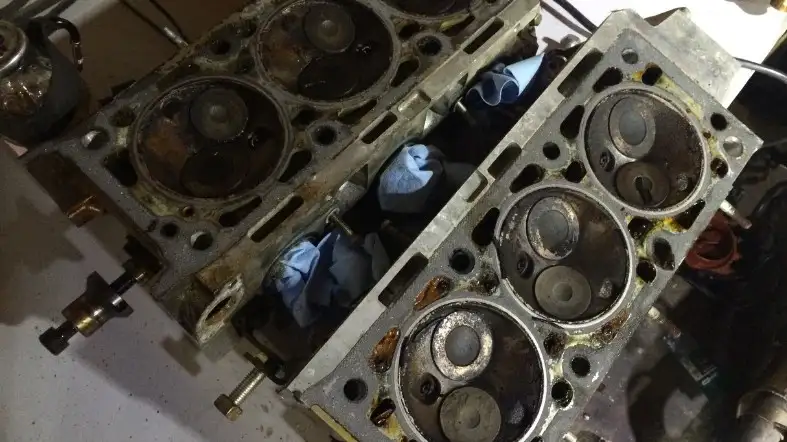 Here are the factors that affect engine block water passage cleaning:
Coolant Quality
The type of coolant you use matters. High-quality coolant prevents rust. It also stops scale buildup.
However low-quality coolant can cause problems. It may lead to corrosion and blockages. Always use a coolant recommended by your car's manufacturer.
Engine Age
Older engines have a higher risk of blockages. Wear and tear take a toll over time. Rust and dirt are more likely to form.
These contaminants can clog water passages. Be extra careful if you have an older vehicle.
Maintenance Frequency
Maintenance Keeps your engine clean. Skipping it can be harmful.
The more poorly maintained the engine, the higher the chances of blockage. Therefore, follow the schedule in your car's manual.
Flush Procedures
How you flush the system also counts. Rushing the process may leave behind residues.
Take your time. Use a flush kit that suits your engine. Follow the manufacturer's guide for best results.
Effectiveness of Cleaning Agents
Not all cleaning agents are equal. Some are strong and effective. Others might be less powerful.
The right one can remove most deposits. Check reviews and ask for expert advice before choosing.
Corrosion Levels
Cleaning can be hard because of corrosion levels. This translates to more work being required.
They are easier to tackle at low levels. Add an anti-corrosion additive. However, it is a preventive stage, not a cure.
Water Quality
The water quality in your area plays a role too. Hard water contains minerals. These can cause scale buildup.
Always use distilled or deionized water if possible. It can make a difference.
Temperature Impact
Temperature changes can cause stress on engine parts. This can lead to cracks.
Cracks can turn into blockages over time. Make sure to warm your engine properly before driving in cold weather.
Water Pump Efficiency
Your water pump helps circulate coolant. A failing pump won't do this well.
This can cause hot spots and eventually lead to blockages. Keep an eye on your pump's performance.
Remember, all these factors interact with each other. Knowing them can help you keep your engine's water passages clean and efficient.
Why is cleaning your engine block water passages Important?
Prevent Overheating
It is essential to clean your engine block water passages to avoid overheating. With time, rust and sludge can gather in these tubes, clogging the way for the coolant.
A restriction of coolant flow means that there could be ineffective temperature regulation in your engine. Your engine could overheat and cause severe damage.
Boost Fuel Efficiency
Cleaning water passages is not only beneficial in immediate terms; it also prolongs engine life.
Overheating may also cause parts of an engine to wear out, leading to expensive repairs or replacements.
The passage was washed with water to lower the danger.
Prolong Engine Life
The cleaning of water passages isn't limited to immediate benefits; it also prolongs the life of the engine.
Engine parts might also wear out because of overheating, causing expensive repair or replacement of the engine.
Cleaning the passage reduces the risk of such damage.
Reduce Harmful Emissions
The reduction of hazardous emissions is another often underestimated benefit of clean water passages.
Engine pollution is reduced if it operates at the right temperature.
This can lead to the emission of more detrimental gases which will eventually increase air pollution and adversely affect the environment.
Enhance Heating and Cooling
The heating and cooling of engines are also improved by properly maintained engine block water passages.
With a clean system, you have assurance that the heating as well as air conditioning in your car will operate efficiently giving you comfortable cabin temperatures always.
FAQs
Can I Clean Engine Block Water Passages Without Removing the Thermostat?
Yes, you can clean engine block water passages without removing the thermostat, but it's more effective to remove it for a thorough cleaning.
Is Chemical Cleaning Safe for Engine Block Water Passages?
Yes, chemical cleaning is safe for engine block water passages when done correctly and following the product instructions. It can effectively break down deposits.
Are High-Pressure Water Jetting Machines Expensive?
High-pressure water jetting machines can vary in cost, but they are generally considered an investment for professional use due to their effectiveness.
Do Corrosion Levels Impact Cleaning Results?
Yes, corrosion levels can significantly impact cleaning results. Higher corrosion levels may require more extensive cleaning efforts.
Does Water Quality Affect Engine Block Cleaning?
Yes, water quality matters. Using distilled or deionized water is recommended for cleaning to avoid mineral deposits in the passages.
Final Thoughts
Finally, keeping the engine block water passages clean plays a very important role in ensuring that the vehicle's cooling systems work effectively.
Failure of proper routine service results in overheating, decreased efficiency, or even destruction of the engine.
In any case, it is necessary to take the coolant quality into account, as well as the age of the engine, the maintenance frequency, and the type of mechanical, chemical, or high-pressure water jetting methods employed.
By keeping these passages clean, you will not only extend the life of your engine, but you will also contribute to low emissions and enhanced vehicle performance.
Never be in two minds as regards this very important job of taking the engine to a professional for a health test.