Is 230 Degrees Too Hot For An Engine?
Overheating has been a concern for car owners since time immemorial.  Usually, some people consider a temperature over 220 degrees Fahrenheit as a matter of concern.
But, what's about 230 degrees Fahrenheit? Is 230 degrees too hot for an engine or is considerable? Well, we will find out now.
Is 230 Degrees Too Hot For An Engine?
No, 230 degrees Fahrenheit is not at all too hot for an engine.  At least, at this temperature, there is no risk of damage. Damage starts to occur when an engine reaches a temperature of more than 230 degrees Fahrenheit. 
What happens at 230 degrees Fahrenheit?
For most vehicles or cars, the Normal running engine temperatures range from 195 to 220 degrees Fahrenheit. But the problem is dashboard temperature indicators typically do not offer an accurate reading. 
So, you will not get the accurate temperature as to if it is going to reach 230 degrees or more. So, you should be aware of it when the temperature is around 220 or a little more. 
But, if the gauge shows 230 degrees Fahrenheit, it is no big deal. In most cases, the reading is wrong, and the temperature is below 230 degrees. 
Even if it is 230 degrees, the car is not yet in the danger. So, you will be just fine at 230 degrees.
Nevertheless, when the temperature crosses 230 degrees Fahrenheit, the engine will start to overheat along with the coolant. There will be a huge probability of damage when it crosses 230 degrees.
When the temperature exceeds 245 degrees Fahrenheit, metal will distort at varying rates as heat rises resulting in variable rates of thermal expansion.
Car May Heat Up Without Overheating: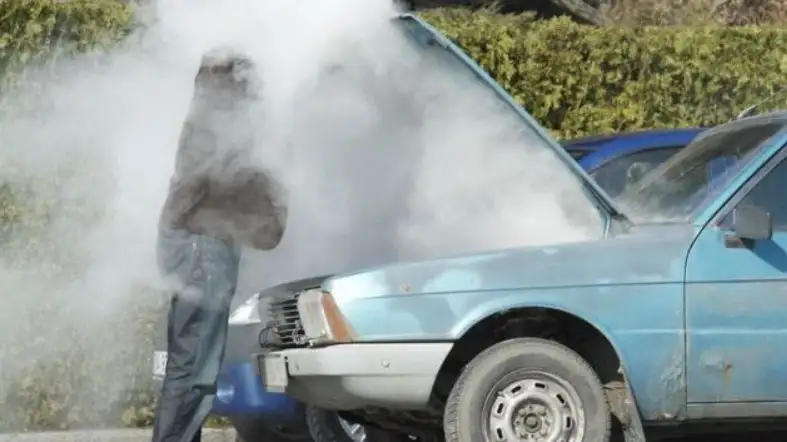 Yes, you have read it right. If you are quite familiar with cars, you might have faced the issue. Sometimes, without any signs, your car may warm up.
You will get busy checking the temperature gauge:
maybe it is more than 230 or even 245 degrees. But the gauge shows the temperature below 200 degrees Fahrenheit. So, what's wrong basically?
There could be a number of factors behind your car warming up without any issues of overheating whatsoever. The amount of coolant in the system is the most significant cause. 
If you have a little knowledge about engine coolant, you would know how significant it is. If it is below the needed level, or you are in harsh condition, your car will just warm up fast. 
Insufficient water pressure due to a faulty thermostat or water pump, even a defective or clogged radiator can be at fault as well.
So, if things happen as discussed, don't panic and check out the probable causes yourself. You better have a mechanic diagnose your car as well.
What Are The Most Common Causes Of Overheating?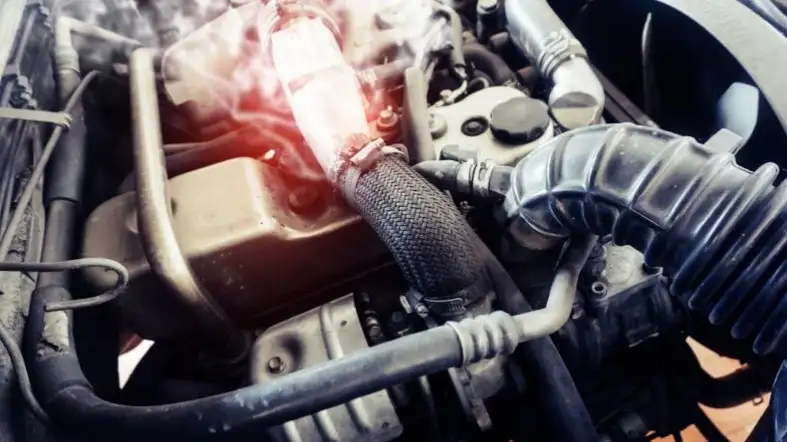 A car cooling system may fail for a wide range of causes, and one will never be able to list them all down. Yet, the most frequent reasons are:
Leaks or serious damage to the cooling system. 
Considerably less amount of coolant in the system.
The amount of antifreeze in the water.
A broken or damaged thermostat.
The thermostat isn't working.
Defective fan for cooling.
Defective thermostat. 
Poor quality cooler.
Having a bad water pump.
Broken or worn pipes.
Straps that aren't tight or broken.
How can I diagnose an overheated engine?
It may be fairly easy for any person to diagnose an overheated engine. If you have been around a vehicle for some time now, get set to diagnose it. Just follow the steps below.
Troubleshoot: Begin with troubleshooting all the overheating material. It doesn't work all the time. But if you are lucky, you may detect the problem with simple troubleshooting.
Step by Step Guide:
Step 1: Find out if the level of coolant is as needed, and the cap on the radiator is tight.
Step 2: The whole system should be free from air. If you notice any air in here, the root problem could be the air!
Step 3: In the cooling system, the fans should be working in their regular course.
Step 4: Make sure the fan motor is working properly. 
Step 5: The hose clamp in the engine may be at fault.
Step 6: Finally, check for any leaks out there.
If nothing works out, you have no other way, but to take your vehicle to any trained mechanic and get it diagnosed.
Deal with an overheated engine:
Although hardly you will face an overheating engine, you should be prepared for it. Or you will hurt the engine completely.
To keep your car's cooling system from getting too hot, it uses a pressurized system that keeps the air moving. In hot weather, the radiator can take in more heat than the air outside.
If the temperature gauge on the dashboard reaches the danger zone, switch on your car's heater to remove any excessive heat.
Do not drive/take the automobile any further than this point. If you continue to drive, you will cause significant engine damage. If this doesn't help lower the temperature below the danger level, you should turn off the vehicle's engine immediately. 
Do not go any further in the automobile. If you continue to drive, you will inflict severe engine damage.
A hot summer day? Be sure to roll down your windows before putting on the heating.
FAQs about 230 degrees temperature for an engine:
Is 250 Degrees Too Hot For An Engine?
Yes, it is. In fact, it is an extremely high temperature any car engine can reach.
It is a critical light for you and your car is in trouble.
You will get the illuminated engine light along with other sorts of warning such as a red temperature gauge. Even some dashboards show "hot engine". 
How Long Can A Car Overheat?
dangerous level or extreme heat, you only have 30-60 seconds before it does major damage.
The primary damage includes blocked valves or even pistons, to your engine.
How Long Does It Take For An Engine To Cool Completely?
For most car models, the cooling time should not cross 30 minutes.
But to be sure and avoid any further danger check the car manual that contains manufacturer instructions. Or talk to your mechanic directly.
What Is The Temperature Of A Car's Engine Celsius?
The temperature of a car varies depending on the vehicle model, and the usual type of gasoline in use.
When the temperature is between 60 and 65 degrees Celsius, the engine starts to make sense.
The cooling fan begins to run at roughly 90-95 degrees Celsius in order to offer additional cooling.
Final Words:
So, experts and manufacturers suggest that 230 degrees Fahrenheit is not too hot for the engine.  The car can almost function swiftly at this temperature. 
But, if the temperature exceeds 230 degrees Fahrenheit, this is an emergency for you.
Remember, if the temperature rises to 245 degrees Fahrenheit or near, the metals in your car will distort and result in metal expansion.