Oil emulsifier chemicals in an engine flush can have a detrimental impact on items such as bearings and other components if you leave it in too long.
So, you might want to know how long can you leave engine flush in?
The proper way to use an engine flush is usually specified on the bottle it comes in. In most cases, they also function correctly when the engine is heated rather than cold. Let's know in detail.
How Long Can You Leave Engine Flush In?
The maximum time lime is 5-7 minutes. So, if you put the engine flush in for more than 5-7 minutes, there is a serious possibility of engine dame.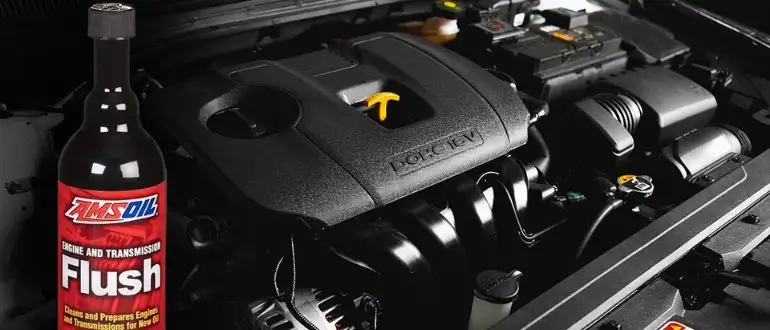 What happens if you leave the engine flush in?
Lots can happen and affect your car engine causing permanent damage if you leave the engine flush in for long.
As mentioned, earlier, the usual time for engine flush is 5 minutes. They are designed this way, and they will remove the dirt within these very 5 minutes. 
You may think that giving it 2-3 minutes more may be a good idea. But experts and engine flush providers say quite the opposite.
Chemicals in engine flush:
There are several chemicals in the engine flush additives. Some of them are very sensitive to rubber and plastics.
So, they can damage or impair the functions of the plastic or rubber components in the car engine.
That's not everything. Engine cleansing chemicals might cause harm to the engine if you keep them longer than 5 minutes. 
A lot of people will tell you that the engine flush has damaged their engine seals. The result of which is a costly repair in the event of an oil spill. 
In addition to causing damage to engine bearings, these compounds can also cause harm to turbochargers. Many other components that are lubricated with oil are also prone to damage.
So, considering the facts and circumstances, you can very well understand why you should not keep the engine flush in for long. But what's the proper way of engine flush then?
Do Engine Flush Properly: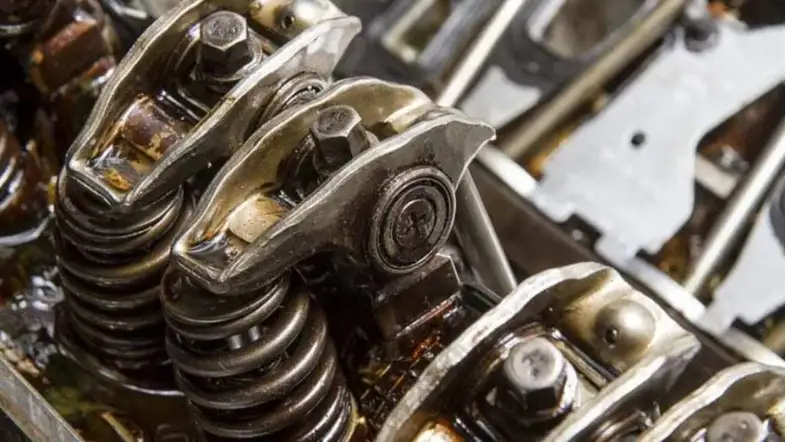 Engine flushing removes carbon and other sludge deposits from engines. These particles are the result of aging, insufficient fuel consumption, or utilizing bad quality oil. 
In addition to removing oil-soluble impurities, the flush additives employed for engine flush disperse tough sleds, so there is no space for error.
Remove a little amount of engine oil, apply non-solvent flush addictive chemical, and then idle the car for 5-10 minutes without driving.
This will help the additive start working. Within these minutes, the carbon deposits will break down slowly and your car will be put to test finally.
Now, either drive the engine or allow it to sit for some more time. It will ensure the cleaning chemical reaches all of the engine's internal components.
At last, you will have to change both the filter and oil to have the best output. As the oil has flushed out any lingering gunk from the engine. You must change the oil.
Oil is removed from the car and a non-solvent chemical compound is supplied to the vehicle during an oil change service.
Benefits of engine flush:
Cleans the deposits to help the engine function properly. Sometimes oil particles build up in the engine, which prevents the engine from functioning properly. So, when you flush it, you have a smooth engine.
Even the newest and greatest oil filters can't keep out particles as tiny as 25 microns. And even little components like that might wear out over time. They can form sludge and deposits when grouped. Clean oil alone cannot wash out excessive particles. So having an engine flush gets those missing particles.
Having an engine flush also significantly helps with keeping the new oil clean.
You have a clean slate for the car engine in case you don't maintain it regularly. If you have engine work done recently, flushing helps a lot.
Most importantly, end of the day, you have a clean and smooth functioning engine.
Is an engine flush worth it?
Any solution that actively cleans the engine's moving parts is certainly well-intentioned. We all also value a clean engine more than anything.
In the end, though, it's always dangerous to use a product that the manufacturer doesn't think is safe.
Some drivers claim that there has been a significant improvement in performance after utilizing engine clean solutions. But others claim to have experienced no improvement at all.
In the absence of regular oil changes and frequent engine cleaning, an engine flush may be a suitable option. But a well-maintained and clean engine doesn't need any engine flush whatsoever.
FAQs about leaving engine flush in:
How Often Should You Flush Your Engine?
The majority of contemporary automobiles do not require engine flushing. It is vital to do routine maintenance to ensure that your engine runs smoothly and effectively.
Still, if you prefer it, having the engine flush in every 35,000-37,000 miles can be very fruitful.
Will An Engine Flush Improve Gas Mileage?
You won't see much of a difference in your gas mileage after an engine flush. The manufacturers also say nothing like that.
Will The Engine Flush Clean Piston Rings?
Yes, engine flush will certainly clean the piston rings in your engine.  But when the carbon deposits take place the engine valves and engine piston may also get damaged. 
How Much Does Engine Flush Cost?
Expect to pay between $100 and $150 for parts and labor costs separately if you decide to hire a mechanic to have your engine flush. You can also do it yourself minimizing the labor cost.
Final Words:
The whole purpose of engine flush is to keep the engine functioning smoothly.
There are developed to clean the engines in 5 minutes. So, that is all you need for the whole process and get your engine steady.
But, if you don't; follow the proper procedure, and leave the flush in for too long, it will result in the opposite. So, stick to the rules and let us know your concern if any.