You're cruising down the road, the wind gently caressing your face, and suddenly, you feel it—a subtle rise in temperature.
Beads of sweat trickle down your forehead as panic sets in. What could be causing this alarming heatwave within your beloved vehicle? 
In the intricate dance of engine components, the radiator fan plays a crucial role in keeping your vehicle's temperature in check.
In this blog, we will demystify the inner workings of radiator fans and empower you with the ability to diagnose and resolve issues like a seasoned mechanic.
What are the symptoms of a radiator fan not working? 
When the radiator fan in a vehicle fails to function properly, it can lead to several noticeable symptoms.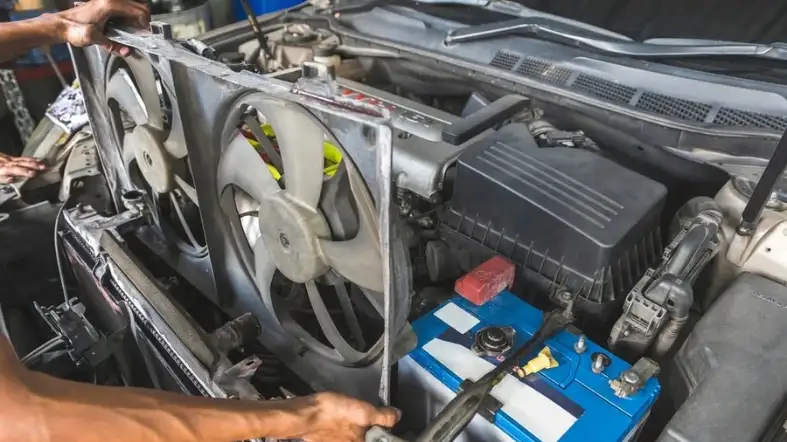 If the radiator fan is not working as it should, the engine may overheat, leading to potential damage and decreased performance.
Here are some common symptoms that indicate a faulty radiator fan:
1. Engine overheating: 
The most evident sign of a malfunctioning radiator fan is an engine that consistently runs hotter than normal.
If the fan fails to activate or operates at a reduced speed, it hampers the cooling process, resulting in increased engine temperature.
A temperature gauge reading above the normal range or a warning light illuminating the dashboard indicates an overheating engine.
2. Coolant overflow or leakage: 
Insufficient cooling due to a non-functional radiator fan can cause the coolant to reach high temperatures.
In extreme cases, excessive heat can cause the coolant to boil, leading to overflow or leakage from the radiator or coolant reservoir.
You may notice coolant stains or a strong sweet smell near the engine compartment.
3. Air conditioning performance issues: 
In many vehicles, the radiator fan is responsible for cooling not only the engine but also the air conditioning condenser.
If the fan is not functioning correctly, the AC system may experience reduced performance or fail to cool the cabin effectively, especially when the vehicle is stationary or at low speeds.
4. Constantly running fan: 
Conversely, a radiator fan that runs continuously, even when the engine is cold or turned off, can indicate a malfunction.
This issue may occur due to a faulty fan relay, temperature sensor, or wiring problem. The constant running of the fan can drain the vehicle's battery over time.
5. Erratic temperature fluctuations:
A malfunctioning radiator fan can cause erratic temperature fluctuations, where the engine temperature rapidly rises and falls instead of remaining stable.
This inconsistency may indicate that the fan is not activating at the appropriate times or not operating at the required speed.
6. Unusual noise or vibration: 
When the radiator fan is failing, it may produce unusual noises or vibrations during operation.
You might hear grinding, rattling, or squealing sounds coming from the front of the vehicle.
These noises can indicate issues with the fan motor, bearings, or blades, which require attention to prevent further damage.
What are the causes behind the radiator fan not working? 
When a radiator fan fails to work, it can lead to overheating issues in a vehicle's engine, which can be a cause for concern.
Several factors can contribute to a radiator fan not working properly. Let's explore some possible causes:
1. Faulty fan motor: 
The fan motor is responsible for driving the fan blades and circulating air through the radiator.
If the motor fails, the fan won't function. Common causes of motor failure include worn-out brushes, a burnt-out motor, or electrical issues within the motor itself.
2. Blown fuse or relay: 
The radiator fan system relies on electrical components such as fuses and relays to function.
If a fuse related to the fan blows or a relay malfunctions, power won't reach the fan motor, resulting in its failure to operate.
It's worth checking the fuse box or relay panel to rule out this possibility.
3. Wiring issues: 
The wiring connecting the fan motor to the electrical system can become damaged or develop loose connections over time.
This can disrupt the flow of electricity and prevent the fan from working correctly. Inspecting the wiring for any signs of wear, fraying, or loose connections is essential.
4. Temperature sensor problems: 
The radiator fan is usually triggered by a temperature sensor that monitors the engine's temperature.
If the sensor malfunctions or fails, it may not send the appropriate signals to the fan, preventing it from activating when needed.
Testing or replacing the temperature sensor might be necessary to resolve this issue.
5. Cooling system malfunctions: 
The radiator fan is an integral part of the cooling system, which also includes components such as the radiator, coolant, water pump, and thermostat.
If any of these components fail or function inadequately, it can indirectly affect the fan's performance.
For example, a clogged radiator or low coolant level can hinder heat dissipation and lead to overheating.
6. Fan blade damage: 
Physical damage to the fan blades, such as cracks, breaks, or excessive wear, can prevent the fan from spinning correctly.
This damage may occur due to debris hitting the fan while driving or general wear and tear over time.
If the blades are damaged, they may need to be repaired or replaced.
7. ECM (Engine Control Module) issues: 
The ECM is responsible for controlling various engine functions, including the radiator fan.
If the ECM malfunctions or fails, it may not send the appropriate signals to the fan motor, resulting in its inactivity.
Diagnosing ECM problems typically requires professional expertise and specialized diagnostic tools.
8. Other miscellaneous factors: 
There are a few other factors that could contribute to a radiator fan not working, such as a faulty fan clutch (for vehicles equipped with one), a malfunctioning temperature gauge, or a broken fan belt (for belt-driven fans).
These situations are less common but should be considered if all other potential causes have been eliminated.
Preventive Measures for Maintaining Radiator Fan Health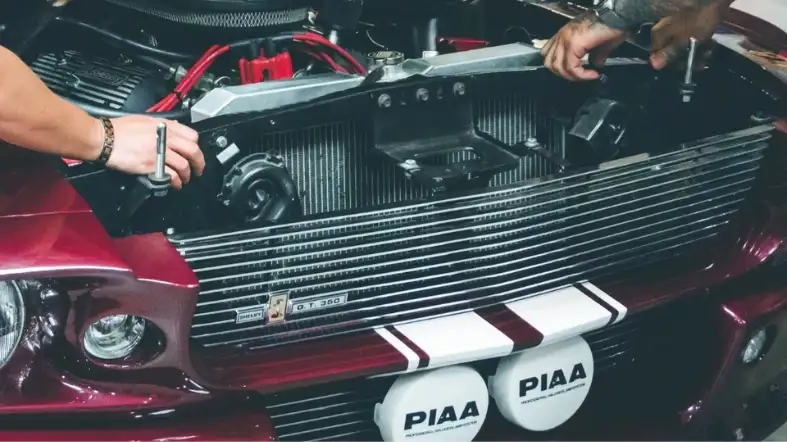 Taking preventive measures to maintain the health of your radiator fan is crucial to ensure optimal cooling system performance and avoid potential breakdowns.
Here are some important points to consider in order to keep your radiator fan in good shape:
1. Regular inspection: 
Make it a habit to visually inspect your radiator fan for any signs of damage or wear.
Look for cracks, loose or damaged blades, and any debris that may have accumulated.
This will help you catch any issues early on and prevent further damage.
2. Cleanliness: 
Keep your radiator fan and its surrounding area clean. Dust, dirt, and debris can accumulate on the fan blades and hinder proper airflow.
Use a soft brush or compressed air to gently remove any buildup, ensuring the fan can function efficiently.
3. Fluid levels: 
Maintain appropriate fluid levels in your cooling system, such as coolant or antifreeze.
Low fluid levels can lead to overheating, causing the radiator fan to work harder than necessary.
Regularly check the coolant level and top up as needed, following the manufacturer's recommendations.
4. Radiator maintenance: 
Keep the radiator itself in good condition to ensure optimal heat dissipation. Clean the radiator fins regularly to remove any dirt or debris that may obstruct airflow.
A clean radiator allows the fan to operate at lower speeds, reducing strain on the motor.
5. Avoid physical damage: 
Be cautious when working around your vehicle's engine bay. Accidental impacts or contact with the radiator fan can cause damage to the blades or motor.
Take care when replacing parts or performing maintenance tasks, ensuring the fan remains untouched.
6. Use high-quality parts: 
When replacing or repairing components of your radiator fan, opt for high-quality parts from reputable manufacturers.
This will ensure better reliability and longevity, reducing the likelihood of premature failure.
7. Maintain proper belt tension: 
If your vehicle has a belt-driven radiator fan, ensure that the belt is properly tensioned.
An overly loose or tight belt can put unnecessary strain on the fan motor, leading to premature wear.
Refer to your vehicle's manual or consult a professional to adjust the belt tension correctly.
8. Regular servicing: 
Include your radiator fan in the routine maintenance schedule for your vehicle.
Follow the recommended service intervals and have a professional inspect and service the fan if necessary.
They can check the electrical connections, motor performance, and overall condition to identify any potential issues.
9. Avoid extreme temperatures: 
Try to avoid subjecting your radiator fan to extreme temperature conditions whenever possible.
Excessive heat or cold can affect the performance and lifespan of the fan motor.
If you live in an extremely hot or cold climate, take extra precautions to protect the fan, such as using heat shields or insulation.
10. Monitor engine temperature: 
Keep an eye on your vehicle's engine temperature gauge or warning light.
If you notice any sudden spikes in temperature or continuous overheating, it may indicate a problem with the radiator fan or the cooling system.
Address the issue promptly to prevent further damage.
FAQs
Can I Still Drive My Car If The Radiator Fan Isn't Working?
It's not recommended to drive your car for too long if the radiator fan isn't working, as this can cause serious damage to your engine.
If you need to drive your car, keep a close eye on the temperature gauge and be prepared to pull over and turn off the engine if it starts to overheat.
Can I Fix A Radiator Fan Myself, Or Do I Need To Take My Car To A Mechanic?
Depending on the cause of the problem, you may be able to fix a radiator fan yourself if you have some mechanical know-how.
For example, if the issue is a blown fuse or a malfunctioning relay, these can be easily replaced with some basic tools.
However, if the problem is more complex, such as a damaged fan motor, you may need to take your car to a mechanic.
How Much Does It Cost To Replace A Radiator Fan?
The cost of replacing a radiator fan can vary depending on the make and model of your car, as well as the extent of the damage.
On average, you can expect to pay anywhere from $200 to $600 for parts and labor.
However, if you're handy with a wrench, you may be able to save some money by replacing the fan yourself.
Conclusion
If you've been experiencing some issues with your radiator fan, it's essential to address them promptly.
Ignoring these symptoms can lead to overheating and potential engine damage.
By paying attention to warning signs such as a rising temperature gauge, strange noises, or a lack of airflow, you can identify a faulty radiator fan.