An Engine Coolant is a very effective liquid substance that ensures that our engine remains cool all the time. Here you may ask, "Can I add coolant to the reservoir when the engine is hot?
The engine is one of the most important parts of our vehicles on which both our car and driving safety are dependent. So, we must know how to keep our engine in good condition and at a balanced temperature.
In this article, we will help you in this regard. Read the entire article carefully to get your answer as well as to know the way of keeping your engine well.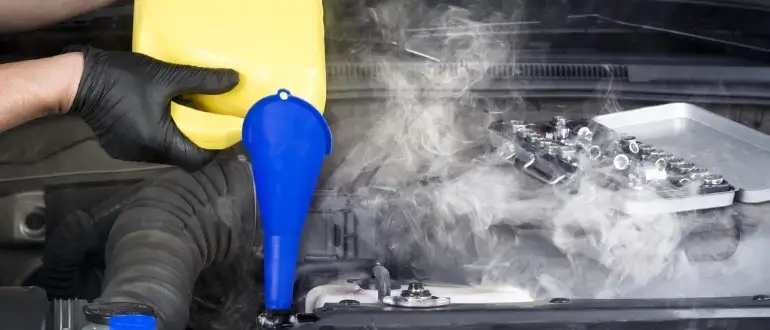 Can I Add Coolant to the Reservoir When the Engine Is Hot?
No, you cannot add coolant to the reservoir while the engine of your vehicle is running at high temperatures.
Adding coolant to a hot engine can be risky, as it may lead to serious damage. It's essential to understand the reasons behind this caution and how to proceed safely.
Before adding any kind of coolant, you must wait for a minimum of 30 -60 minutes, or until the engine has cooled down.
The engine pressure on the reservoir cap because of long driving should also be reduced.
If you instantly add coolant, there will be a sudden temperature shift in your engine.
This temperature imbalance will cause your engine to get burned and cracks in the blocks which may hamper its performance.
So, after driving your car for a long time, don't rush to make your engine cool by adding coolant immediately.
Give some time to rest your engine and then proceed to add the coolant to the reservoir.
How to Add Coolant Properly to Reservoir
Adding coolant regularly and perfectly can enhance your car performance to many extents. You can not add your coolant according to your sweet will.
There is a proper way of doing it. To ensure your vehicle protection, we are describing it below:
Cooldown Your Engine Properly
Make sure that your engine is completely cooled down before you start it up again.
This can take anywhere from a few minutes to half an hour, depending on the outside temperature and whether the car was just driven.
Find out the engine reservoir
There is a white container with a lid and hoses connected to the radiator. If it's near the grill, it's usually in front of the engine. It usually has a fill range marked on its side. 
If you find it, you already know where the radiator is, which is usually under the engine. For help finding your radiator and reservoir, look at your service manual. 
Remove The Radiator Or The Reservoir Cap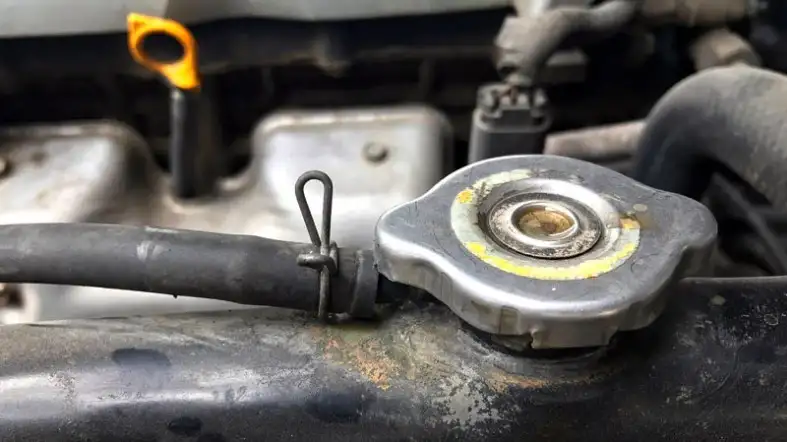 Open the hood and look for your car's radiator or coolant cap. In the engine, these caps usually look a little more oval than other round caps.
As soon as you see the cap for the radiator or coolant, pull it and remove it. This step needs to make sure that the radiator or coolant cap is not hot.
If the radiator or coolant cap is too tight, twisting it while pressing down on it helps it loosen up a little more.
You can also put a small rubber mat under the cloth you are using to make it more slippery. When you remove the cap, use a rag or thick cloth to be extra safe.
Also, wear gloves and safety goggles even when the engine isn't running. This will help you avoid getting hurt.
Take out the old coolant 
Draining the old coolant isn't necessary very often unless it's dirty or doesn't have the right amount of water and antifreeze in it. 
If you think it's necessary to do a full drain. You can remove the radiator hose clamp and the engine hose to drain the rest. Connect the radiator line back together. Replace the drain cock after all the old coolant has been drained into a pan.
Take The Appropriate Coolant For Your Car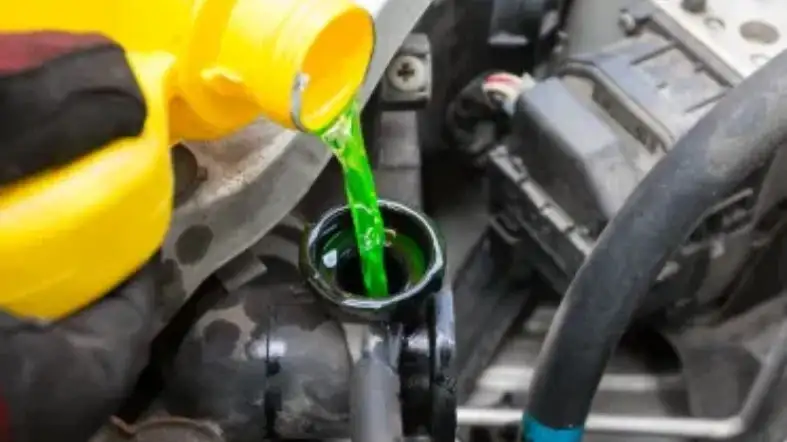 Coolant is made up of water and antifreeze. Most of the coolant mixtures are sold ready-made in the shops. But they are not universal for all the cars in the market.
Different coolant meets the needs of different cars and engines. Read the manual of your car and engine to decide which is the perfect coolant for you. Then bring the coolant.
Add coolant to your engine
It's time to pour coolant into your reservoir. The filling should be adequate. To make sure you don't add too much coolant, look at the lines on the side of your overflow tank or reservoir where the "MIN" and "MAX" level is written.
It's best to add the coolant mixture you made earlier up to a few inches below the MAX or full mark on the coolant tank. Use a funnel to keep coolant from spilling.
Replace the Reservoir or coolant Cap
After filling the reservoir with coolant, screw the cap back on until you hear its clicking sound. Make sure the other isn't damaged and can prevent the engine coolant from spilling.
Do a test to see if the engine overheats.
After you finish the previous steps, close your hood and start your car. It's time to check to see if your engine is overheating. 
Let your engine run until the gauge on your dashboard shows normal operating temperature.
Turn off the engine and let it cool down before you check the temperature gauge, head gasket, or radiator for damage. Also, check if there is any leakage.
The Risks of Adding Coolant to a Hot Engine
Adding coolant to a hot engine can be a risky endeavor. The primary concern is thermal shock.
A hot engine can reach temperatures well over 200 degrees Fahrenheit (93 degrees Celsius).
Pouring cold coolant into a hot engine can cause rapid temperature changes, leading to stress and potential damage to engine components. Cracks in the engine block or cylinder head may result, leading to costly repairs.
What are the safety precautions we should follow while adding coolant?
Safety First: Protect Yourself
When adding coolant to your vehicle, prioritize safety above all else. Start by parking the car on a level surface and turning off the engine.
This prevents any accidental movement and potential burns from hot engine parts. Always wear protective gear like gloves and safety glasses to shield yourself from any splashes or spills.
Coolant Choice Matters
Ensure you're using the correct type of coolant recommended by your vehicle's manufacturer. Mixing different coolant types can lead to issues.
Check your car's manual or the radiator cap for specific coolant requirements. If you're unsure, consult a mechanic or an auto parts store for guidance.
Cool Down for Safety
Before opening the radiator cap or the coolant reservoir, give the engine time to cool down.
A hot engine can release scalding steam and coolant when opened, which can cause severe burns. Wait for at least 30 minutes to an hour, depending on how hot the engine is.
Slow and Steady Wins
When adding coolant, do it slowly and steadily. Pouring too quickly can create splashes or spills, potentially landing on hot engine parts.
These sudden temperature changes can cause damage. Use a funnel to ensure a controlled flow and minimize any mess.
No Mixing with Hot Engine
Never attempt to add coolant directly into the radiator while the engine is hot. Doing so can lead to rapid temperature changes, resulting in stress on engine components.
Instead, always add coolant to the reservoir when the engine is cool. This allows for a gradual introduction of the coolant into the system.
Check the Reservoir Level
Before adding coolant, inspect the reservoir to see if it's low on coolant. If it's already at the recommended level, there's no need to add more.
Overfilling can lead to excess pressure in the cooling system, potentially causing leaks.
Tighten Caps Securely
After adding coolant, make sure to securely tighten the radiator cap or the coolant reservoir cap.
This prevents any coolant from escaping and maintains the proper pressure in the cooling system.
Dispose of Coolant Properly
Finally, don't forget about environmental responsibility. If you have leftover coolant, dispose of it according to local regulations.
Many auto shops and recycling centers accept used coolant. Avoid pouring it down drains or onto the ground, as coolant is toxic and harmful to the environment.
FAQs About Adding Coolant to Reservoir
Can I pour water into my engine to cool down?
Yes, you can pour water to cool your engine down temporarily. Before it, give yourself some time for your engine to cool down manually.
Immediate pouring of water will bring sudden temperature fall off your engine and damage its activities. Don't use water every time as a substitution for coolant.
Can I drive my car after adding Coolant?
After adding the coolant to your reservoir, check the temperature and the other things in the car thoroughly. If everything is normal, you can drive. But do it cautiously as always.
Final Thoughts
We hope you have got the answer to the question, "Can I add coolant to the reservoir when the engine is too hot?" You can easily avoid the overheating of the engine of your car if you fill the coolant into your reservoir wisely.
However, if you make any mistake, like adding coolant to a very hot engine, there is going to be havoc with your engine. So, be very careful about every step of cooling down your engine.
Our car's performance mostly depends on the performance of its engine. Our safety is also related to it. So, it is very crucial to take proper care of the engine as well as of the car.
This article will help you to take care of your car engine properly. You will find it very useful in cooling down the engine.