Engines backfiring through the intake are a puzzling and potentially damaging issue that can leave any vehicle owner concerned.
That unsettling noise and the fear that something might be wrong with your engine are all too familiar.
In this comprehensive guide, we will delve into the common causes behind an engine backfiring through the intake.
From incorrect ignition timing to fuel system malfunctions, we'll uncover the culprits and provide valuable insights on how to address this problem.
Don't let engine backfires catch you off guard; read on to ensure the health and longevity of your vehicle.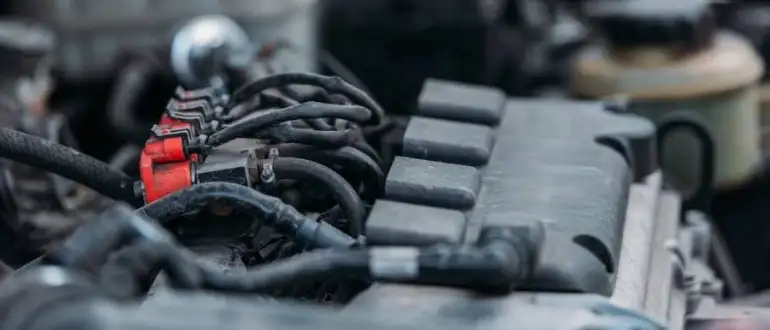 What causes an engine to backfire through the intake?
Here are some of the most common causes:
Incorrect Ignition Timing
The ignition timing is the process of creating a spark at the right time to ignite the fuel and air mixture in the cylinders.
If the timing is off, the spark can happen too early or too late, causing the mixture to burn in the wrong place.
This can be caused by a faulty or worn-out timing belt, a bad distributor, or a malfunctioning sensor.
Fuel System Malfunctions
The fuel system is responsible for delivering the right amount of fuel to the engine.
Either there is too much fuel or there is too little fuel, and this makes the right mixture of air for proper combustion lean or too rich.
The incomplete burning of the fuel may result in unburned fuel in the intake or exhaust system. The unburned fuel can then catch fire when it encounters fresh air, resulting in a backfire.
A clogged or dirty fuel filter, a faulty or leaking fuel pump, or a bad fuel pressure regulator could cause this.
Faulty Spark Plugs or Wires
These spark plugs are the spark generators that ignite the fuel-air mixture inside the cylinders. The distributor or coil is connected through the spark plug wires to the spark plugs.
Old or dirty spark plugs might cause sparks to not work properly and result in problems in the engine.
The wires connecting the spark plugs are also prone to damage or loosening, which may result in backfiring, among others.
Vacuum Leaks
A vacuum leak is a hole or crack that lets air into or out of the engine. There may be changes in air and fuel ratios as a result of this; backfiring could be experienced in the engine.
Damaged or loose hoses, gaskets, seals, or valves will lead to vacuum leaks. 
Damaged or Malfunctioning Distributor Cap and Rotor
The distributor cap and rotor are parts of the ignition system that distribute the electrical current from the coil to the spark plugs.
If spark plug wires are cracked, worn, corroded, or dirty, they can mess up how the engine starts and runs.
This can lead to backfiring and poor performance because the wires might not connect well or might mix up the ignition timing.
EGR Valve Issues
The EGR valve in your car helps control exhaust gases to make things cleaner and save fuel.
If it gets stuck open, too much exhaust goes in, causing loud noises. If it's stuck closed, not enough goes in, leading to popping sounds or backfiring.
It's like a chef's helper, but if it messes up, your car might act like it's in a cooking disaster! 
Clogged or Faulty Fuel Injectors
Fuel injectors are devices that spray fuel into the intake manifold or directly into the cylinders.
If they are clogged by dirt or debris, they can deliver too little or too much fuel, causing a rich or lean mixture and backfiring.
If they are faulty or leaking, they can also affect the fuel pressure and flow, causing backfiring.
Dangers and Consequences of Backfiring
Here are some of the dangers and consequences of backfiring:
Read More: What Causes Engine Backfire When Starting?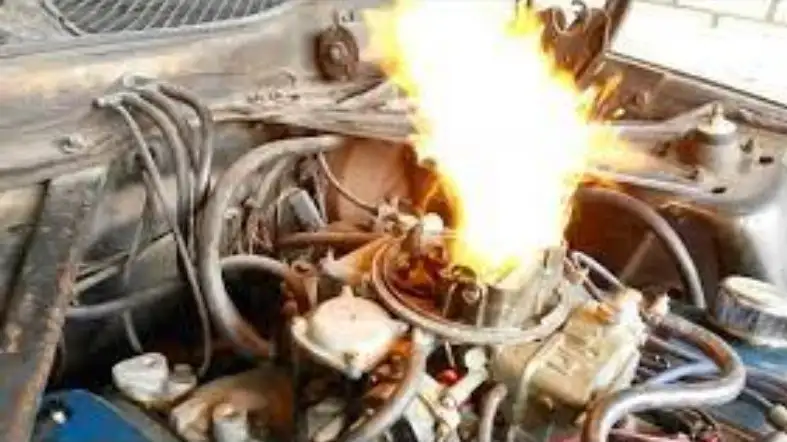 Read More: 10 Signs of How to Tell if Engine is Damaged From No Oil
Intake Manifold Damage
The intake manifold is a metal part that connects the intake system to the cylinders.
It is designed to withstand high temperatures and pressures from combustion.
However, if there is a backfire through the intake manifold, it can create a shock wave that can crack or warp it. This can lead to more air leaks and performance issues.
Fire Risk Potential
A backfire through the intake manifold can also create flames that can ignite any flammable materials near the engine.
This can cause a fire that can damage your car's wiring, hoses, belts, and plastic parts, and even spread to other parts of your car or nearby objects.
This can be very dangerous and costly to repair.
Engine Wear and Tear
A backfire through the intake manifold can also cause damage to the engine's internal parts, such as the valves, pistons, rings, and cylinders.
These parts endure intense heat and pressure during combustion. If a backfire occurs, it adds extra strain and friction.
This can lead to premature wear and tear, reduced engine performance, and increased oil consumption.
Fuel Economy Decline
A backfire through the intake manifold can also indicate that your car is wasting fuel.
If your fuel and air mixture is not optimal, your car will not burn the fuel efficiently, resulting in lower gas mileage and higher emissions.
This can cost you more money on fuel and maintenance.
Decreased Engine Performance
A backfire through the intake manifold can also affect your car's power and acceleration.
If your car's ignition timing, fuel system, or intake system isn't working correctly, it won't deliver the right mix of air and fuel to the cylinders.
This leads to less power and a slow response, making your car feel sluggish and unresponsive.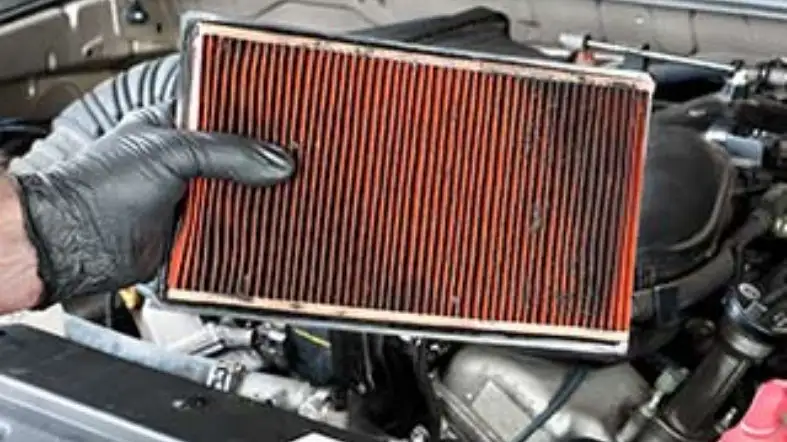 Increased Emission Levels
A backfire through the intake manifold can also increase your car's emission levels.
If your car is burning too much or too little fuel, it will produce more harmful gases, such as carbon monoxide, hydrocarbons, and nitrogen oxides.
These gases can pollute the air and harm the environment. They can also cause your car to fail an emission test, which can result in fines or penalties.
Catalytic Converter Complications
The catalytic converter is a device that converts harmful gases from your car's exhaust into less harmful ones.
The catalytic converter is like a filter in your car's exhaust system, close to the engine.
But if there's a backfire, it can harm the converter, making it too hot or clogged with fuel. This can make it work less well and create more pollution issues. 
Compromised Vehicle Safety
Your vehicle's safety can also backfire through the intake manifold. When your car is backfiring, the engine is failing or one of its components is failing.
This can impact your car's reliability and performance, and this means that there is a greater likelihood of breakdowns or accidents.
It can also prevent drivers from driving properly or make them feel fearful for themselves and others on the road.
Shortened Engine Lifespan
A backfire through the intake manifold can also shorten your engine's lifespan.
If your engine is constantly exposed to backfiring, it will suffer more wear and tear, damage, and stress.
This can reduce its efficiency and durability, making it more likely to fail or need repairs.
Elevated Repair Costs
A backfire through the intake manifold can also increase your repair costs.
Failing to repair the problem leading to backfiring can worsen over time, causing damage to other parts of the car.
The repairs may thus become more difficult and costly. Failure to maintain it properly may also cancel your car's warranty or insurance coverage.
Maintenance Tips to Avoid Intake Backfires
Here are some maintenance tips that can help you avoid intake backfires: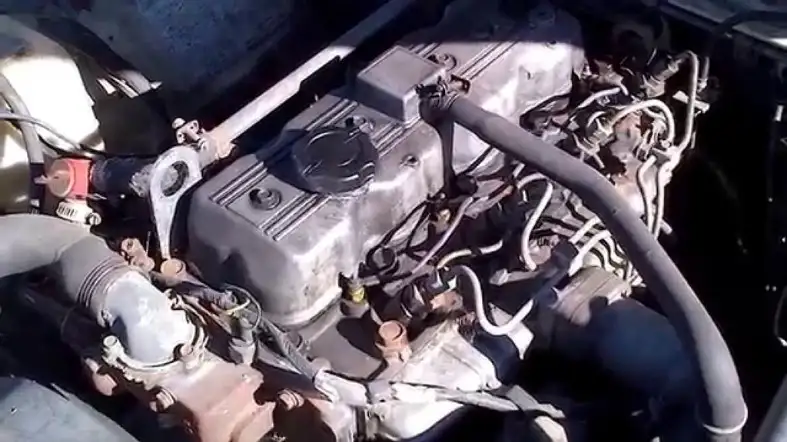 Regular Carburetor Cleaning
If you have a carburetor, an apparatus that mingles air and fuel for the engine, the device has to be cleaned up regularly.
This ensures the filter is not filled with dust and dirt and makes the car run well.
A dirty carburetor can result in a fuel-air mixture that is too rich or lean, which can cause intake backfires.
To clean the carburetor, you can use a spray cleaner that dissolves the deposits and washes jets and passages.
The carburetor can also be removed, soaked in a solvent, or brushed to clean it.
Refer to your owner's manual for recommended cleaning intervals and procedures for your car.
Spark Plug Inspection and Replacement
These are the parts of the engine that produce the spark that inflames a charge of fuel and air within the cylinder.
Worn-out, dirty, or broken spark plugs may produce weak or irregular sparks resulting in manifold backfire.
Ensure that you check your spark plugs for wear and cracking, corrosion, or gaps at regular time intervals.
Ensure that the spark plug wires and connectors are not damaged and securely connected. Always refer to your owner's manual on what spark plugs to use, their gap, and the right time to replace them in your car.
Proper Timing Belt Adjustments
The timing belt is a rubber belt that synchronizes the movement of the camshaft and the crankshaft in your engine.
The camshaft controls the opening and closing of the valves, while the crankshaft rotates the pistons. The timing belt is like a choreographer for your car's engine.
It makes sure the valves and pistons dance together perfectly, so the fuel and air mix at just the right moment for a powerful boom in the engine. It's a crucial part of keeping things moving smoothly!
If your timing belt is loose, worn, or broken, it can cause the valves and pistons to be out of sync, which can lead to intake backfires.
You should check your timing belt regularly and adjust it if needed. You should also replace your timing belt according to your owner's manual, usually every 60,000 to 100,000 miles.
Checking Vacuum Hoses for Leaks
These are rubber tubes that connect different parts of your car's engine.
These devices execute vital jobs such as managing fuel pressure, keeping down idle speed, and aiding the brake booster. Heat, wear, and damage can cause leaks that develop in the vacuum hoses.
A vacuum leak can also be a source of the engine running lean, which means that there is more air than fuel in the cylinder.
It may lead to intake backfires, rough idle, poor acceleration, and less fuel efficiency. Inspect your vacuum hoses daily for cracks, holes, or loose connections.
You can use a spray bottle of water or soap solution to spray around the hoses and listen for any hissing sounds that indicate a leak. You should replace any leaking hoses as soon as possible.
Fuel System Maintenance
Regular maintenance of your car's fuel system is crucial for smooth operation.
Components like the fuel pump, fuel filter, injectors, and fuel lines work together to ensure the right fuel reaches the engine.
To prevent issues like intake backfires, keep the fuel filter clean by changing it regularly.
Use a fuel system cleaner additive periodically to clean injectors and fuel lines from deposits. Always check for wear and tear on the fuel pump and replace it if necessary.
This proactive approach will help keep your car running efficiently and prevent potential problems caused by dirt or debris in the fuel system.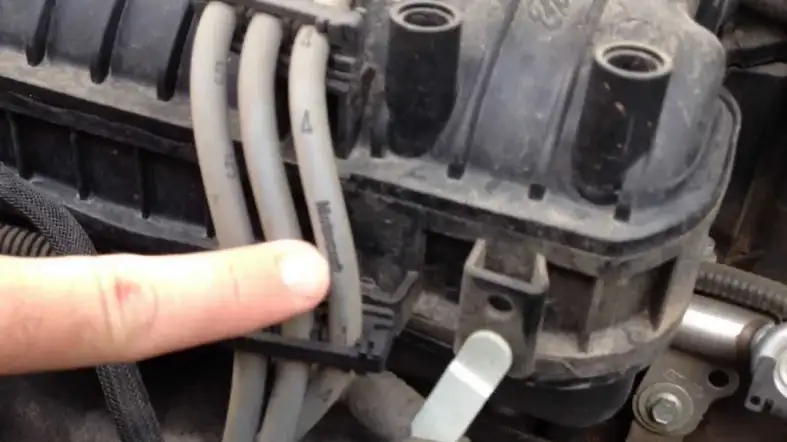 Air Filter Examination
Your air filter is a device that filters out dust, dirt, pollen, and other particles from the air that enters your engine.
Your air filter helps improve your engine performance and efficiency by providing clean air for combustion.
If your air filter is dirty or clogged, it can restrict airflow and cause the engine to run rich, which means there is more fuel than air in the cylinder.
This can cause intake backfires, as well as reduced power and fuel economy. You should examine your air filter regularly and replace it when it is dirty or damaged.
Ensuring Efficient Exhaust Flow
This is a system of pipes and mufflers that removes the exhaust gas from your engine.
Your exhaust system plays a role in minimizing noise, emission, and backpressure, that is resistance to the flow of exhaust gases.
A car's broken or blocked exhaust system can screw up its engine. The engine cannot breathe properly because bad things get stuck.
As if someone has a stuffy nose and has difficulty breathing. This may create trouble for the engine of your car.
This can result in intake backfires, loss of power, and reduced fuel efficiency. Be sure to inspect your exhaust system routinely for any cracks, holes, rust, and loose connections.
Electrical System Checkup
Imagine your car's electrical system as its nervous system. In fact, it is a system of wires, switches, and sensors, that makes possible such things as starting an engine, use of fuel, and operation of lights.
Just like you, your car requires regular checkups in its electrical system. It reduces the chances of short circuits, and faulty parts that might cause your car not to run correctly or be dangerous.
A problem with your ignition system could be caused by a poor electrical system, with the consequence being weak or erratic sparks leading to intake backfires.
It is important to routinely examine the electrical system of an airplane and have any burned wires or blown fuses replaced.
Ignition System Inspection
The ignition system is your car's 'spark creator'. It is a strong spark to start the engine.
These include the ignition coil, distributor, spark plugs, and wires. It means a good start-up for the engine by checking it regularly.
Intakes may also backfire if the ignition system is defective and provides erratic or weak sparks. Check your ignition system regularly and replace any worn or damaged parts.
Finally, examine the spark plug gap and adjust it as needed. You should also verify the ignition timing and adjust it if necessary.
Periodic Fuel Quality Checks
The type of fuel you put in your car can affect the engine's performance and emissions.
Your engine may be harmed by water, dirt, contaminants, or additives in poor quality fuel that may cause intake backfires.
Water can corrode and rust your fuel system, and decrease the efficiency of combustion. Fuel filters and injectors can become clogged leading to poor flow of fuel.
The octane rating, volatility of the fuel, and combustion characteristics can be influenced by additives.
Always check the quality of the fuel that you use in your car, and refrain from using low-quality or contaminated fuel.
Frequently Asked Questions
Can Low Fuel Pressure Cause Intake Backfire?
Yes, low fuel pressure can cause intake backfire, especially when it results from a clogged fuel injector or filter.
What Does Backfire Through The Intake Mean?
Backfire through the intake means a small explosion event that occurs due to an imbalance in the fuel and air mixture maintained by the intake valve.
Is Backfire Damage My Car?
Yes, backfire has a high chance of damaging your car's engine and decreasing fuel efficiency, making it important to address the reasons behind it.
What Does A Car Sound Like When It Backfires?
When a car backfires, it produces a sound similar to a mild popping or throaty gurgle, and you should check the intake manifold or exhaust system to identify the source.
Can Incorrect Ignition Timing Cause Backfire Through The Intake?
Yes, incorrect ignition timing can cause backfire through the intake, as it disrupts the proper combustion process in the engine.
How often should I check my timing belt?
You should check your timing belt regularly and replace it according to your owner's manual, usually every 60,000 to 100,000 miles.
What should I do if I notice backfiring in my car?
If you notice backfiring, investigate the cause. For minor issues like spark plug problems, you can make corrections yourself, but for severe issues, it's best to take your car to a mechanic to prevent further damage.
Final verdict
Identifying and addressing the causes of engine backfiring through the intake is vital for vehicle owners.
Timely maintenance and repairs are essential to prevent damage, ensure safety, and prolong your vehicle's lifespan.
Neglecting these issues can lead to costly consequences.