A stripped lug nut is an irritating problem you can face. Many people ask, "how to get a stripped lug nut off a tire?"
A lug nut can get stripped for many reasons and make a disturbance while driving. So, you must know how to get rid of this.
This article is here with the full process of removing a stripped or stubborn nut from your tire. Scroll till the end carefully.
How To Get A Stripped Lug Nut Off A Tire?
There are several ways of stripping lug nuts off a tire. Below are described some most effective methods.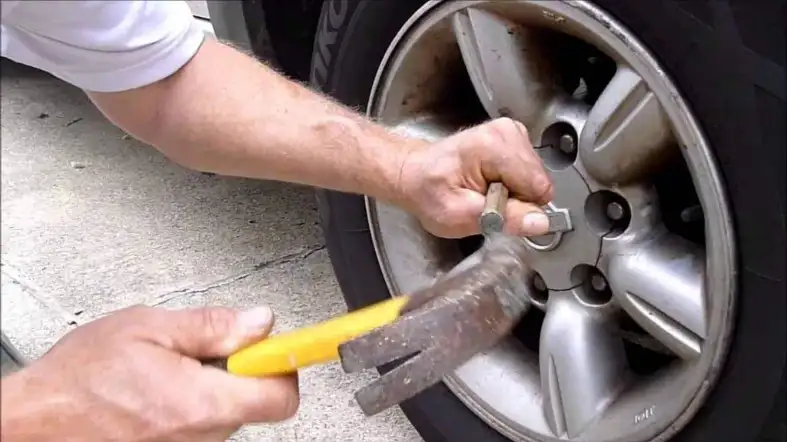 Extractor Socket/Hammer/Breaker Bar
This is the best way to do it, and it will work almost always. You can find most of the tools you need for this job in your garage. 
You will need a nut extractor socket, a hammer, a breaker bar, and oil that can get into tight spots. Make sure your car is on a flat surface when you park it.
As extra safety measures, you can use wheel chocks and the emergency brake.
Soak the round lug nut in some oil that will get into the metal. If there is rust, you should cover it up as much as possible. The hammer can also be used to break the rust off.
You should also use a long socket on the stuck lug nut and then hit it with a big hammer a couple of times. This will loosen the cone and make it much easier to remove.
 But it might be too worn for a regular socket to remove completely, but it's worth a shot. Watch out for your fingers and rims.
Then, after a few hits, take off the socket and put on a nut extractor socket that's the right size. You can use a hammer to hit the socket until it's tight and you have a good hold on it.
Put force on the handle of your breaker bar while it is in the socket. To take off the stripped nut, you need to turn it counter clockwise. 
If it's too tight, you can use an iron pipe to lengthen the breaker bar's handle or a strong impact wrench instead.
Blowtorch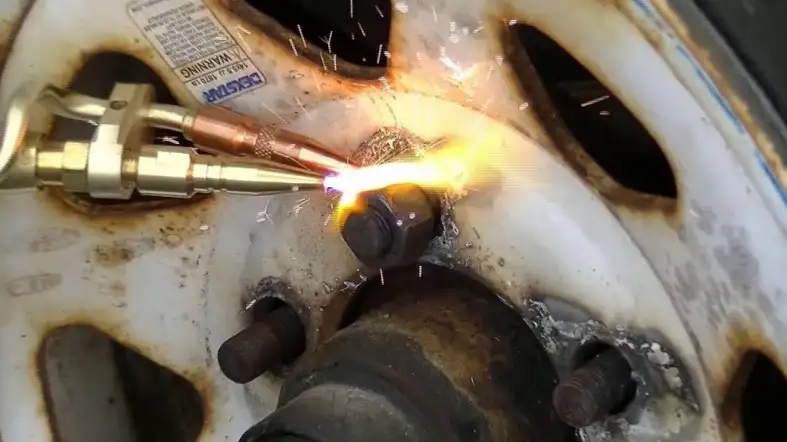 Most of the time, these steps are faster, but not everyone has a blowtorch.
If you do that, you will need a wheel spanner or pliers to grab the hot lug nut. With this method, you also don't want to use any oil. If you didn't have the heat, you could make a fire.
Heat the nut with your blowtorch. Be careful and do this slowly. Let it cool down after it has been heated. Repeat these steps a few times until the nut comes off.
 As it gets hotter, the wheel nut gets bigger, which makes it easier to take off. But this method can damage the paint on your wheels, so you should use one of the other methods instead.
Grinder/Wrench
Again, some penetrating oil will be needed for these steps. Don't forget to let it soak, and if you can, try to get some of the rust off.
Make edges around the nut with your hand-held grinder. You want to be able to use your wrench to grab it. Once you have a good hold on it, turn it until you can pull it out.
 If you have aluminum rims, it might be hard to get to the lug nuts with a grinder. In this case, you might want to try the other methods first.
A Screwdriver, Hammer, Or Knife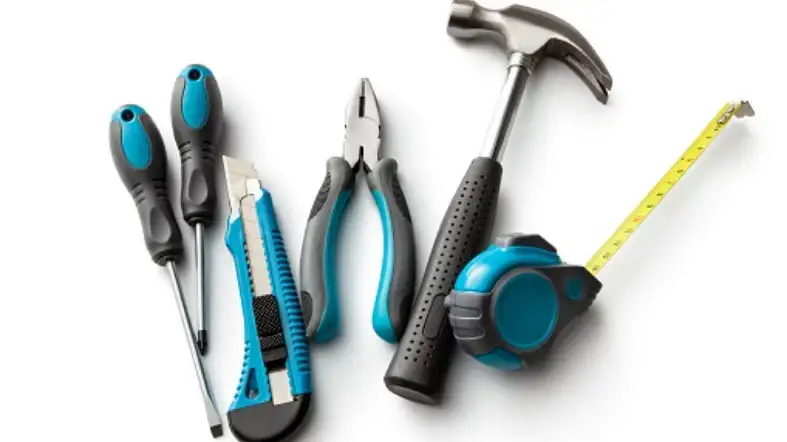 If nothing else works, you can always try this. We wouldn't try it for the first time, but if you're out of other ideas, it doesn't hurt to give it your best shot.
Get some penetrating oil to help along with your screwdriver, hammer, and chisel. Put the oil on the nut and let it sit for a while. You want it to get rid of rust and other damage.
You can push the screwdriver into the nut with your chisel. The surface will get a notch. Take your screwdriver and jam it into the space that was made. 
Tap the screwdriver with your hammer to make it move in the opposite direction. You will keep doing these steps until the nut comes loose.
If you don't have the right tools or have tried everything above, it may be time to go to a professional mechanic who does this kind of work often.
FAQs about Stripping lug nut off
Can A Drill Get Stripped Lug Nut Off?
When removing a stripped lug nut, a drill bit is a much safer tool to use than an air hammer, air chisel, or torch, which can easily cause severe damage to the wheel if used improperly.
Start with smaller-sized drill bits and work your way up when using a drill. Target the middle of the lug nut. 
Using a center punch, you can create an indentation in the center to prevent the drill bit from slipping. A die grinder may also be fitted with a burr attachment.
How To Avoid Lug Nuts From Being Stripped?
There are numerous causes of stripped lug nuts, including overtightening, using the incorrect size wrench, and even rust.
To prevent stripped lug nuts, it is essential to use the correct wrench size and to not overtighten them.
Inspect your lug nuts regularly for damage and rust, and replace them as necessary.
Can I Utilize Penetration Oil For Stripping Lug Nuts?
Rust is one of the causes for a stuck lug nut. You will need to spray the nut in order to remove rust. WD-40 works well, but any spray-type lubricating oil will do.
 If the rust is excessive, strike the nut with a hammer to remove some. Then, spray WD-40 on the nut and let it soak for 5 to 10 minutes.
Final Thoughts
Now you know the answer of "how to get stripped lug nut off a tire?" You can use a socket and ratchet, an impact gun, or a blow torch to remove a stripped lug nut from the tire of your car.
Hope our given information will be useful for you in these processes. When using any of these tools, it is essential to exercise caution and adhere to all applicable safety protocols.