Is Engine Coolant And Antifreeze The Same Thing? If you're puzzled, you're not alone.
In this article, we'll examine whether engine coolant and antifreeze are indeed the same.
By the end, you'll understand the differences between these automotive fluids and why using the right one matters.
Don't take chances with your engine let's unravel this mystery together for a smoother ride.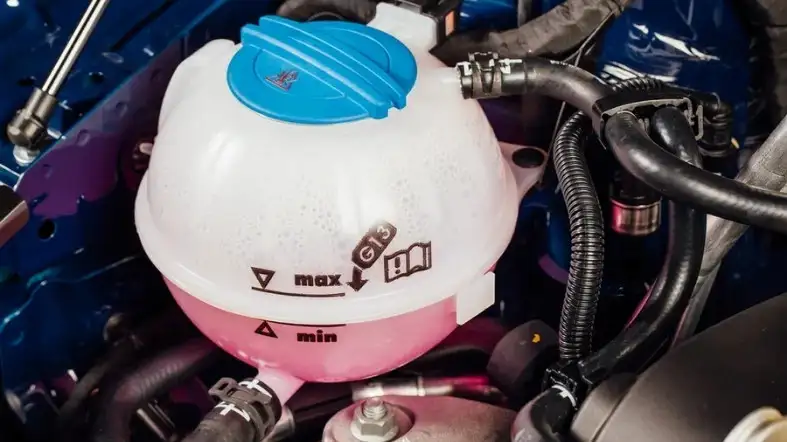 Is Engine Coolant and Antifreeze the Same Thing?
Engine coolant and antifreeze are often used interchangeably, but they serve distinct roles. Antifreeze lowers the freezing point of the liquid, while coolant dissipates heat. When mixed with water, antifreeze becomes the coolant that regulates an engine's temperature.
The Key Differences Between Engine Coolant And Antifreeze
| Aspect | Engine Coolant | Antifreeze |
| --- | --- | --- |
| Primary Composition | Primarily designed to prevent freezing, it is usually effective at -37°C (-34°F). | Mainly composed of glycol (ethylene or propylene) and water. |
| Intended Functions | Regulates engine temperature, prevents freezing, and inhibits corrosion. | Protects against freezing and corrosion; used as a concentrated form mixed with water for coolant function. |
| Temperature Ranges | Typically, it operates within a range of -40°C to 130°C (-40°F to 266°F). | Primarily designed to prevent freezing, it is usually effective at -37°C (-34°F). |
| Visual Distinctions | Often, it appears clear or slightly colored; additives can affect color. | Typically brightly colored (green, orange, pink, or blue) for easy identification. |
| Usage Scenarios | Used year-round as a coolant and corrosion inhibitor in the engine's cooling system. | Used primarily in cold climates to prevent freezing but may need dilution for warm weather. |
| Shelf Life and Stability | Has a longer shelf life and remains stable for several years. | Can degrade over time; may require replacement or additional antifreeze for extended use. |
| Environmental Impact | Contains additives that may be harmful if not disposed of properly; some formulations are more environmentally friendly. | Can have environmental impacts if not disposed of properly, especially due to glycol content; proper disposal is essential. |
Potential Risks of Not Using the Right Coolant/Antifreeze
Here are the potential risks of not using the right coolant/antifreeze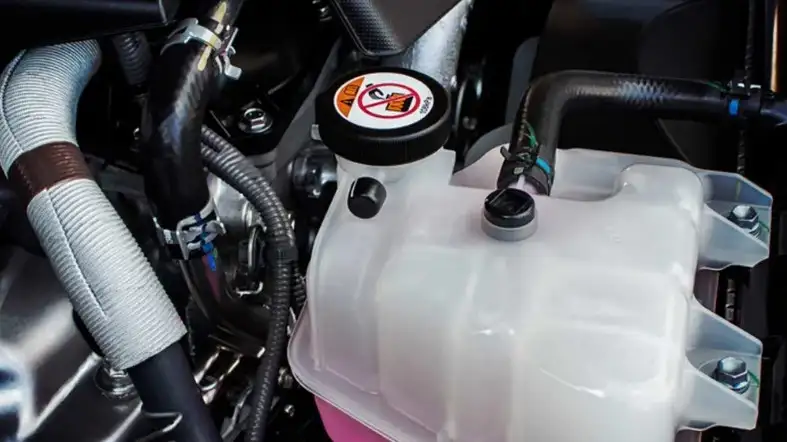 Engine Overheating
Just imagine yourself playing your favorite video game for hours and your computer getting overheated.
In fact, your car's engine can feel just the same if it has no proper coolant.
It's not just uncomfortable it's serious, resulting in engine damage and getting stuck on the roadside.
Internal Corrosion
Rust, like the forgotten bicycle decayed by the rain, can slowly eat away at your car from the inside.
The wrong coolant creates an environment where rust can thrive, leading to internal corrosion that can greatly reduce the life span of your engine.
Seal and Hose Deterioration
Your car has its own pipe system of seals and hoses to make everything work.
Just like neglecting plumbing deteriorates a car, the wrong coolant is like neglecting this plumbing. 
Imagine your water balloon with leaks; it's a mess that has serious consequences over time.
Premature Water Pump Failure
Picture the engine of your car as an organism's body, with the water pump as the heartbeat. 
Using the wrong coolant can disturb this rhythm and cause early water pump failure. This is like an acute heart problem for the car; it's not one to be taken lightly.
Decreased Cooling Efficiency
Just as we need to cool off on a hot day, engines do too. The right coolant aids this, while the wrong one makes for decreased cooling efficiency.
It's like trying to cool down with a broken fan, which is hardly effective, possibly causing major issues.
Reduced Engine Lifespan
We all want our cars to stay with us for the long haul. Using the wrong coolant, however, can make your engine age faster than it should.
It's like making your car grow old before its time, and that's not something any car owner desires.
Potential Radiator Damage
Think of your car's radiator as a layer of armor. In this sense, using the wrong coolant can work like a paint stripper on this armor, causing radiator damage.
This is a serious problem, as a radiator can leave your car exposed to the hazards of everyday driving.
Inefficient Heat Dissipation
Vehicles often get hot, especially after a long journey. Similarly, the right coolant is just like sipping a cold drink on a hot day.
Nevertheless, if you use the wrong coolant, your car may become a not so cool experience because the heat dissipation will not be efficient.
Increased Maintenance Costs
The wrong coolant can cause more frequent visits to the mechanic, resulting in increased maintenance expenses.
It's like having to buy a new game every time you've outgrown the old one, and it's a cost that piles up over time.
Coolant System Blockages
Your car's coolant system is a smoothly maintained highway. The wrong coolant may result in congestion on this highway, converting it into a traffic jam.
And that is bad news for your engine because the engine loves clear roads to do the job right.
It is like giving the right medicine to your car so it does not get sick. It stops overheating and corrosion among other things that can transform a smooth ride into a bumpy one.
When your car is next in need of a refill, use the right coolant, or your engine will never say thank you!
Myths and Misunderstandings about Coolant and Antifreeze
Let's debunk some myths and misconceptions about coolant and antifreeze:
Universal Compatibility Myth
However, there are many different coolants and antifreeze that do not combine well with each other.
Some formulas are designed for certain cars of the same type. For instance, OAT is suitable for new aluminum engines, and IAT works well for old iron or steel engines.
Mixing them may cause corrosion or damage to an engine. Consult your vehicle handbook to know what type of coolant and antifreeze to use.
Color Determines Quality
The quality of the coolant is not indicated by its colors. The manufacturers use colors such as green, orange, pink, blue, or yellow for marketing coolants.
It does not impact how it works in your car. Don't judge coolant by its color Look at Specification and Composition.
Mixing Coolants is Safe
Do not intermingle coolants of different colors even if they belong to the same formula type e.g. OAT or IAT.
They could be different additives that, when mixed together, will lead to problems such as sludges or corrosion.
Leaks also become hard to spot in mixed colors. Use only one type of coolant for a good cooling system.
More Antifreeze Equals Better Freezing Protection
It does not get any better freezing protection by using more antifreeze.
Antifreeze lowers water's freezing point, but too much of it raises it and may damage your engine.
The perfect ratio is 50/50 but in exceptionally cold regions a 60/40 or 70/30 could be used.
Use of pure antifreeze is not advised; always follow instructions on mixing with coolant as recommended by manufacturers.
All Vehicles Use the Same Coolant
This coolant is not used in all vehicles. Each car needs a different cooling system. For example, some need OAT coolant for aluminum radiators to prevent corrosion.
Copper radiators for others need IAT coolant to prevent erosion.
Diesel engines need nitrite-based coolant to avoid cavitation while hybrids need electrically non-conductive coolant.
The wrong type may result in engine overheating and failure. Make sure you use the right coolant for your vehicle by consulting your owner's manual or a mechanic.
Coolants Don't Expire
One popular myth suggests that coolant and antifreeze never 'die' and you only need to change them if you encounter a problem.
That's not true. Moreover, these fluids have an expiry. With time, these chemicals might turn acidic or alkaline and corrode your cooling system.
They may also be diluted, muddled, or polluted, losing their potency.
Check and replace them on the manufacturer's schedule or on sighting any signs of deterioration such as odor or poor protection. Your vehicle's health depends on the care of your coolant.
Antifreeze is Only for Winter
The final myth about coolant and antifreeze is that antifreeze is only for winter and you don't have it in summer or warm countries.
This is not true. Not only does this protect against freezing but it also inhibits boiling, corrosion, and rust.
Your coolant will remain at a safe, low temperature and will be able to withstand high pressures in your engine.
Additionally, the metal components will be protected against corrosion and rust caused by water and oxygen.
The antifreeze also contains lubricants that aid your water pump and other moving parts in their functioning.
For this reason, you need antifreeze to be part of the coolant throughout the year regardless of the weather or the season.
Tips for Properly Using and Maintaining Coolant and Antifreeze
Here are the tips for properly using and maintaining coolant and antifreeze
Checking Levels Regularly
Just like a superhero, coolant is the savior of your car's engine when it overheats. However, like a superhero, your coolant needs a check-up too.
Check the coolant level in the overflow tank regularly. That keeps your engine cool like a champ. We don't want a hot engine with low coolant!
Correct Mixing Ratios
Imagine making a tasty smoothie. To make it perfect, you need a perfect balance of fruits. Coolant is no different!
Add the right amount of water to it. Problems can arise if there is too much or too little coolant. It is usually comprised of 50% water and 50% coolant.
It's just the perfect mix to keep the engine of your car cool.
Avoiding Contamination
Similarly, don't mix different types of coolant in your smoothie (yuck!). You may contaminate if the wrong type.
Keep to the coolant recommended for your car. Mixing different coolants is like inviting trouble to the engine party!
Periodic System Flushing
Think of your car's cooling system like a bathtub. After a while, it needs a good cleaning. Similarly, your car's cooling system needs a bath too!
Flushing removes old coolant and any gunk that might have built up. It's like giving your engine a spa day, keeping it happy and healthy.
Recognizing Color Indicators
Coolant comes in different colors. It is like picking the color of a superhero's cape. They represent different types of coolants through the colors.
Know your color! All of them have their work to do. Find out from your car manual the right color for your vehicle. Use the right superhero color, and he remains strong.
Addressing Leaks Promptly
Picture a water leak in your house. It's not dripped, is it? Likewise, fix your car coolant leak the moment it occurs!
Serious engine problems can arise if leaks are left unattended. Watch for puddles under your car. When you notice it you're in need of the mechanic superhero.
Choosing Compatible Formulations
All coolants are not the same. These are the 'elixirs' for the 'eligible cars'. Opt for a coolant that matches your car's make and model.
Wand selection is like choosing the correct wand for a wizard. The wrong one will not charm the audience.
Find the perfect mix by reading your car manual or talking to an expert.
FAQs about coolant vs. antifreeze:
Can I use any type of coolant in my car?
No, you should use the coolant recommended in your vehicle's owner's manual to ensure proper performance.
Is it safe to mix different colored coolants?
No, mixing different colored coolants can lead to problems like sludge formation or corrosion in your engine.
Do I need antifreeze in the summer?
Yes, antifreeze is not only for winter; it also protects against boiling, corrosion and rust, making it essential year-round.
How often should I check my coolant level?
You should check your coolant level every 20-25 days and ensure it's at the maximum level for long journeys.
Can I use pure antifreeze in my cooling system?
No, using pure antifreeze is not advised; it should be mixed with water as recommended by the manufacturer.
Are all coolants the same?
No, different vehicles may require different types of coolant, so it's important to use the right coolant for your car's make and model.
Should I flush my cooling system periodically?
Yes, periodic system flushing removes old coolant and debris, helping maintain your engine's health and performance.
Final Words:
Understanding the differences between engine coolant and antifreeze is vital for maintaining your vehicle.
Using the right coolant prevents engine overheating, corrosion, and decreased cooling efficiency.
Dispelling myths about compatibility and following proper maintenance, including checking levels, correct mixing ratios, and periodic flushing, is crucial.
Using the right coolant is like providing the right medicine for your car's health, ensuring a smooth and trouble free ride year round.