Is Engine Coolant And Antifreeze The Same Thing?
Many car owners have experienced the discomfort of an overheating engine. It's possible that this issue stems from a fault within the car's cooling system. 
From engine overheating, the antifreeze vs. coolant dispute becomes the focus of the conversation. So, you may wonder is engine coolant and antifreeze the same thing or not.
They are the two essential parts of the cooling system that we're going to look at here.
Is Engine Coolant And Antifreeze The Same Thing?
Engine coolant and antifreeze are not the same things, yet the same thing. More specifically, antifreeze is one of the many types of coolant.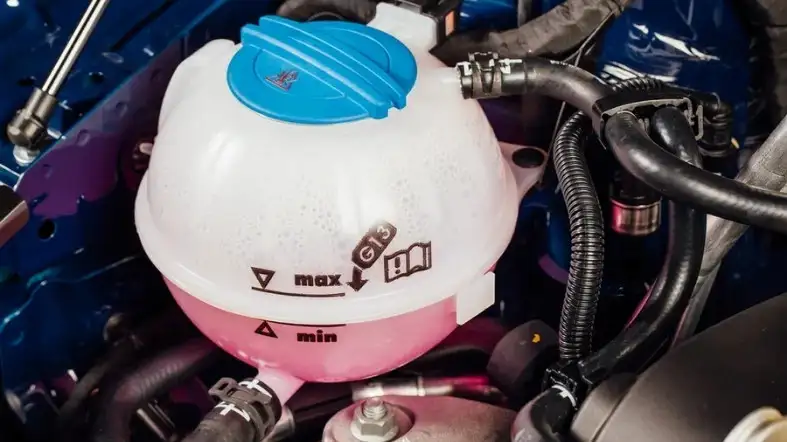 So, all the antifreeze is coolant. But all the coolants in our vehicle may not be antifreeze. 
What Is Antifreeze?
Coolant uses antifreeze. So, to understand what coolant is, you have to know about antifreeze first. In most auto repair shops and parts stores, you will get antifreeze as a common item. 
Adding this liquid to water modifies the water's temperature response. When water is heated, it lowers the water's freezing point and increases the boiling point.
Overheating was traditionally treated with a glass of water. As water freezes, it expands, restricting its usefulness to a 10-degree Celsius temperature range.
It can rupture some engine bay systems if it isn't examined.
Antifreeze solves the problem: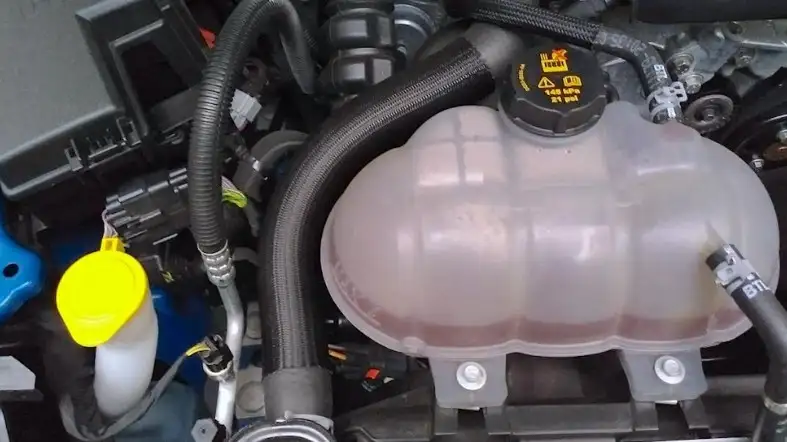 Antifreeze is a substance that helps to keep water from freezing and also enhances the chilling effect of the liquid. Biochemicals of low molecular weight are the principal constituents of antifreeze.
These include methanol, ethanol, and ethyl glycol.
As a bonus, the containers of this product are protected from corrosion thanks to its anti-rust qualities. 
The color of the antifreeze is also critical. Yellow, red, and green are the most common colors.
The various shades of color indicate the many types of manufacturing processes to create the different types of antifreeze for different vehicle models.
Never mix colors, because it might cause more damage to your automobiles than the benefit you will get.
Fill in the coolant reservoir:
The coolant reservoir is filled with antifreeze. If your car is an older model, this part may be missing, thus you'll have to use the radiator fluid.
As its heat transfer capabilities aren't the best, antifreeze by itself isn't enough to keep the engine cool. Overheating and other engine issues might result from the use of pure antifreeze.
What Is Engine Coolant?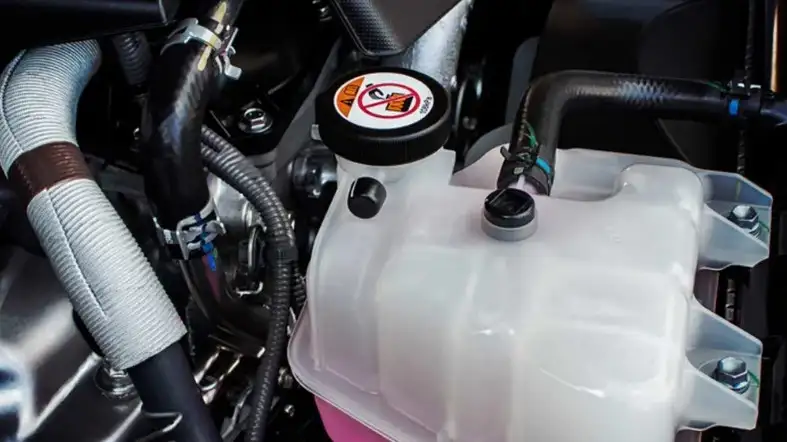 In layman's terms, when you combine a balanced amount of antifreeze and water, it becomes coolant! The basic idea behind the mixture is to make it more effective in regulating heat. 
The water and antifreeze combination ratio is 50/50 in most cases. However, if you're traveling in severely cold weather, you may need to use up to 70% more antifreeze.
The boiling temperature of the water is 212 degrees Fahrenheit, whereas "-32" degrees is the freezing point.
Coolant as a savior:
On the other hand, antifreeze has a freezing point of 0. So, when you combine these two, you make the water's freezing point drops to -35.
Amazing, isn't it? In fact, it takes the boiling temperature up to the operating temperature of the vehicle engine, which is 235 degrees.
Another advantage of making coolant with antifreeze and water is that it keeps automotive parts from corroding. 
Water on its own will cause the metals to corrode. Anticorrosion characteristics are provided by the antifreeze, on the other hand.
Coolant also aids in the removal of heat from the system. An important aspect of heat control is the transfer of heat from one portion to another.
You can produce your coolant at home if you have the appropriate ingredients. Anti-freeze and distilled water are the basic requirements for this task.
If you need a lot of coolants, get a big container like a bucket.
You should use a 1:1 combination. As an example, one liter of antifreeze will take one liter of water. 
Fill the coolant reservoir after thoroughly mixing the mixture. If there are any leftovers, make sure you store them securely in a container that's an air-tight seal.
Fill In The Coolant Reservoir: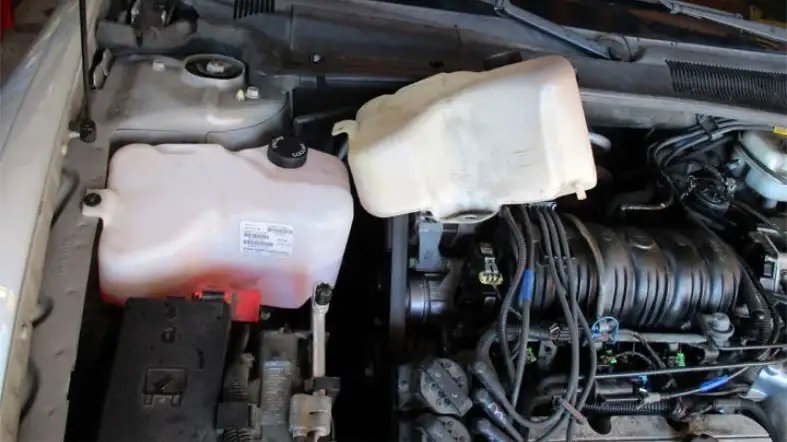 This fluid should be at its maximum level in the coolant reservoir. There are indications of levels on the tank surface. 
If you are using a radiator, there will be no marked levels. So, don't fill it crossing the brim for safety.
Waterless coolants:
Waterless coolants, as the name implies, don't utilize any water.
Unlike water-based products, their boiling point is higher at 375 degrees Fahrenheit. Auto racing, old car models, and snowmobiles all use this glycol-based fluid.
So, these types of coolants don't have antifreeze in them. If you have noticed already, this is the basic difference between antifreeze and coolant.
Coolant vs Antifreeze:
It is technically hard to compare these two as one is a part of the other. For an easy understanding we can differentiate like this:
| Characteristics | Coolant | Antifreeze |
| --- | --- | --- |
| State | Solid, liquid, gas | Liquid |
| Components | Antifreeze and water, cooper, inert gases, transformer oils, halomethanes, AC fluorocarbon, silicone, molten metals, etc. | Propylene glycol, methyl ether, propylene glycol ethylene glycol. |
| Main Function | Reduces the liquid freezing point. | Relocates heat from the engine. |
| Purpose | Don't let the engine freeze. | Don't let the engine overheat. |
| Primary Application | Nuclear reactors, cryogenics, air cooling, refrigerants, etc. | Internal Combustion Engines. |
| Main Traits | High thermal capacity, anti-corrosion, electric insulation, low viscosity, etc.  | Freezing tolerance, anti-corrosion, low viscosity, etc.  |
Cautions with antifreeze:
Antifreeze, it should be noted, is dangerous and, if consumed, can have major health consequences. 
Keep it out of reach of dogs and children and clearly mark it. Because it's toxic, it should be kept away from open flames.
FAQs about coolant vs antifreeze:
What Coolant Should I Use In My Car?
There is no hard and fast rule for this. You have to check the manufacturer's instructions and pick the right type of coolant for this. Then use water as much as you think fits.
How Often Should I Change Engine Coolant?
According to most manufacturers and vehicle experts, one should change the coolant every 32,000-35,000 miles. Check the manufacturer's instructions and do as prescribed.
When To Add Coolant To The Engine?
The coolant level should always be to the maximum level for any long journey. So, check the coolant level every 20-25 days. If the level is significantly down, add more coolant.
Final Words:
We can conclude that antifreeze produces the primary coolant of the vehicle engine. But there are also other types of coolants in the car. 
So, if you are talking about the primary coolant of a car, it is antifreeze. All antifreeze are coolants.
But there are other coolants, such as transmission fluid, brake fluid, AC fluorocarbon refrigerants, power steering fluid, etc.