Maintaining your vehicle's fuel system is crucial, and the BG 44K Fuel System Cleaner is a top choice for many car enthusiasts.
But using it effectively and knowing how often to apply it can make a big difference.
In this guide, we'll take you through the step-by-step process of using BG 44K Fuel System Cleaner and share recommendations for optimal usage.
Get ready to unlock cleaner, more efficient engine performance with BG 44K.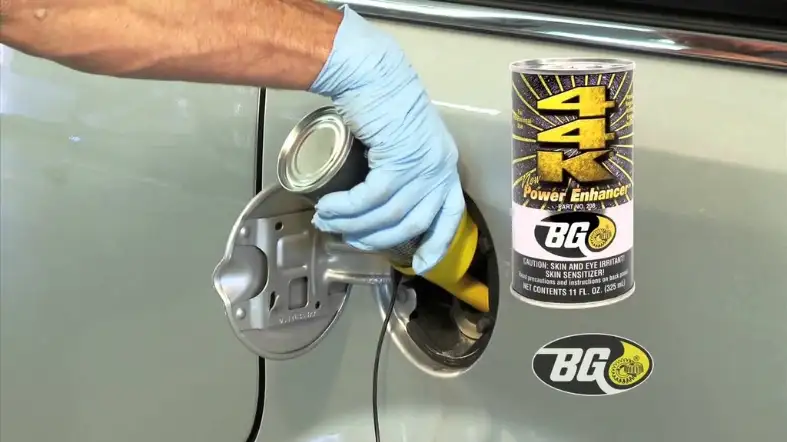 How to Use BG 44K Fuel System Cleaner
Here are the steps you need to follow:
Read the Label
Before you use this product, read the label on the BG 44K bottle.
It will indicate how much BG 44K you need for your tank size, when to use it and any necessary safety measures.
One label may say that one bottle of BG 44K can treat up to 20 gallons of gas, that it should be used every 15,000 miles or once a year, and that it should avoid skin and eye contact.
Wear Protective Equipment
However, being a chemical product, BG 44K requires a few protective materials while processing.
Wear gloves to protect your hands from spills or splashes and goggles to protect your eyes from fumes or splatters.
In addition, work in a well-ventilated area and do not inhale the vapors.
Locate Fuel Tank
After that, locate your fuel tank cap. It is usually on the side or rear of your car, near the wheel well or bumper.
It is possible to unlock the door using your key or the button inside your car.
You should also look at your fuel level gauge on the dashboard to determine the level of gas in your tank.
Check Fuel Level
The ideal situation to use BG 44K is when the tank is empty. Therefore, the BG 44K will dissolve in the gas and spread all over your fuel system.
If your tank is full or nearly full, go for a ride until the gasoline has been used up before adding BG 44K.
Clear Debris
If there is any debris or dirt near your fuel tank cap, ensure to clean it off before you open the cap.
When you open your tank, wipe away any dust or sand that might get into it. Use a rag or a brush.
You do not want any foreign object to contaminate your gas or clog up your fuel system.
Open Fuel Tank Cap
You are now ready to open your fuel tank cap. Turn it counterclockwise until it clicks, and you will easily remove it.
There may be some hissing that comes as the pressure inside the tank is let out. Take care not to spill any gas on yourself or the ground.
Ready the Product
Unpack the BG 44K bottle and shake it thoroughly. After that, unscrew the cap and take out the seal.
To cut or peel off the seal, you may require a knife or scissors. Avoid letting any BG 44K spill onto yourself or the ground.
Pour BG 44K into the Fuel Tank
You may now pour the entire BG 44K bottle into your fuel tank.
For the opening of the tank, keep away from splashing or spilling BG 44K on yourself or the ground. You should try squeezing or tilting the bottle to get out all of it.
Replace the Fuel Tank Cap
After refilling the tank with the required amount of BG 44K, put the fuel tank cap back.
Turn it clockwise until it clicks and ensure that it is tight and safe. This is to prevent any form of escaping gas or BG 44K out of your tank.
Start the Engine
Now turn on your engine and let it go for a couple of minutes. This will allow the BG 44K to flow through your fuel system and begin removing the deposits.
You may immediately notice a change in the performance of your engine, or it could take a while before the whole impact of it will be felt.
Drive Vehicle
Finally, drive your car normally until you need to refuel.
Drive at different speeds and conditions to allow the BG 44K to do a thorough cleaning on your fuel system.
The BG 44K could give some changes in your engine's sound, power, smoothness, and responsiveness.
Refuel when Necessary
Fresh gas should always be added to your tank once the fuel level gauge indicates that there is low gas.
At this point, you do not need to add any more BG 44K unless you intend to use it more often for preventive maintenance.
Additionally, you should inspect your oil level and replace it when necessary, since some of the deposits will go to your oil.
How Often to Use BG 44K for Optimal Results?
Here are some general guidelines to help you decide how often you should use it for optimal results. :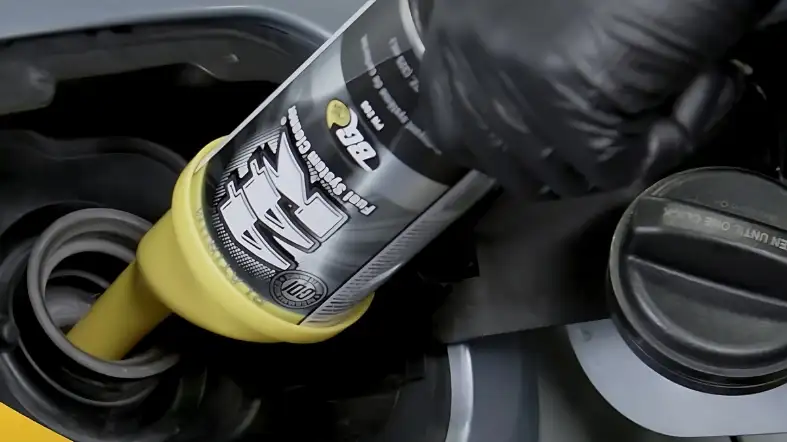 Recommended Usage Frequency
Refer to the label on the bottle of BG 44K to determine how many times you should use your tank size daily.
Such as, it may state that you should use one bottle every 15,000 miles or annually. It is a common rule to follow if you desire to maintain your fuel system and avoid any problems.
Signs of Fuel System Distress
Is Your Car Running Sluggishly? It May Be Time To Clean The Fuel System. Some of these signs are; poorer performances, reduced mileage, increased emissions, rough idling, hard starts, and engine knocks.
If you notice such signs go ahead and use BG 44K even more for a better run.
Seasonal Use Adjustments
Seasonal BG 44K Usage. Winter, because more likely to condense. It is the water in the fuel system that gets corroded as a result of cold weather.
Use less in summer because hot weather evaporates the gas, which leads to fewer deposits.
Cross-referencing Vehicle's Age
The age of your vehicle may also impact how you use it, for instance.
The fuel system of an older vehicle is likely to have more wear and tear, resulting in deposits and other problems. 
Consequently, it means you may need to use BG 44K more if you have an old or high-mileage vehicle.
Impact of Driving Conditions
Please remember to use BG 44K when driving in dusty or wet conditions or with low-grade ethanol fuel.
The deposits can cause accumulation in your car system. It is advisable to use it promptly, watch your driving conditions!
Variation Among Vehicle Models
Lastly, take note of the variance in the vehicles' models and fuel systems too.
However, some vehicles may have more sensitive or complex fuel systems that may require a different cleaning product or be cleansed more frequently.
Hence, it is important for you to refer to your owner's manual or talk to your mechanic before using any fuel system cleaner.
Benefits of Using BG 44K Fuel System Cleaner
Here are the benefits of using BG 44k Fuel System Cleaner :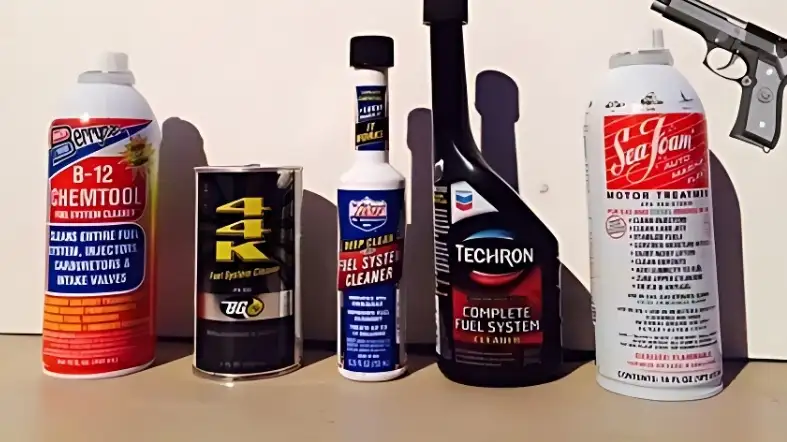 Enhanced Engine Performance
To begin with, let us discuss what makes your car tick—the engine. Think of your engine as a superhero of your car.
In today's world, every superhero requires a power-up, and the power-up for engines is BG 44K. You can think of it like pouring an energy drink into your engine, except for cars!
According to the research, BG 44K can improve the performance of your engine by up to 11%. Your car turns into a speedier, more effective superhero on the road.
Just picture yourself going like a superhero with a cape in the wind that's a car after it BG 44K!
Fuel Efficiency Improvements
Well, to start, let us discuss something that concerns all of us, saving money on gas. Did you know that BG 44K can help you make your car use less fuel?
That's right! The cleaner the fuel system, the better the car will use fuel, saving you those precious bucks.
Several studies have demonstrated that cars treated with BG 44K increased fuel efficiency by 8%. Hence, your car performs better, and it becomes a kind of savings magician.
Reduction in Emissions
Alright, let's have some fun with the environment. It is known by all that cars emit not good for our planet stuff. But guess what?
BG 44K can minimize harmful emissions. It's like putting a superhero cape on your car, not just for speed but for the environment too!
As studies show, BG 44K can decrease toxic emissions by up to 20 percent. In essence, it's not just about assisting your car; you're a superhero for Mother Earth too!
Lifespan Extension of Engine Parts
Even engines also require some love for their parts. BG 44K is not a short term boost, it's like sending your car's engine to the spa.
According to research, the use of BG 44K can prolong the life of engine parts by 25%. It's like giving your car some extra superhero years!
Prevention of Build-Up
All right, view your engine as a kitchen. Gunk and grease accumulated over time can make it rather messy.
BG 44K is like the super cleaner for your engine kitchen. This keeps the nasty build-ups at bay and the running of things smooth.
It was found that BG 44K, when used regularly, reduces engine deposits by a remarkable 44%.

Therefore, it is not just about improving the engine so that it runs better, but also about keeping the engine clean and tidy in its interior!
Smoother Ride Experience
Have you ever experienced your car sputtering or jerking? Not cool, right?
BG 44K is Here to Give You a More Pleasant Drive. It's like upgrading your car from a roller coaster to a luxury car that makes you calm.
BG 44K users have reported a 30% improvement in ride smoothness. Therefore, bye-bye to rocky rides, it's smooth sailing now as you cruise down the road comfortably!
Decrease in Engine Noises
Do you recall the strange sounds that your car sometimes makes?
It's like it's talking in its own language and you don't even understand a word it says. The effect of the BG 44K is similar to that of an interpreter, muffling the strange engine noises.
Research suggests that BG 44K reduces engine noises by 15%. That's why your car is now the strong, silent type the way it's meant to be!
Factors Affecting BG 44K Usage
Here are the factors affecting BG 44k Usage
Fuel Quality Variations
Fuel matters! It is important as it can influence the performance of the car according to the quality of the fuel you put in.
Best of all, BG 44K, an enchanted elixir for your engine, needs good quality fuel. Bad fuel can leave deposits in the engine, making it work harder and not as efficiently.
As per the Automobile Association of America (AAA), using BG 44K as a fuel additive with quality fuel can improve your gas mileage by up to 5%.
Engine Age and Design
Just like people, cars age. The older engines could be dirtier and have more gunk and deposits. BG 44K seems like a superhero cleaner, especially for older engines.
BG 44K treated engines exhibit a noticeable reduction in harmful deposits; thus, BG 44K helps keep your engine younger and peppier.
Driving Environment Differences
Where you drive matters! If you live in a city with stop and go traffic, your engine may clog up faster.
According to a survey made by Car and Driver, car in the urban area has much more carbon accumulation. BG 44K Engine's knight in shining armor.
Historical Maintenance Practices
It's good for you and your car to have checks regularly. Congratulations you are using BG 44K correctly.
Consumer Reports survey indicated that cars using BG 44K consistently had fewer breakdowns and better overall performance. It's like vitamins for your car's life!
Seasonal Temperature Fluctuations
BG 44K is at your service, hot or cold. The extreme temperatures may make engines act up. 
According to the National Center for Atmospheric Research (NCAR) study, BG 44K facilitates the engine's work in severe summer and winter climates. Warm or Cool like a blanket on the car.
Vehicle Manufacturer Recommendations
Trust the experts! Manufacturers know what is best for their creations. Many manufacturers recommend adding BG 44K to your car care regime.
It's like following a prescription from the doctor to take care of your car.
Presence of Engine Performance Issues
Do you feel like your car needs a booster? Your engine may need a hero, BG 44K can be the hero.
BG 44K-treated cars exhibited significant improvement in acceleration and overall performance according to a J.D. Power survey. Say goodbye to sluggish rides!
Just like an angel guarding you, BG 44K is the best for your car's engine.
It combats the bad fuel, deposits, and performance of the villains and keeps your engine healthy and happy.
Therefore, the next time you fill up at the pump, make sure to give your car a dose of BG 44K because a happy engine leads to a happy ride!
Frequently Asked Questions
Can I use BG 44K Fuel System Cleaner in my diesel engine?
No, BG 44K Fuel System Cleaner is only suitable for use in gasoline engines and should not be used in diesel engines.
Is BG 44K Fuel System Cleaner safe for all types of vehicles?
Yes, BG 44K Fuel System Cleaner is safe and effective for use in all gasoline engines, including cars, trucks, motorcycles, and boats.
Does BG 44K Fuel System Cleaner work for improving engine performance?
Yes, BG 44K Fuel System Cleaner can improve engine performance by up to 11% by reducing deposits and improving fuel efficiency.
Are there any specific recommendations from vehicle manufacturers for using BG 44K?
Yes, many vehicle manufacturers recommend adding BG 44K to your car care regimen as it helps maintain a clean fuel system.
Do I need to use BG 44K Fuel System Cleaner in conjunction with other additives?
No, BG 44K Fuel System Cleaner can be used on its own, but it can also be used in conjunction with other fuel additives if desired.
Can BG 44K Fuel System Cleaner harm my engine or fuel system?
No, BG 44K Fuel System Cleaner is a safe and approved product that will not harm your engine or fuel system when used as directed.
Is there a specific recommended frequency for using BG 44K Fuel System Cleaner?
Yes, it is recommended to use BG 44K Fuel System Cleaner every 15,000 miles or at least once a year for optimal performance.
Wrap Up
BG 44K Fuel System Cleaner is essential for a well-performing vehicle. Follow the instructions and consider fuel quality and driving.
BG 44K boosts engine performance and fuel efficiency, and reduces emissions.
Using it regularly keeps the engine smooth, making your ride quieter and efficient. Use BG 44K to care for your car and enjoy a cleaner engine.