A catalytic converter is a device that converts toxic exhaust gases into less harmful emissions by using a chemical process called oxidation.
This is what makes a catalytic converter so important. This device can help to reduce the amount of harmful emissions in the environment.
So, are you confused about does a diesel engine have a catalytic converter? Let's jump into the article to know your answer and choose the right vehicle.
Does a diesel engine have a catalytic converter?
Yes, diesel engines come with a catalytic converter that reduces the toxic gas and fumes emission percentage from a car's engine. It converts harmful gas into less toxic elements to maintain a good environment.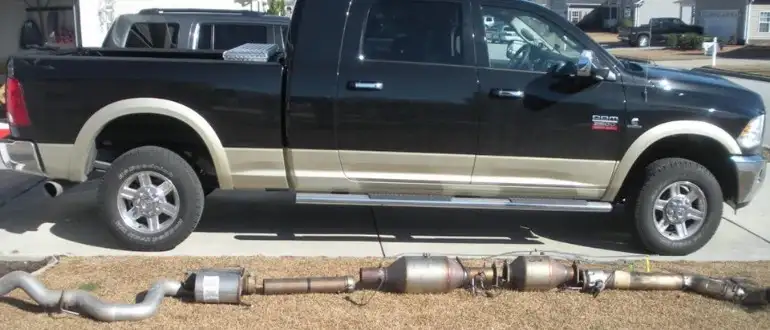 Diesel engine introduces 4 layers catalytic that are given below:
Exhaust gas recirculation (EGR)
Diesel Particulate Filtration (DPF)
Diesel oxidization catalyst (DOC)
Selective Catalytic Reduction (SCR)
The last two-layer work as a converter that actually converts harmful toxin elements into non-toxic fumes. It reduces chemical emissions that help to balance pollution.
How does a diesel catalytic converter work?
To get rid of air pollution and maintain an eco-friendly environment, a catalytic converter is a great innovation. It does a great job of converting toxic chemicals into nontoxic products.
This catalytic converter contains a metallic casing that has two ceramic blocks with thousands of micro-cellular units.
This ceramic block has a metallic coating with palladium and platinum. This converter is located near the engine.
So it easily heats up, and a chemical reaction occurs to convert toxic gases into harmless products before releasing them into the air.
The diesel oxidation catalyst ( DOC) layer catalyzes the shortening of carbon monoxide to water and carbon using a metal catalyst.
DOC breaks down volatile byproducts and harmful hydrocarbons into less toxic gases.
A catalytic converter can be a different type depending on the petrol type.
Diesel-based catalyst contains no rhodium, so it introduces a diesel particulate filter (DPF). That extracts the particulate matter in the petrol-based catalytic converter. 
However, the selective catalytic reduction(SCR) layer catalyzes the breakdown of the nitrogen using an ammonia-based catalyst. As a result, the oxides of nitrogen turn into oxygen and Nitrogen.
When the reductant and exhaust pass over the SCR catalyst, the chemical reaction occurs to do this conversion.
This SCR converter system is 90 percent effective in decreasing NOx emissions. It is an open-loop converting system that also reduces hydrocarbon emissions.
Diesel Catalytic Converter Vs Diesel Particulate Filter (DPF)
Catalytic converters are exclusively designed to work with a diesel engine to filter particulate elements.
Diesel engine emits solid toxic and unburnt fuel through the catalyst in the form of vapor, gas, or less toxic fumes.
This particulate matter can observe in black smoke that comes from a diesel engine. This smoke causes a brown cloud of smog around the industrial city.
Particulate matter has the below components.
Soluble organic fraction ( SOF)
Lubricating oil hydrocarbon (LHC)
Fuel derived hydrocarbon (FHC)
When you use lower sulfur diesel fuel, it also reduces the number of particulate matter emissions in the air.
Unfortunately, you won't find any sulfur-free diesel in the market, so there is a chance of emitting particulate matter into the atmosphere.
But as the particulate matter is solid, you can filter it with the help of a diesel catalytic converter.
DPF discard the solids from the diesel combustion chamber before the engine started emissions into the atmosphere.
So every part of a catalytic converter is beneficial to remove harmful chemicals from the fuel.
The durability of a Diesel catalytic converter
A diesel catalytic converter is a long-lasting device that can give services up to 10 years or 100000 miles.
However, the actual life span of a converter depends on the number of trips that you make to the cars.
A vehicle that makes a short trip after a long break has a high risk of quick-wear out in contrast to a long and consistent trip.
When you go for a short trip, the engine is switched off earlier, and the catalytic converter has no chance of achieving optimum temperature to make the chemical reaction to discard harmful chemicals.
That is why the frequent long trip is essential. Yet catalyst converter is a durable component; you should check it occasionally to find out any unwanted damages.
Signs of a bad catalytic converter
A catalytic converter can get external or internal damage over time. It has chances of deposits building, blocking, overheating, or physical damages.
It is important to find out whether your catalytic converter is damaged or not. You can follow the below sign to find out a bad catalytic converter.
Poor engine performance
Acceleration reduces
Dark smoke emits from the exhaust
Sulfur comes through the exhaust
Overheating
The latest vehicle provides an oxygen sensor that shows red light if you have a bad catalytic converter. If you don't have a sensor checks the above signs.
When you get similar signs, take your vehicle to a mechanic shop for quick replacement.
Final Thought
As a catalytic converter is an essential component to avoid pollution, you should ask does a diesel engine have a catalytic converter.
It is a matter of safety for the whole nation. Luckily diesel engine comes with a catalytic converter, so you can buy a diesel engine vehicle.
As it contains a catalytic converter, you can run it anywhere. There are no restrictions or laws like a traditional car on this modern diesel engine.
So make your ride safe, smooth, and hassle-free with a diesel engine vehicle. Catalytic converter not only reduces harmful chemicals emissions it also boosts vehicle performance.
So before buying a car, it is important to buy an engine that contains a catalytic converter.