When faced with a head gasket issue in your vehicle, the decision to use a head gasket sealer can be a bit daunting. Will it work as advertised, or could it potentially cause more harm than good?
In this article, we'll delve into the world of head gasket sealers and explore whether they can truly ruin an engine or if they serve as a viable solution to a common automotive problem.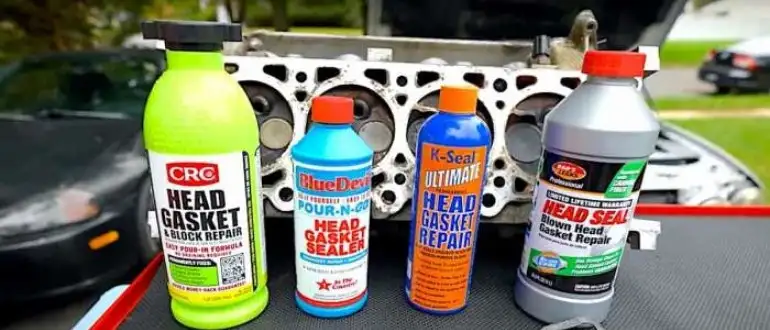 Will head gasket sealer ruin an engine?
A head gasket sealer can be a temporary solution for a blown head gasket, but it's not a long-term fix. While it can seal small cracks or holes temporarily, relying on it can lead to more severe engine damage over time if underlying issues are not addressed properly.
How To Apply The Head Gasket Sealer?
To apply a head gasket sealer, follow these steps carefully:
Safety First
Always prioritize safety. The engine should be allowed to cool down entirely before the application process begins.
If the engine is hot, opening the radiator or coolant reservoir can result in escaping steam and hot coolant causing burns.
Prepare the Cooling System
If there's excess coolant in the radiator or coolant reservoir, use a drain pan to collect it. This step helps prevent overflow when you add the sealer.
Dispose of the collected coolant safely, as it may contain contaminants.
Read the Instructions
Refer to the manufacturer's instructions provided with the sealer product. Different products may have specific guidelines for usage, including recommended dosages and dilution instructions.
Mix if Required
Some head gasket sealers need to be mixed with water or coolant before application.
If your chosen product requires this, carefully follow the mixing instructions provided. Use a clean container to create the mixture.
Add the Sealer
With the engine cool and the coolant system prepared, use a funnel to pour the sealer mixture directly into the empty coolant reservoir.
Alternatively, you can remove the radiator cap and pour the sealer directly into the radiator, depending on your vehicle's design. Follow the recommended dosage provided by the manufacturer.
Start the Engine
After adding the sealer, start the engine and let it run for the prescribed time as indicated in the product instructions.
This typically allows the sealer to circulate through the cooling system, reaching and sealing any leaks.
Monitor the Cooling System
While the engine runs, keep a close eye on the temperature gauge. Ensure the engine does not overheat during this process.
If you notice any irregularities or the engine starts to overheat, turn it off immediately.
Cool Down and Top Up
Once the recommended circulation time has passed, turn off the engine and allow it to cool down.
Afterward, check the coolant level in the reservoir or radiator. If needed, add more coolant to bring it to the appropriate level.
Test and Monitor
Drive your vehicle as usual and monitor its performance. Keep an eye out for any signs of improvement in coolant loss and overheating issues. It may take some time for the sealer to fully take effect.
Remember that head gasket sealers are often considered a temporary solution. While they can provide relief for minor issues, they may not be a permanent fix for significant head gasket problems.
If problems persist or worsen, it's essential to consult a professional mechanic for a thorough diagnosis and appropriate repairs.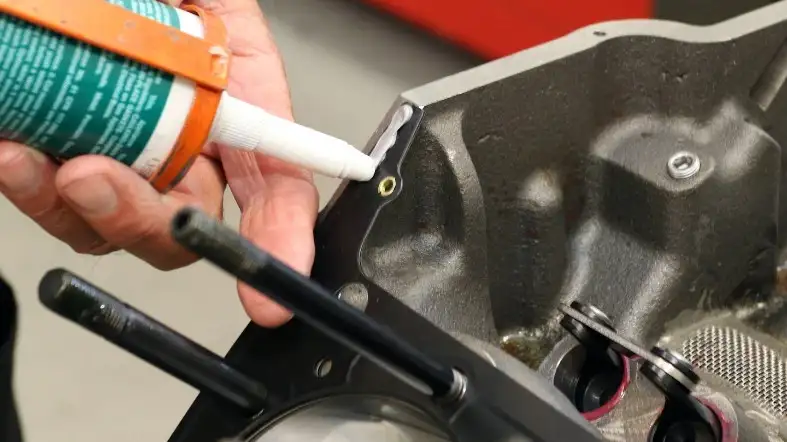 The Potential Impact on Engine Using Head Gasket
Improved Engine Seal
The head gasket is a critical engine component. It creates a seal between the engine block and the cylinder head.
This seal prevents leakage of essential fluids like engine oil and coolant. A good seal ensures that these fluids stay in their proper places, allowing the engine to run smoothly.
Enhanced Heat Dissipation
When your engine runs, it generates a lot of heat. The head gasket plays a crucial role in helping your engine manage this heat.
It ensures that the heat produced in the combustion process is properly transferred away from the engine.
This keeps the engine at an optimal temperature and prevents it from overheating.
Reduced Coolant Loss
Coolant, often called antifreeze, is essential for regulating your engine's temperature.
The head gasket seals the passages that carry coolant throughout the engine. If the head gasket fails, it can lead to coolant leaks.
These leaks can cause the engine to overheat, potentially leading to severe damage.
Minimized Engine Overheating
Engine overheating can be disastrous.
A damaged head gasket can cause the engine to overheat, which may result in warped cylinder heads or even a cracked engine block.
Proper head gasket maintenance and a good seal help prevent these issues, ensuring your engine operates at a safe temperature.
Extended Engine Lifespan
Maintaining a healthy head gasket can significantly extend your engine's lifespan.
By preventing overheating and coolant loss, the head gasket contributes to the engine's longevity.
Regular maintenance and early detection of head gasket issues are key to maximizing your engine's lifespan.
Prevented Cylinder Head Damage
The head gasket also protects the cylinder head from damage. If the seal weakens, it can allow engine oil and coolant to mix.
This mixture can be harmful to the cylinder head, causing corrosion and reducing its lifespan. A strong head gasket prevents this from happening.
Enhanced Fuel Efficiency
A properly functioning head gasket contributes to better fuel efficiency.
When your engine runs at the right temperature and doesn't experience coolant loss or overheating, it operates more efficiently.
This means you get more miles per gallon, saving money on fuel.
Reduced Emissions
Efficient engine operation leads to reduced emissions.
A good head gasket ensures that your engine burns fuel cleanly, minimizing harmful emissions that contribute to air pollution.
This is not only good for the environment but can also help your vehicle pass emissions tests.
Enhancing Vehicle Reliability
In summary, the head gasket's role in maintaining a tight seal, managing heat, and preventing coolant loss is crucial for the overall reliability of your vehicle.
Regular check-ups and prompt attention to head gasket issues can keep your engine running smoothly and extend its lifespan.
So, it's clear that the head gasket isn't just a small part; it has a big impact on your engine's performance and longevity.
Risks Associated with Using Head Gasket Sealers
While head gasket sealers can be a useful tool, they are not without risks. Here are some potential drawbacks to consider:
Clogging Cooling System
If not used correctly or if excessive amounts are added, head gasket sealers can clog the cooling system, including the radiator and heater core.
This can obstruct coolant flow, leading to engine overheating and potential damage.
Temporary Solution
Head gasket sealers are often considered a temporary solution. They may provide relief for a limited time, but they might not address the root cause of the head gasket problem.
Ignoring underlying issues can lead to more significant engine problems down the road.
Masking Problems
Furthermore, relying solely on sealers for long-term solutions may compromise your engine's performance and reliability.
It's wise to consider sealers as a short-term fix and invest in comprehensive repairs to ensure the longevity of your vehicle's engine and prevent recurring problems.
Regular maintenance and addressing underlying issues are key to a smoothly running engine.
Compatibility Issues
Using a head gasket sealer that isn't compatible with your engine or coolant system can result in ineffective sealing, potentially causing leaks or overheating.
To avoid such issues, it's essential to carefully read product labels and consult your vehicle's manual or a professional mechanic for the right sealer recommendation.
Advantages of Head Gasket Sealers
Head gasket sealers, also known as engine sealants, offer several important benefits that can help keep your vehicle running smoothly and efficiently.
Reduced Leakage and Fluid Loss
Head gaskets are crucial components of an engine, and they seal the area between the engine block and the cylinder head.
Over time, these gaskets may develop leaks, causing engine coolant or engine oil to escape. Head gasket sealers are formulated to stop these leaks effectively.
By doing so, they prevent costly fluid loss and the potential for engine damage.
Prevention of Overheating
When a head gasket fails, it can lead to engine overheating due to the escape of coolant.
Head gasket sealers work to fix this issue by sealing any gaps or cracks in the gasket.
This helps maintain the optimal operating temperature of the engine, preventing overheating and the resulting damage.
Extended Vehicle Longevity
By addressing head gasket issues promptly, sealants can significantly extend the lifespan of your vehicle.
Preventing coolant leaks and overheating can help protect the engine from damage and reduce the need for costly repairs or replacements.
Enhanced Engine Performance
A well-sealed head gasket ensures that the engine operates at peak performance.
By preventing leaks and maintaining cylinder compression, head gasket sealers contribute to smoother engine operation and improved power output.
Minimized Downtime
Repairing a head gasket without a sealer can be time-consuming and expensive.
Head gasket sealers offer a quicker and more cost-effective solution, reducing the downtime your vehicle experiences when undergoing repairs.
Environmentally Friendly Option
Using head gasket sealers can be an environmentally friendly choice.
It can help avoid the need for replacing the entire gasket, which would generate more waste and require additional energy resources.
Enhanced Seal Integrity
Head gasket sealers are designed to provide a robust and long-lasting seal.
They work to improve the integrity of the gasket, preventing future leaks and ensuring the engine's proper function.
Increased Fuel Efficiency
A well-sealed head gasket promotes efficient combustion within the engine.
This means that your vehicle can achieve better fuel efficiency, helping you save money on gas over time.
Improved Reliability
When you use a head gasket sealer, you enhance the overall reliability of your vehicle.
You can have greater confidence that your engine will run smoothly and without unexpected issues.
Increased Resale Value
Finally, the use of head gasket sealers can positively impact your vehicle's resale value.
A well-maintained engine with a properly sealed head gasket is an attractive feature for potential buyers, allowing you to command a higher price when selling your vehicle.
Head gasket sealers offer a range of benefits, from preventing leaks and overheating to improving engine performance and reliability.
By using these sealers, you can extend your vehicle's life, reduce downtime, and even help the environment while enjoying better fuel efficiency and resale value.
Disadvantages of Head Gasket Sealers
Head gasket sealers, come with some notable drawbacks. Let's delve into these disadvantages to get a clearer understanding.
Effectiveness Concerns
Head gasket sealers may not always work as expected. Their effectiveness depends on the severity of the gasket damage.
Minor leaks may be temporarily sealed, but larger or more complex issues may not be adequately addressed.
It's crucial to assess the extent of the problem before relying on a sealer.
Risks to Engine Health
Using head gasket sealers can pose risks to your engine's health.
Some sealers contain chemicals that, when introduced to the engine, may not react well with its components.
These chemical reactions can lead to clogs, blockages, or even corrosion, potentially causing more harm than good.
Material Compatibility Issues
Compatibility matters when it comes to head gasket sealers. Not all sealers are suitable for every engine type.
If you choose the wrong sealer for your engine, it might not only fail to fix the issue but also create new problems.
Always ensure you select a sealer compatible with your engine's materials.
Temporary Solution
Head gasket sealers offer a quick fix, but they are often just that: temporary.
They might patch up the problem for a while, but they are not a permanent solution.
If you have a serious gasket issue, relying solely on a sealer could lead to further damage down the road.
Long-term Reliability Doubts
When using head gasket sealers, there are doubts about their long-term reliability. Even if they seem to work initially, it's uncertain how long the fix will last.
For a reliable, long-lasting solution, it's usually better to address head gasket issues through proper mechanical repairs.
While head gasket sealers can provide a quick and inexpensive way to address minor gasket problems, they come with effectiveness concerns, potential risks to engine health, and material compatibility issues and are generally considered temporary fixes with doubts about long-term reliability.
It's essential to weigh these disadvantages against the immediate benefits before deciding to use a head gasket sealer.
FAQs about head gasket sealers
Can head gasket sealants permanently fix a blown head gasket?
No, head gasket sealants are typically a temporary solution and may not provide a permanent fix for significant head gasket problems.
Is it safe to use head gasket sealers in all types of engines?
No, it's essential to ensure that the chosen head gasket sealer is compatible with your specific engine type to avoid potential issues.
Do head gasket sealants pose a risk of clogging other parts of the engine?
Yes, some head gasket sealants can potentially clog other parts of the engine or hydraulic systems, especially if they cannot withstand larger holes.
Are complete gasket replacements always better than using head gasket sealers?
Not necessarily. The choice between complete gasket replacements and sealers depends on the severity of the gasket damage, with sealers being suitable for minor leaks but not ideal for significant ones.
How long can a head gasket sealer's effect last?
The longevity of a head gasket sealer's effect varies depending on the product and the severity of the gasket damage. It can range from months for serious issues to years for minor leaks.
Do head gasket sealers harm the engine in any way?
No, high-quality head gasket sealers are designed to work effectively without causing harm to the engine's performance or components.
Are head gasket sealers cost-effective compared to complete gasket replacements?
Yes, head gasket sealers are generally a more cost-effective approach, particularly for minor gasket issues, but their effectiveness may vary depending on the situation.
Final Thoughts
Head gasket sealers offer a short-term fix for minor issues, reducing leaks and preventing overheating, boosting engine performance.
However, their temporary nature and potential engine risks must be acknowledged.
When dealing with head gasket problems, consult a mechanic for a thorough assessment and weigh long-term reliability.
Consider the pros and cons to determine if sealers suit your needs.