Will Head Gasket Sealer Ruin An Engine? (Explained)
A blown head gasket is something no one likes to deal with. Severe oil leaks and engine misfires are only a couple of the many problems that might result from this kind of failure.
But instead of replacing the complete head gasket, you can use a head gasket sealer. 
However, before you start using one, you might want to know whether the head gasket will damage your engine in any way or not.
Will head gasket sealer ruin an engine?
No, the engine is always safe as long as you use the proper kind of gasket sealer. While fixing head gasket leaks, sealer granules remain way too minute to interact with the engine's equipment.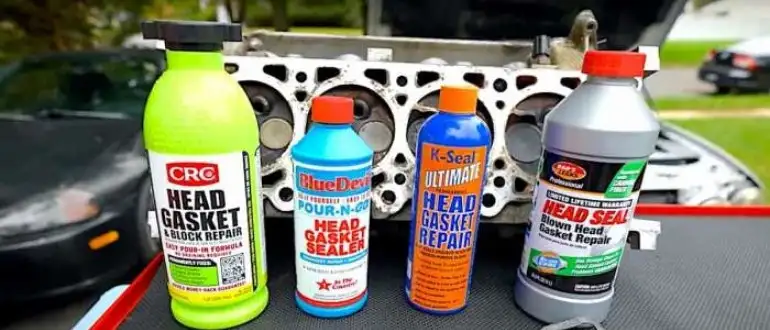 So, technically, there is no chance of a head gasket sealer ruining your engine no matter what. 
To simplify, head gaskets are really a handy option to utilize to ensure your car's safety without any collateral damage.
How To Apply The Head Gasket Sealer?
The severity of the damage, the right kind of sealer matter a lot in determining how much benefit the sealer will offer.
But we often forget that how we apply the sealer also plays a very important role in the lifespan of the sealer and engine safety.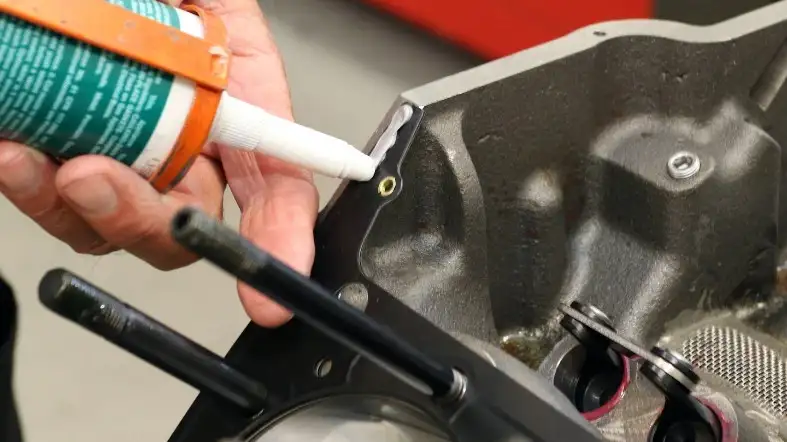 So, here is a step-by-step guideline to help you out with the application of head gasket sealers:
Step 01: Check out whether your engine is completely cool or not.
If you apply the sealer on a hot engine, no matter what the seller says, the sealant faculties will be compromised. As a result, the sealer will not last as expected.
Step 02: In order to remove the radiator cap, you should wait until the engine is cold. Or you will burn yourself badly and may as well compromise the engine safety accidentally.
Step 03: Shake the bottle of the head gasket sealer well.
Step 04: Now, whichever sealer you are using, apply the sealer all over the radiator. 
Step 05: Fill the radiator to the brim with coolant. Do it carefully and make sure you apply the coolant wherever necessary.
Step 06: Start the engine by pressing the start button.
Step 07: Finally, use the climate control knobs on the dashboard to crank up the heat to its highest setting.
As you can see, it is fairly simple to apply any type of head gasket sealer if you know what to do after what.
If you aren't still sure about what to do, we recommend you seek help from professionals.
Advantages of head gasket sealers:
1. Costs a little:
First of all, this is a low-cost option. It is interesting to notice that even the top-quality head gasket sealants cost a little. When you compare the cost with replacement, the sealants cost only 10-12% of the replacement cost.
Depending on the brand and kind of gasket sealer, you can get a long-lasting solution to head gasket difficulties for a fraction of the cost of replacement.
2. Time-saving:
It will save you a lot of time. When the gasket is blown, it takes very little time or no time at all to fix it. There will be no need to do anything when you put the sealer in your radiator.
The automobile will take care of the rest, and the matter will be resolved within about an hour.
In fact, there is more to this. You may also use the sealer that you have on your head to fix the heater cores and freezer plugs in your vehicle if need be.
Disadvantages of head gasket sealers:
Sealers for head gaskets are not without their own set of issues. 
When they are placed in automobiles, they may interact with the heat, resulting in powdery layers which will accumulate over a period of time. 
If you do not use the product according to the manufacturer's instructions, the sealer may become an impediment to the operation of your thermostat.
FAQs about head gasket sealers
1. Do Head Gasket Sealants Really Work?
Yes, they do. As soon as you put it in the radiator, the head gasket starts to do its job.
When the fan and heater are on, the automobile will run for 15 to 30 minutes.
A real solution would be to replace the head gasket. Yes, it would cost a lot, but it would be worth the money.
Only when you want to fix it for a short time, you can try to seal the head gasket.
2. Are Complete Gasket Replacements Better Than Head Gasket Sealers? 
You have to consider the impact of the damage to your gasket to determine whether to change the gasket fully or utilize the sealer.
If there is only tiny or minor damage, the majority of head gasket sealers will offer a long-term solution to small leaks. 
However, they will only provide a temporary fix for significant leaks, and you may eventually require a total gasket replacement.
3. How Long Will The Head Gasket Sealer Last?
For each brand, there are distinct features that make some long-lasting and others short-lived.
The severity of your head gasket damage also plays a role. 
For minor leaks, sealants can survive for years, but when the gasket damage is serious, they can only endure for six months.
4. Will The Sealant Clog Other Holes In The System?
Head gasket sealants are made to fill in the smallest cracks and crevices.
Most, on the other hand, can plug up leaks in the hydraulic systems, gearbox, or power steering, among other places.
Changing the head gasket may be necessary if the sealant cannot withstand the larger holes.
5. Can You Use Head Gasket Sealer Twice?
Yes. Using most of the head gasket sealer more than once is not a problem.
As these products do not include petroleum distillates, you may need to use them again if a leak develops after you last used them. 
When applying it, all you have to do is follow the instructions to the letter.
Final Thoughts
High-quality head gasket sealers are engineered to perform successfully while posing no risk to the engine's performance. 
The majority of sealants have been tested and proven to operate well with either diesel or gasoline engines and with various construction materials, ranging from plastic to cast iron.
Moreover, it is a far less expensive approach that, depending on the circumstances, maybe quite effective in resolving the issue. 
Most importantly, it doesn't harm your engine in any way or form.