Confused about whether Is It Okay To Drive With Check Engine Light On? You're not alone. Navigating car troubles can be daunting.
Dive deep with us as we debunk myths and present expert views on the subject. Drive informed and prioritize your vehicle's health every time.
Is it Okay to Drive with the Check Engine Light On?
Driving with the Check Engine Light On isn't recommended. It indicates potential mechanical issues. While it might not cause immediate harm, it's crucial to get your vehicle inspected promptly. Continuing to drive might exacerbate underlying problems.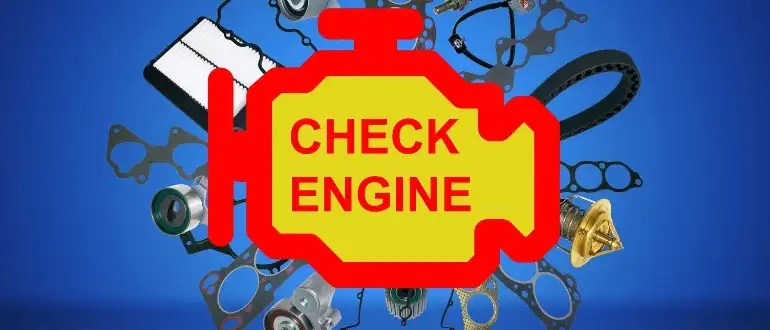 What Should You Do When the Check Engine Light Comes On?
The steps you should take are:
Check Your Gas Cap
As mentioned earlier, a loose gas cap can actually trigger the check engine light to come on.
Before you panic and assume there's a major problem with your vehicle, take a minute to check your gas cap and make sure it's tightened properly.
Check Your Owner's Manual
Your vehicle's owner's manual may contain information about what could be causing the check engine light to come on.
Take a few minutes to review this information and see if there are any troubleshooting steps you can take before calling for help.
Have Your Vehicle Diagnosed
Ultimately, the best thing you can do when the check engine light comes on is to have your vehicle diagnosed by a professional mechanic.
A mechanic will be able to use specialized diagnostic tools to determine what's causing the problem and recommend appropriate repairs.
Don't Ignore the Problem
Whatever you do, don't ignore the problem and continue driving with the check engine light on.
Doing so can cause serious damage to your vehicle over time and may even put your safety at risk. Instead, take action as soon as possible to address the issue and get back on the road safely.
Common Causes of the Check Engine Light Illuminating
Here are some of the most common ones: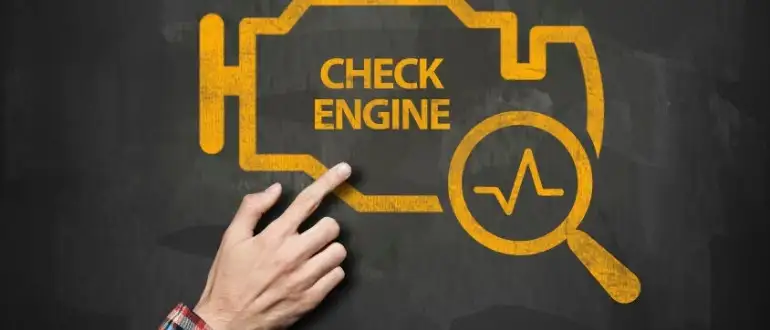 Sensor Malfunctions
The sensors in your car keep track of how good the engine is. They look at things like temperature, pressure, oxygen, and fuel mix.
The check engine light turns on if one of these sensors breaks or gives the wrong information.
What if the oxygen sensor were broken and your car used more gas than it should? That's Bad for the Environment and Your Money.
Spark Plug Failures
They are small devices that produce a spark in order to light up the fuel and air mixture in your engine's cylinders.
If one or more of your spark plugs are worn out or damaged and cause your engine to misfire, it means that some of the cylinders are not working properly.
This may weaken your car's power and performance and ruin other parts of your engine.
Oxygen Sensor Decline
An oxygen Sensor is a sensor that is used to measure the amount of oxygen in the exhaust gas.
This helps your car computer control the amount of fuel and air that goes into the engine so that it runs efficiently and cleanly.
Eventually, the oxygen sensor might become dusty, dirty, or worn out, thus affecting its accuracy and causing your car to run too rich or too lean.
This can also lead to higher gas consumption and emissions.
Faulty Gas Cap Seal
The gas cap is the top part that you use to fill up your gas tank. It has a seal to prevent gas vapors from getting into the air, polluting the environment, and wasting your gas.
Without the seal doing its job, the check engine light will be on if the gas cap is loose, broken, or missing.
This is one of the simplest and least expensive problems to repair all you need to do is tighten or replace the gas cap.
Catalytic Converter Issues
Your exhaust system, the cat, converts some of these gases into less poisonous ones that exit through your tailpipe. This assists in ensuring that pollution levels are kept at bay.
If the catalytic converter is blocked, broken, or old, it won't work right, and the check engine light will come on.
You may find that you have poor performance and mileage if the catalytic converter in your car is bad.
Exhaust Gas Recirculation (EGR) Problems
The emission control system has a part called the EGR system. It takes exhaust gas from the engine and sends it back to the intake manifold. This helps control emissions.
With the aid of a computer, this enables your engine to reduce the nitrogen oxide (NOx) emissions that result in smog and acid rain.
But if the EGR is blocked, leaks, or fails, it can make your engine run rough and emit more. If there is a problem with the EGR system, the check engine light will come on.
Ignition Coil Defects
The ignition coil is an apparatus that converts the battery's low voltage to a high voltage that creates sparks for the spark plugs.
A faulty ignition coil causes a misfire in the engine or stalling and illuminates the check engine light.
It can also ruin other components of your ignition system, such as spark plugs and ignition wires.
Mass Airflow Sensor Disruptions
Another type of sensor, the mass airflow sensor, measures the amount of air coming into your engine.
This helps the car's computer determine the appropriate fuel to inject into a particular cylinder in order to burn it best.
This can send the wrong signals to the computer if the mass airflow sensor is dirty or fails, and this can cause your car to run too rich or too lean.
This can impact the car's performance, fuel economy, and emissions.
Fuel Injector Dysfunctions
The injectors are devices that shoot fuel into each cylinder at specific moments and quantities.
They tune the fuel-air mixture in order to make your car produce more power and efficiency.
If fuel injectors get clogged or faulty, the engine can run unevenly and trigger the check engine light.
A bad fuel injector also allows gas to go to waste and increases your emissions.
Evaporative Emission Control System (EVAP) Leaks
EVAP System in Cars Prevents Gas Odors from Reaching Air.
It seals the fuel tank and charcoal canister, thereby preventing leaks. It reduces emissions, thus improving the environment.
Your car releases fewer volatile organic compounds (VOCs) because it absorbs them.
Nevertheless, failure of the EVAP system due to leakage or malfunction turns on the light of the engine indication. 
Leaking in the EVAP system can also lower your gas mileage or raise emissions.
Potential Risks of Ignoring the Check Engine Light
Here are some risks of ignoring the check engine light:
Decreased Fuel Efficiency
Some of the things that cause the check engine light to go on also cause your car to use more gas than it should.
For example, if your oxygen sensor is bad or your fuel injector is faulty, your car is likely to run too rich, which means that it burns more fuel than it should.
It can reduce your gas mileage and cost you a fortune at the pump.
Expensive Repairs in the Future
If this problem is not fixed, which causes the Check Engine Light to come on, it can worsen and damage other car parts over time.
For instance, a malfunctioning engine can cause an overheat that melts a very expensive catalytic converter.
If the EGR system is bad, it can make carbon in your engine, which might lead to a shortened lifespan of the engine.
A leaky EVAP system causes corrosion in your fuel tank and lines, resulting in fuel leaks and fire hazards. The more you delay addressing the problem, the more you will have to pay for future repairs.
Emission Test Failures
If your car is required to undergo emission tests in a state or city, you will fail the test if its "check engine" light is still on.
This is because it shows that your car is not meeting the emission standards and, hence, is polluting the environment more than it should.
If you do not pass the emission test, there will be no option for renewing your registration or selling the car until the problem is fixed and you pass the test.
Safety Hazards
There are some problems that trigger the check engine light that can also be hazardous to your safety and that of other drivers on the road.
Take, for instance, a bad spark plug or a faulty ignition coil that may make your car stall or lose power while driving, leading to a loss of control and an accident.
Your car could catch fire, leading to an explosion, if the catalytic converter or fuel injector leaks. This would cause injury to you or other individuals around you.
Voided Vehicle Warranties
If you ignore the check engine light and do not fix the problem, your car may be lost, especially if it is still under warranty.
However, almost all warranties necessitate that you look after your car and adhere to the manufacturer's service and repair guidelines.
You could void your warranty and end up paying for repairs out of your pocket if you neglect your car's maintenance and let a problem worsen.
Tips for Preventing Check Engine Light Issues
Here are some tips to prevent check engine light issues:
Regular Vehicle Maintenance
Think of your car's maintenance schedule as a guidebook, which shows you when and how to take care of your car. You can find it in your manual or online.
Adopting this schedule keeps your car in a good state of health and prevents issues that trigger the check engine light.
You can make your engine last 75% longer by just changing your engine oil regularly which prevents the likes of sludge buildup and leaks.
Replacing or checking your air filter could boost your fuel economy by as much as 10%. Poor acceleration, and decreased power, are just some of the issues this will avoid. Therefore, follow the schedule and your car shall stay smooth!
Promptly Address Minor Issues
If your car is not acting right funny noises, smells, vibrations, leaks, and poor performance do not ignore it.
Get it to a mechanic as fast as you can. Small issues fixed early prevent the check engine light from triggering big problems.
In 2020, a loose gas cap was a leading reason for the light. It can be easily repaired by tightening or replacing it.
Otherwise, it causes 40% damage to gas mileage and the emission system. So, address car quirks promptly!
Use Quality Fuel and Oil
Getting the right fuel and oil for your car is important in its performance and emissions.
Always follow the owner's manual or the info on your gas cap for recommended types.
Never use low quality or contaminated fuel or oil, which may harm your engine and fuel system.
In addition, using low quality gasoline can decrease the efficiency of your engine by 2% and may cause knocking that can damage critical components.
The use of the wrong or dirty oil can cause friction, wear, and a short engine life. Keep the recommended grades and the car will operate as expected.
Avoid Overloading the Vehicle
Also, refrain from carrying exorbitant weight in your car and avoid pulling a lot of stuff while driving. This may increase the stress on your engine and transmission, making it work more than it is supposed to.
This may also impact your gas mileage and emissions, and your car will likely wear out more quickly.
Always check your vehicle's owner manual or a sticker inside your trunk or door jamb to find out the weight and towing limits.
Stay Updated with Recall Notices
Sometimes, the check engine light may light up because of a defect or a problem that affects a certain model or make of a car.
This is known as a recall. Always remember to respond to any recall notices by mail, email, phone, or online and follow the instructions on how to fix the problem.
This will prevent the check engine light from coming on, and it will also be safe for you and your car.
Battery Health Checks
The battery powers up your car's electrical system including the computer and the sensors.
A weak, old, or damaged battery can affect the voltage and the current that goes to the car's computer, causing your car to malfunction or send wrong signals.
This may cause the check engine light to light up, and also make your car hard to start or have a hard time running.
Make sure to inspect your battery periodically to see whether it is low, leaking, corroded, or swollen.
Ensure your battery terminals are clean and tight; never leave your lights and accessories on when your car is off.
OBD-II Scanner
When the check engine light comes on, the car's computer stores codes for the faults. You can use an OBD-II scanner to read these codes.
These codes can tell you what is wrong with your car and assist you in diagnosing and repairing it.
An OBD-II scanner is something you can buy online or from an auto parts store and connect to a slot under the dash.
The scanner will show you the codes on a monitor; then you look them up on the Internet or in a manual.
With an OBD-II scanner, you will not have to waste your time in vain trips to the mechanic or find out which parts you need to change.
FAQs
Can I Drive My Car With the Check Engine Light On?
No, it's not advisable to drive with the check engine light on as it indicates potential issues that should be addressed promptly.
Is a Check Engine Light a Serious Concern?
Yes, a check engine light is a warning sign that something is wrong with your vehicle's engine. It could range from minor issues to more serious problems.
What Happens If I Ignore the Check Engine Light?
Ignoring the check engine light may lead to further damage to your vehicle's engine and potential engine failure.
Can I Reset the Check Engine Light Temporarily?
Yes, you can reset the check engine light using methods like disconnecting the battery or using an OBD-II scanner. However, it doesn't fix the underlying issue and is not a permanent solution.
How Long Can I Drive With the Check Engine Light On?
Driving with the check engine light on is not recommended. It's best to have it checked by a mechanic as soon as possible to avoid potential damage and emissions test failures.
Can Low Oil Cause the Check Engine Light to Flash?
Yes, low oil levels can trigger the check engine light, and it should be addressed promptly by checking and refilling the oil.
Is It Okay to Drive With a Loose Gas Cap Triggering the Check Engine Light?
No, it's not advisable to drive with a loose gas cap triggering the check engine light, as it can impact gas mileage and emissions.
Final Thoughts
It's unwise to drive with the Check Engine Light On.
This warning signifies potential mechanical issues that, if neglected, can result in costly repairs, decreased fuel efficiency, emission test failures, safety hazards, and voided warranties.
Prioritizing regular maintenance and promptly addressing issues is crucial. A well maintained vehicle is not only safer but also more cost effective in the long run.