Curious about whether tightening your gas cap can make that pesky check engine light disappear? We've got the definitive answers you seek.
Uncover the reasons behind a loose gas cap triggering this warning, learn crucial gas cap maintenance tips, and explore other potential causes of the check engine light.
Keep your vehicle running smoothly and your worries at bay with our expert guidance.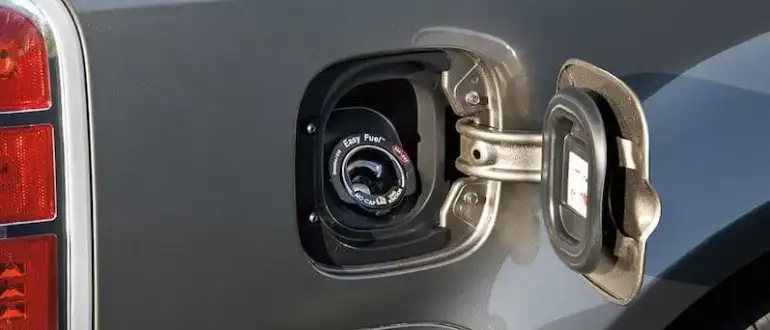 Will Check Engine Light Go Off After Tightening Gas Cap?
If the check engine light was triggered by a loose gas cap, it should go off on its own within a few driving cycles, typically within three days, after tightening the cap. However, if the light remains on, further diagnosis might be necessary.
Reasons Why a Loose Gas Cap Triggers the Check Engine Light
Here are the reasons why a loose gas cap triggers the check engine light:
Evaporative Emission System Breach
Anyhow, what is this thing called the Evaporative Emission System? It's your car's environmental copilot.
It ensures that toxic fumes from your vehicle fuel do not get released into the environment. Imagine if your gas cap is loose.
This is like letting the fumes rush in from the outside. The check engine light is the car's way of saying, slow down. Not everything is tightly sealed.
Decrease in Fuel Efficiency
Let's talk numbers. Did you know that a loose gas cap can make your car less fuel-efficient? So, you are wasting more gas than needed.
Research shows that a loose gas cap can cause a 1-2% reduction in fuel efficiency.
Of course, that might not be much, but with time it accumulates. Right, Gas money is precious, right?
On-Board Diagnostics Sensitivity
These days, cars are intelligent. Your car's health is constantly checked by something called On-Board Diagnostics (OBD). It's like a doctor for your car.
So, if the OBD picks anything odd like a loose gas, it sends an alert to the check engine light! Well, it is the car's way of saying, I need attention!
Risk of Fuel Vapor Leakage
My favorite soda went flat because you neglected to shut the lid properly. It is a little bit like that, a loose gas cap.
It releases fuel vapor into the atmosphere. It is not only bad for the environment, but also a safety issue. Fuel vapors are flammable!
This is why your car becomes a little anxious and turns on the check engine light in this instance.
Gas Cap Seal Deterioration
The seal of the superhero is not only a cap but a gas cap! This seal ensures everything is tight and intact.
However, this seal can be worn out over time. Worn seals account for 45% of gas cap problems.
Okay, so it's like your car's superhero needs to sleep a little, have a nap replace it, or a break.
Air-to-Fuel Ratio Disruptions
Cars are always balanced like a seesaw. To operate correctly, the engine needs the right proportion of air and fuel.
This balance is also messed up by a loose gas cap. This can imbalance the air-to-fuel ratio causing your car to work less efficiently.
And when things are out of balance, the check engine light appears!
Unregulated Fuel Tank Pressure
Imagine your car's fuel tank is a balloon. It's like poking a tiny hole in that balloon if the gas cap is loose.
The pressure inside becomes unregulated. This can impact how your car functions.
Some studies have shown that 12% of cases with check engine lights have improper fuel tank pressure. So, it is not just a small problem!
Emission Control System Alerts
Finally, your car cares about the air we all breathe. The Emission Control System often results in the check engine light being on.
This system tells you that your car is not emitting more pollutants than it should.
When a car has a loose gas cap, this system gets upset and the check engine light is a car's way of saying "Help me keep the air clean".
Well, there you go, future car experts! check engine light is not as mysterious as some people think.
Sometimes it's even as simple as just your car telling you to check your gas cap.
Don't forget, it's the little things that make your four wheeled friend happy and running smoothly!
The Role of the Gas Cap in Vehicle Operation
Here are the roles of the gas cap in vehicle operation: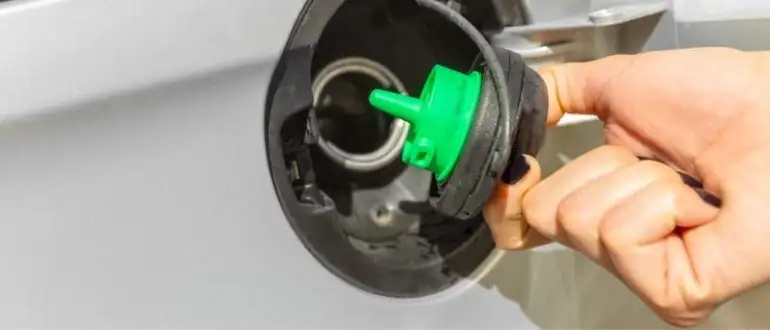 Fuel Evaporation Prevention
How about if your favorite soda went flat in a few hours? That's like what happens to gasoline if it's left to breathe for too long.
The gas cap is like a superhero shield that keeps your fuel from being converted to vapor and escaping into the air.
Studies have shown that driving with a loose or missing gas cap could cost you up to 30 gallons of gas per year! It's like saying goodbye to a whole barrel of soda!
Pressure Regulation in the Fuel Tank
Have you ever experienced your ears popping on a plane? Your car's fuel tank also experiences pressure changes.
It is the gas cap that maintains the balance. It ensures that everything inside the tank remains within the right pressure.
Too much pressure can cause leaks, while too little can affect your car's performance. That would be the perfect porridge for Goldilocks!
Contaminant Prevention
Nobody likes dirty water, right? Your car dislikes dirty fuel too! This gas cap features a snug seal, which keeps out any dust, dirt, or even rainwater.
It is like a little umbrella that surrounds your car inside. Without the engine seal, your engine could ingest all kinds of disgusting stuff, and that could mean big trouble for your engine!
Maintaining Fuel System Integrity
Your car's fuel system as a group of powerful 'superheroes' united. Just as the team captain ensures that everyone does their part, the gas cap is the same.
If the missing gas cap disrupts the entire squad, you have a squad messed up. According to studies, a bad gas cap can reduce your car's fuel efficiency by 10%.
It's like paying more money for a car that does not perform at its best.
Fuel Efficiency
Alright, let's talk numbers. The Department of Energy claims that having no or a loose gas cap can make your car use one to two percent less fuel.
That does not seem a great deal, but it counts over time.
It's like doing homework but for every assignment that you miss, you have one less point to add to the final grade to make it awesome!
Safety
Safety first, right? The gas cap is not just for keeping things in, it is also for keeping things out.
Without a good seal, this would become a major accident waiting to happen.
Indeed, EPA data shows that gas vapors release pollutants into the air and can even harm our health.
In that regard, holding down that gas cap isn't only a good thing for the car; it's also beneficial for the environment and our own.
Fuel Tank Pressure Regulation
Okay, let us go back to our hero team example. Just like a superhero that goes berserk, if there is an increase in pressure in the fuel tank.
Well, it is all chaos as things break apart from one another! The gas cap regulates pressure, maintaining a smooth environment as pressure builds.
That's like having a cool head who knows how to handle heat.
Fuel System Diagnostics
Have you had a car's health checkup? So, the gas cap is like the doctor checking the health of your car.
The OBD-II system is a nifty feature of modern cars and in certain cases might indicate when your gas cap fails to function properly.
That check engine light might activate if it senses a problem. Therefore, that tiny gas cap is like your car shouting, "Hey, I need a checkup!"
The gas cap may be small and seemingly insignificant, but it is an essential part of keeping your car happy and healthy.
This little cap does a lot; from preventing fuel evaporation to ensuring safety and efficiency.
So, next time you fill your tank, give a little pat on the gas cap and say, thanks for keeping things in check for me.
Other Common Triggers for the Check Engine Light
Here are the common triggers for the check engine light:
Oxygen Sensor Failures
Well, we can begin with what is known as Oxygen Sensors. Picture your car inhaling and exhaling like you do.
Your car's oxygen sensor watches out for emissions. Your car may start to feel a little asphyxiated when they go wrong.
You won't believe it but about 40% of check engine light issues are attributed to faulty oxygen sensors. Yes, those are the lungs of your car!
Faulty Catalytic Converters
The following are the Catalytic Converters. They are the recycling champs of your car. They turn bad gases into good ones.
However, there are instances where they get worn out and do not function properly. That is like a car's recycling machine sleeping.
This is significant because the exhaust converter is responsible for about 25% of the exhaust converter problems with the check engine light.
Malfunctioning Mass Airflow Sensors
So, let's discuss Mass Airflow Sensors. Imagine them as a traffic cop in your car engine. They ensure that all is well.
However, when you get confused or stop working, it's like a traffic jam in your engine! Strangely, these sensors account for ten percent of the check engine light riddle.
Ignition Coil Issues
Have you ever watched sparks fly while being fixed in the movies? The sparks in movies are neat, but not in your car engine.
Ignition Coils are like the spark creators of your car. Your car might feel a bit lazy when they go on strike.
It's interesting to know that about 5% of check engine light signals are caused by these sparky matters.
Thermostat Replacement Needs
Now, let's meet the Thermostat. This little guy is like your car's temperature guardian. It keeps your engine in the optimal temperature range.
However, at times it gets tired and needs some rest. Interestingly, about 7% of check engine light problems are just an alert by your car's temperature guardian that it needs changing.
Transmission Concerns
Picture trying to speak to your friend, but the words get mixed up. When your transmission is not working right that's how your car feels.
It feels like a car that can't properly communicate. Guess what? This miscommunication is behind an average of 15% of check engine light adventures.
Exhaust Gas Recirculation Valves
Finally, we discuss the last but not least EGR Valves. Just like your car air purifiers, they remove the bad stuff and ensure it doesn't linger.
However, when they start misbehaving, your vehicle acts as if it is consuming some stale air. Ironically, these valves are responsible for about 8% of check engine light alarms.
Tips for Maintaining a Gas Cap and Preventing Issues
Here are the tips for maintaining a gas cap and preventing issues:
Regular Inspection Routine
These tiny gas caps are surprisingly significant in keeping our cars on good terms.
What if your soda can have a small hole where no bubbles would be inside? Your gas cap has a similar function, like that. Ensure your gas cap is tightly secure, and periodically check this.
Did you know that a loose or damaged cap can make you lose as much as 30 gallons of gas a year? That's like giving away your lunch money!
Proper Tightening Technique
You might think that tightening your gas cap is a no-brainer, but overtightening is just as bad as being too loose.
Turn it until you hear three clicks at least. This keeps it warm but not too tight. Loose caps can be pesky because they wear out quickly. Remember, be gentle, your gas cap also needs some love.
Checking the Seal for Wear
Try to find the rubber seal of your gas cap. Like a superhero cape that covers and protects gas. Your gas cap may not seal properly if it is cracked or worn.
A leaky seal may evaporate fuel and damage the environment. What if we all had gas caps that were superheroes, and we had cleaner air?
Avoiding Overfilling the Fuel Tank
Here's a fun fact: Gas that is overfilled in the tank can find its way to the wrong place, such as the car's charcoal canister.
Never heard of it? It's like a posh gas filter. It can be damaged and expensive repairs may arise if overfilled.
Therefore, when the pump clicks it is like your gas tank stating, "I'm full, thank you!"!
Replacing Aged Gas Caps
Your sneakers wear out just like the gas caps. Your cap may not seal the way it used to after about 50,000 miles.
A good rule is to replace it every few years. A new cap not only keeps your gas but also gives you approximately 4% savings in gas mileage.
It is like extra mileage for every 25 miles driven.
Addressing Stuck or Jammed Caps
Oh no! Your gas cap is trying to slip away? Don't push it! That might be even worse. Twist it slowly and wiggle it a bit.
If it won't move, ask an adult or a mechanic for assistance. It can lead to broken parts that require repair service.
Wouldn't we all rather spend our money on cool things?
Monitoring for Fuel Odors
The smell of gasoline is very noticeable, and any lingering around your car when it should not be is an indication of danger.
If your car is emitting a stinky odor, it might be because your gas cap is not tight enough.
Moreover, it is not only irritating but also money down the drain fume money, shall we say. A quick check could keep you from losing your dollars and fresh air!
Just like giving a little love to your car! This will save you money and protect the environment. It is a small effort that accumulates into large benefits.
Next time you're at the pump, give your gas cap a little love because it's working hard to keep your wheels spinning!
FAQs
Can a Loose Gas Cap Trigger the Check Engine Light?
Yes, a loose gas cap can trigger the check engine light.
Is a Decrease in Fuel Efficiency a Common Symptom of a Loose Gas Cap?
Yes, a decrease in fuel efficiency can occur when you have a loose gas cap.
Are Oxygen Sensor Failures a Common Cause of the Check Engine Light?
Yes, oxygen sensor failures are a common cause of the check engine light.
Do I Need to Drive a Certain Distance to Reset the Check Engine Light After Tightening the Gas Cap?
Yes, driving around 10 to 20 miles should typically reset the check engine light after tightening the gas cap.
Does Overfilling the Fuel Tank Lead to Check Engine Light Issues?
Yes, overfilling the fuel tank can lead to check engine light issues, as it can affect the car's emissions system.
Can a Worn Gas Cap Seal Result in Check Engine Light Problems?
Yes, a worn gas cap seal can result in check engine light problems, as it may no longer provide a proper seal.
Is Proper Gas Cap Care Important for Maintaining Vehicle Performance?
Yes, proper gas cap care is important for maintaining vehicle performance and emission control.
Final words
If your check engine light comes on due to a loose gas cap, tightening it should resolve the issue.
This small component plays a crucial role in maintaining fuel efficiency and environmental responsibility.
However, if the light persists, be aware of other potential triggers like faulty sensors or converters.
Regular maintenance and proper gas cap care are essential for optimal vehicle performance and emission control.