If you ask me to name an expensive and significant concern in the car repair industry, I will name the cracked engine blocks. 
Most of the time this problem exhibits the same signs of a fractured cylinder head or any of the blown head gaskets. So, for a layman, it is hard to diagnose a cracked engine block.
So, how do you know if your engine block is cracked? Let's find out.
How Do You Know If Your Engine Block Is Cracked?
A cracked engine block shows a lot of signs. The possible signs include visible fracture in the block, antifreeze, and oil mixing, etc.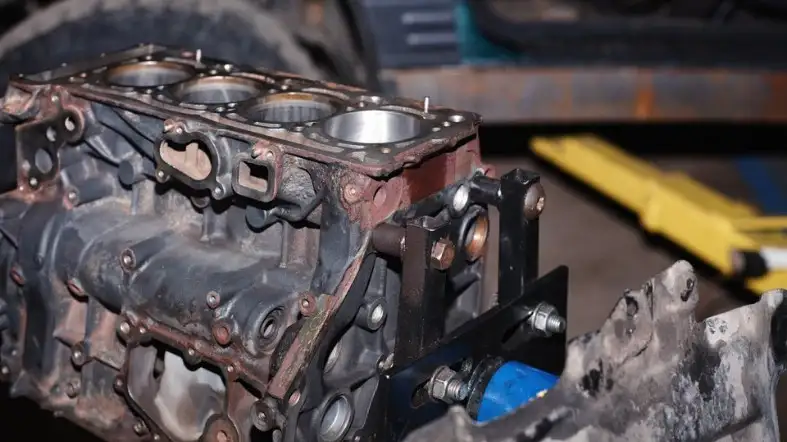 Heavy smoke from the engine, smoke under the hood, poor compression level, overheating of the engine are also among the significant causes. 
What are the signs of a cracked engine block?
Poor engine performance:
A considerable loss of engine power is perhaps the most visible indicator of a broken engine block.
If the block fractures, it is possible that the engine will not be able to produce enough combustion pressure. It will result in a low engine compression.
As a whole, the harsh pace and significant drop in fuel economy that this problem will create should raise some red flags.
Antifreeze And Oil Mixing: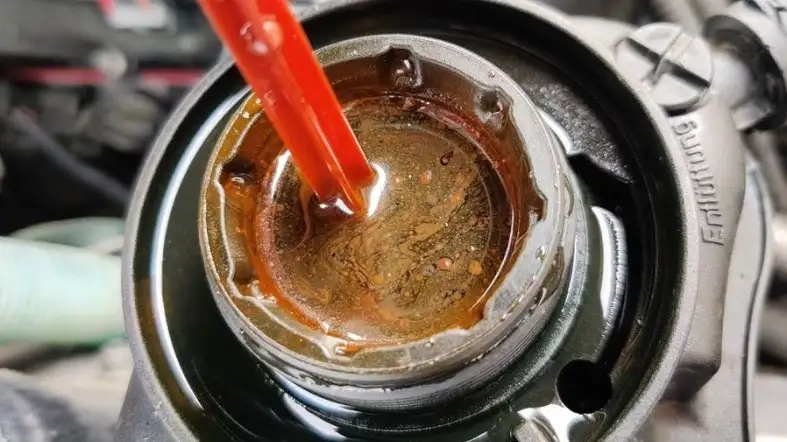 When a coolant flush or oil exchange is going on, tell your technician to look for the color and quality of the liquid that is coming out of the engine. 
Make sure he verifies that everything looks as it should.
When antifreeze and oil combine, the result is a white, hazy liquid. An engine block break between oil and coolant passageways can be seen here, which is a good indicator.
Overheating regularly:
Antifreeze can leak from an engine block as a result of a break in the block. It will put your automobile in danger of overheating owing to a shortage of coolant.
The most prevalent sign of overheating is a rising temperature thermometer. White smoke can also accompany it.
Exhaust Pipe Releasing White Smoke: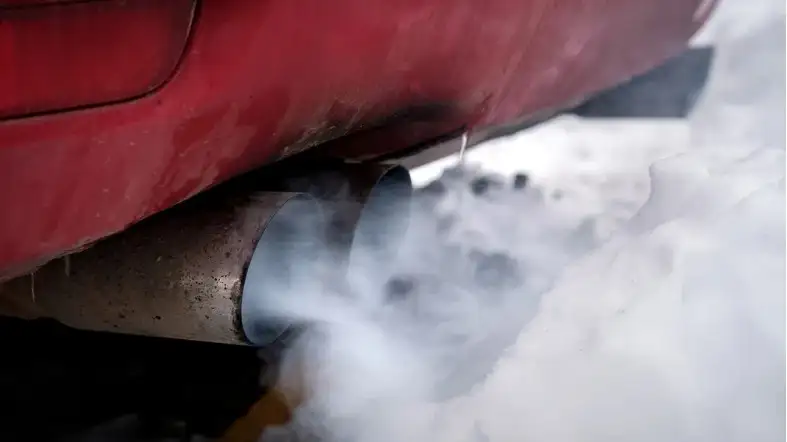 Throughout the engine block, there are coolant tunnels that carry coolant. Because of a break in the block, coolant from the engine's cooling tubes may seep into one of the engine's cylinders. 
Then, the coolant might be consumed as part of that process.
As a result, you'll notice white smoke streaming out of the vehicle's tailpipe, which is steam, rather than exhaust. You may also note that the exhaust gases have a pleasant scent to them.
Oil or coolant leaks:
A fractured engine block might result in a coolant leak that can be either internal or exterior. 
It is also conceivable that an exterior engine oil leak will occur, depending on where the break is located.
Harsh running and misfiring:
In some situations, according to the manufacturer, the lack of compression that comes from a fractured engine block can lead to harsh running and misfiring.
Cooling System Combustion Gases: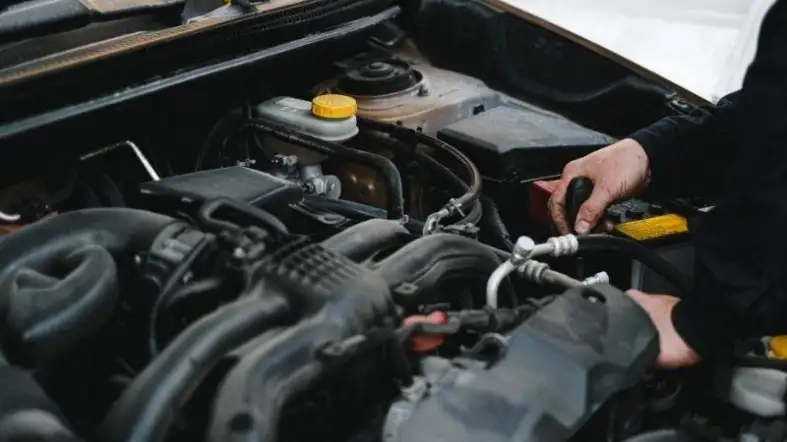 There should be no combustion gas in the cooling system. But ta fractured engine block will allow it to reach there. As a result, the coolant may first appear to be too bubbled before finally boiling.
To prevent this from happening, the cooling system will also operate at its maximum capacity. It will be strained to breaking point.
Check engine light:
In many instances, the check engine light comes on just because of the cracked engine block. 
Moreover, sometimes, the same thing can make high-temperature light and the fixed coolant level light come on.
If you have a temperature gauge in your automobile, you'll watch that rise as well.
What Causes A Cranked Engine Block?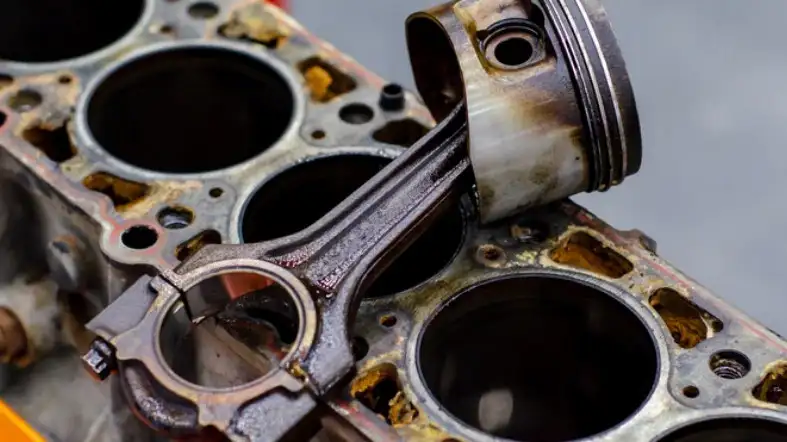 Several factors can contribute to an engine block cracking, but the most common one is too much heat, which is generally the result of a coolant issue. 
While the engine's cooler areas remain the same, the engine's overheated regions expand.
As a result, the engine block is subjected to additional stress, increasing the risk of a fracture developing.
A faulty water pump would prevent coolant from properly flowing through the system. Eventually, it will extreme overheating and possible engine block fractures. 
An engine block's structural integrity may be compromised by a casting failure during injection molding. When heat is applied to these areas, small fractures may form.
Diagnose a cracked engine block:
Naked eye observation:
When completing a visual check of the block, you may be able to detect an oil or coolant leak that is only visible from the outside.
Pressure Test On The Cooling System: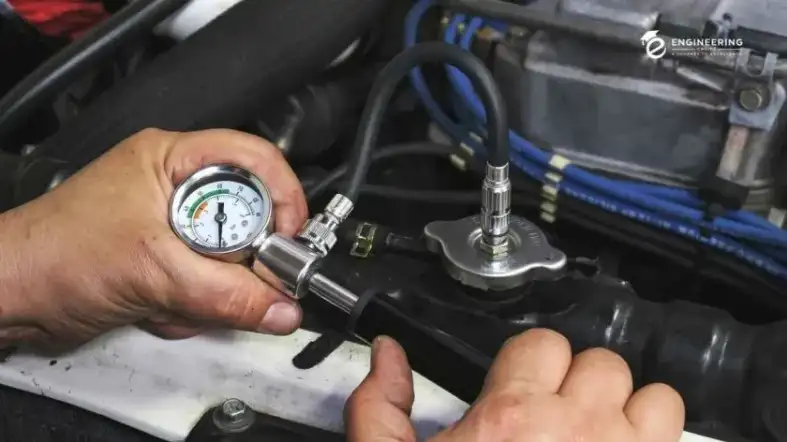 It is possible to identify a leaky cooling system by doing this very specific test on the block. It is indeed a very reliable test and manufacturers recommend it. 
To find the cause of the coolant leak, you compress the cooling system to the maximum extent. Use a special pressure tester for putting maximum pressure.
A block tester:
A block tester is a device that has a fluid inside. If there is any fluid combustion gas around. So, you can very well use this method to detect the problem.
Just place the block tester in the filler neck of the cooling system to see if there are any combustion gases in the system, which could damage the system.
But keep in mind that head gasket leaking, cracks, cylinder head, or block cracks are the most common causes of combustion gases in an engine.
FAQs about cracked engine blocks:
Will An Engine Run With A Cracked Block?
Yes, it will run. But its performance will degrade day by day along with many other problems as mentioned earlier.
Can You Fix A Cracked Engine Block?
You should not fix it.  Professionals used to fix these things, but these days, they're more likely to change it with a new block (or even the whole engine) than to fix them.
How Much Is A New Engine Block?
The top-quality engine blocks will cost you between $5,000 and $8,000 based on your car model and many other factors.
Final Words:
Engines in automobiles are meant to be simple and low-maintenance. But if they're not properly cared for, they might develop serious issues. 
It's also possible that your engine block is fractured. If you notice the signs, contact an expert mechanic as soon as possible.