How long can you rely on your head gasket to keep your engine running smoothly? It's a question that lingers in the minds of car owners everywhere.
The lifespan of a head gasket is a crucial factor to consider when it comes to the overall durability and maintenance of your vehicle.
In this blog post, we'll delve into the factors that influence the longevity of head gaskets and provide insights to help you understand just how long they can last.
How Long Do Head Gaskets Last?
Head gaskets typically last 200,000 miles.
The lifespan of a head gasket can vary based on the make and model of the vehicle, as well as how it is driven and maintained.
Poor engine maintenance, overheating, and engine modifications can all contribute to a shorter lifespan for a head gasket.
Signs Of A Failing Head Gasket And What To Look For
Here are some common signs of a failing head gasket and what to look for.
External leaks
One of the most common signs that your head gasket is failing is the presence of external leaks. These leaks usually occur at the seam where the engine block and cylinder head meet.
To check for signs of leaks, inspect the engine block and cylinder head for any residue of oil or coolant.
If you notice any oil or coolant stains or puddles underneath your vehicle, it may indicate a failing head gasket.
Overheating engine
When a head gasket fails, it can lead to engine overheating. This happens because the combustion gases escape into the cooling system, affecting its efficiency.
You can identify an overheating engine by checking the temperature gauge on your vehicle's dashboard.
If it consistently reads higher than normal, it could be a sign of a failing head gasket.
Additionally, if you see steam or smoke coming from under the hood, it is another indication of engine overheating.
Loss of power
A failing head gasket can result in a loss of engine power. The head gasket plays a crucial role in maintaining compression within the engine cylinders.
When it fails, compression can be compromised, leading to reduced power output.
You may notice that your engine runs roughly, experiences frequent misfires, or struggles to accelerate. These symptoms indicate that it's time to inspect your head gasket.
Exhaust smoke
Another sign of a failing head gasket is the presence of smoke from the engine's exhaust system. The color of the smoke can provide clues about the underlying issue.
If you observe white smoke coming from the exhaust, it suggests a coolant leak caused by a failing head gasket.
On the other hand, blue smoke indicates an oil leak associated with the head gasket failure.
Pay attention to the color and consistency of the smoke to help diagnose the problem accurately.
Bubbling radiator or overflow tank
A failing head gasket can cause the engine coolant to bubble or boil, leading to pressure buildup in the cooling system.
You can check for this symptom by removing the radiator cap or looking into the overflow tank when the engine is cold.
If you notice constant bubbling or boiling, it is a strong indicator of a failing head gasket.
However, exercise caution and avoid removing the radiator cap when the engine is hot to prevent injury from hot coolant.
Poor fuel economy
A failing head gasket can also affect your vehicle's fuel economy. When the head gasket fails, the engine may not run efficiently, resulting in decreased mileage per gallon of fuel.
If you notice a sudden decrease in your vehicle's fuel efficiency and find yourself refueling more frequently than usual, it could be due to a failing head gasket.
Consider having your head gasket inspected to determine if it is the cause of the issue.
Head Gasket Replacement Cost And Factors That Affect It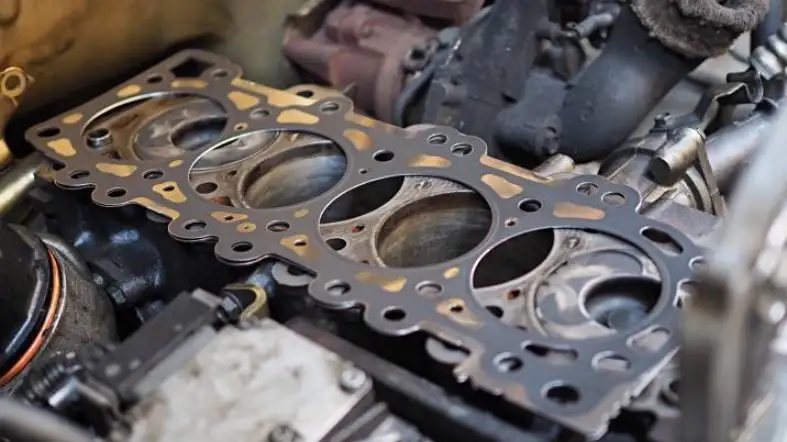 Factors That Affect Head Gasket Replacement Cost:
Labor Costs
The cost of labor is a significant factor in head gasket replacement. On average, you can expect to pay between $909 and $1,147 for labor.
However, if there are additional engine problems that caused the head gasket to blow, the total labor cost can quickly climb to $3,000 or more.
Skilled technicians will spend several hours working on your vehicle to ensure the proper replacement of the head gasket.
Parts Cost
The cost of parts is another crucial consideration. On average, the parts required for head gasket replacement range from $715 to $832.
The price can vary depending on the specific vehicle and the quality of the parts chosen.
It's essential to use high-quality parts to ensure the longevity and performance of the new head gasket.
Cheaper parts may save you money upfront but could lead to further issues down the line.
Location of the Repair Shop
The location of the repair shop can also impact the cost of head gasket replacement. Labor rates can vary depending on the region and local market conditions.
In some areas, the cost of labor may be higher due to factors like higher living expenses or increased demand for automotive services.
Additionally, some repair shops may charge more for parts due to shipping and handling costs if they need to be sourced from distant suppliers.
Make and Model of the Vehicle
The make and model of your vehicle can influence the cost of head gasket replacement.
Luxury or high-performance vehicles often require specialized parts and expertise, which can increase the overall cost of the repair.
These vehicles may have unique engine configurations or advanced technologies that make the replacement process more complex and time-consuming.
It's important to consider the specific requirements of your vehicle when estimating the cost of head gasket replacement.
Estimates for Head Gasket Replacement Cost
Based on various sources, the average cost for head gasket replacement typically ranges from $1,400 to $1,600.
However, it's crucial to keep in mind that these are just estimates, and the actual cost can vary depending on the factors mentioned above.
To get an accurate estimate, it's best to consult with reputable repair shops or mechanics who can assess your specific situation and provide a detailed cost breakdown.
They can examine the extent of the damage, assess any additional repairs needed, and consider the unique factors related to your vehicle to give you a more precise estimate for the head gasket replacement cost.
How To Properly Maintain Your Head Gasket?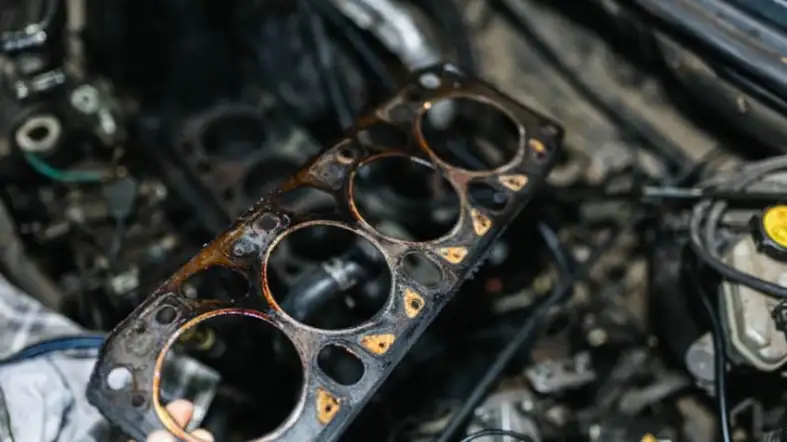 Here are some tips on how to properly maintain your head gasket:
Check your coolant levels regularly.
One of the most important things you can do to maintain your head gasket is to keep your engine coolant levels at the recommended level.
Checking your coolant levels is easy; simply open the hood and visually inspect the coolant expansion reservoir.
If the coolant level is below the "full" line, top it off with a compatible coolant like PEAK Long Life Antifreeze Coolant.
Monitor your engine temperature.
Keeping an eye on your engine's temperature gauge can help you catch potential overheating issues before they cause damage to your head gasket. 
Use a service manual when performing repairs.
If you need to perform repairs that involve removing your head gasket, it's important to have a service manual on hand.
A service manual will provide step-by-step instructions and help you avoid mistakes that can cause damage to your head gasket or other engine components. 
Check for flatness when reinstalling your head gasket.
When reinstalling your head gasket, it's important to check both the cylinder head and block surfaces for flatness.
Place a straight edge across the deck to check for any warping or irregularities. If you notice any issues, have the surfaces machined or repaired before reinstalling your head gasket. 
Clean the bolt holes before tightening your head gasket.
To ensure a proper seal, it's important to clean the bolt holes that tighten the head to the block before tightening your head gasket.
Dirt or grease on the gasket or head surface can prevent a good seal and cause leaks. 
Use gasket sealant as recommended by the manufacturer.
When installing your head gasket, always use the recommended amount of gasket sealant in the specified areas.
Deviating from the manufacturer's recommendations can cause damage to internal engine components. 
Use a head gasket sealer for minor leaks.
If you notice minor leaks or symptoms of a blown head gasket, a head gasket sealer in a bottle may be able to help. 
How To Choose The Best Head Gasket For Your Vehicle?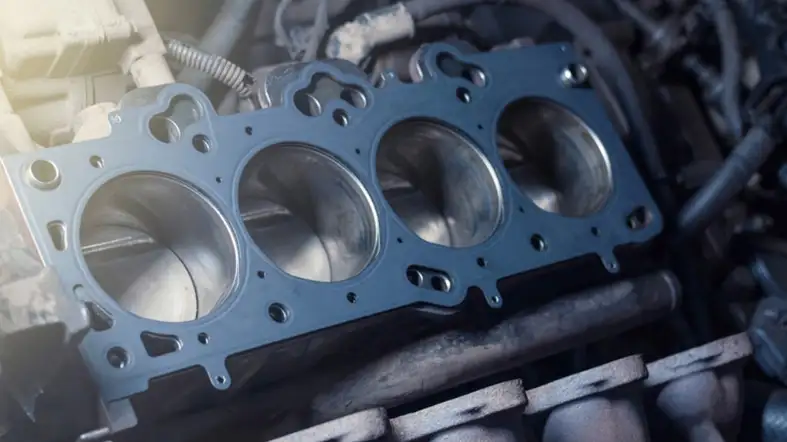 Here is some guidance on selecting the appropriate head gasket for your needs.
Consider Your Vehicle and Engine
The first step in choosing the best head gasket for your vehicle is to consider the make, model, and year of your car.
Different vehicles require different types of head gaskets, and using the wrong one can lead to problems down the road. 
It's also important to consider your engine size and any modifications you may have made, as this can affect the type of gasket you need. 
Types of Head Gaskets
Here are some of the most common types of head gaskets:
MLS Head Gaskets
MLS (Multi-Layer Steel) head gaskets are popular for modified engines with higher compression ratios and special cam timing.
These gaskets are designed to eliminate distortion and blowouts and provide added durability. 
Composite Head Gaskets
Composite head gaskets are made from a mixture of materials, including graphite and other synthetic fibers.
These gaskets are suitable for most stock engines and provide a good seal between the engine block and cylinder head. 
Copper Head Gaskets
Copper head gaskets are soft and malleable, allowing them to conform to any irregularities in the mating surfaces of the engine block and cylinder head.
These gaskets are often used in racing applications and can provide a very tight seal.
However, they can also be more difficult to install and require careful preparation of the mating surfaces. 
Fire Ring Head Gaskets
Fire Ring head gaskets feature a stainless steel fire ring that surrounds the cylinder bore.
This ring helps to seal the combustion chamber and prevent leaks, making these gaskets a good choice for high-performance engines.
However, they can be more expensive and may require more maintenance than other types of gaskets. 
Other Factors to Consider
In addition to the type of head gasket, there are other factors to consider when choosing the best one for your vehicle. These include:
Cooling system capacity: 
Make sure to choose a head gasket that is compatible with your vehicle's cooling system capacity.
Some gasket sealers, such as BlueDevil Pour-N-Go Head Gasket Sealer, come in specific sizes to treat different cooling system capacities.
Bolt hole cleaning: Make sure to clean the bolt holes that attach the head to the engine block to prevent damage to internal engine parts.
Surface cleaning: 
Use a gasket scraper to clean the surface of the cylinder head and engine block before installing the gasket to ensure a proper seal.
Frequently Asked Questions
Q. How Long Do Head Gaskets Typically Last In A Car?
A: The lifespan of a head gasket can vary depending on several factors, including the engine design, driving conditions, maintenance history, and usage. In general, most head gaskets can last anywhere from 100,000 to 200,000 miles or more before needing replacement.
Q. What Are Some Signs That A Head Gasket May Be Failing Or Needs Replacement?
A: Common signs of a failing head gasket include engine overheating, loss of coolant, white smoke coming from the exhaust, engine misfires, oil contamination, and low compression.
Q. Can Regular Maintenance Help Prolong The Life Of A Head Gasket?
A: Yes, proper maintenance, including regular oil changes, coolant flushes, and engine tune-ups, can help extend the life of a head gasket. 
Q. What Are Some Common Causes Of Head Gasket Failure?
A: Head gasket failure can result from several factors, including overheating, engine coolant contamination, engine block cracks, high mileage, and poor maintenance.
Overheating is a common cause of head gasket failure, and it's essential to address any cooling system issues promptly to prevent damage to the engine.
Conclusion:
Head gaskets are an important but often overlooked component of your car's engine.
By keeping an eye out for the signs of a failing head gasket and taking steps to prevent overheating and other engine problems, you can help ensure that your vehicle runs smoothly for many miles to come.