When you turn on your car, you expect everything to work perfectly, from the engine to the headlights.
But have you ever thought about what goes on under the hood? One important component that keeps your car running smoothly is the alternator.
However, like any other component, the alternator has its limits.
In this article, we'll discuss how hot an alternator should get and what can happen if it gets too hot.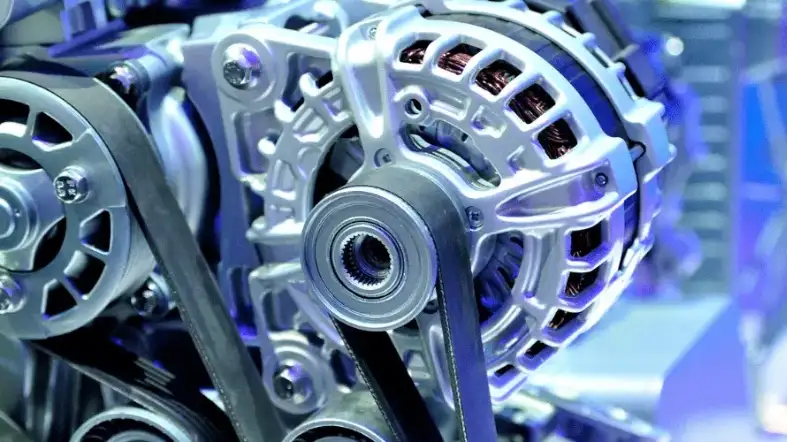 How Hot Should An Alternator Get?
An alternator can get quite hot, reaching temperatures up to 200°F or even 239°F in some cases. Normal operating temperatures range from 120-140°F. However, most alternators will shut down around 310°F to prevent damage. So, while some heat is expected, extreme temperatures should be monitored.
Factors Affecting Alternator Temperature
1. Electrical Load
The electrical load placed on the alternator significantly impacts its temperature. When the vehicle's electrical accessories are in use, such as air conditioning, headlights, or heated seats, the alternator has to work harder to meet the increased demand for electricity. This increased workload leads to more heat generation within the alternator.
2. Driving Conditions
The temperature of the alternator can vary depending on the driving conditions. For example, driving at high speeds for an extended period can cause the alternator to produce more heat due to the increased electrical demand from the vehicle's systems. Additionally, stop-and-go traffic or driving in hot weather can also contribute to higher temperatures.
3. Alternator Efficiency
The efficiency of the alternator itself plays a crucial role in its temperature regulation. A more efficient alternator generates less heat while effectively converting mechanical energy from the engine into electrical energy. Modern alternators are designed to be more efficient, which helps keep their operating temperatures within an acceptable range.
4. Engine Heat
The location of the alternator in proximity to the engine can influence its temperature. In some vehicle configurations, the alternator is placed close to the engine, which means it may absorb some of the engine's heat during operation. This can contribute to higher temperatures in the alternator.
5. Ambient Temperature
The surrounding ambient temperature can affect the alternator's operating temperature, especially in hot weather conditions. When the external temperature is high, the alternator may run hotter due to the additional heat stress on the electrical components.
6. Proper Maintenance
Regular maintenance of the alternator and its related components can contribute to optimal temperature regulation. Ensuring that the alternator is clean and free from dust and debris can help maintain its efficiency and prevent excessive heat buildup. Moreover, checking the alternator's voltage output periodically can help identify potential issues that may lead to increased temperatures.
How to Monitor Alternator Temperature
1. Check the Alternator's External Temperature
Start by conducting a physical inspection of the alternator. Carefully feel the alternator's outer casing with your hand. If the alternator feels extremely hot to the touch, it may indicate an issue with overheating. Remember, the alternator will naturally generate some heat during operation, but it should not be excessively hot.
2. Use an Infrared Thermometer
An infrared thermometer is a handy tool to measure the surface temperature of the alternator accurately. Point the infrared thermometer at the alternator's casing, ensuring it is set to measure temperature in Fahrenheit or Celsius. This non-contact method provides a quick and precise reading of the alternator's temperature.
3. Observe Dashboard Warning Lights
Many modern vehicles are equipped with sophisticated onboard computer systems that monitor various components, including the alternator. If the alternator's temperature exceeds safe limits, the vehicle's dashboard may display a warning light or message. Take such warnings seriously and investigate the issue promptly.
4. Utilize an OBD-II Scanner
An OBD-II scanner is a diagnostic tool that plugs into the vehicle's OBD-II port, usually located under the dashboard. This scanner can read and interpret fault codes from the vehicle's computer. Some advanced OBD-II scanners can also provide real-time data, including alternator temperature readings.
5. Monitor Battery Voltage
A well-functioning alternator should maintain a stable voltage output, usually around 13.5 to 14.5 volts while the engine is running. If the alternator is overheating, it may lead to a drop in voltage output. Monitor the battery voltage using a voltmeter or the vehicle's onboard voltage gauge to detect any irregularities.
6. Listen for Unusual Noises
Overheating alternators may produce unusual noises, such as high-pitched whining or grinding sounds. Pay attention to any abnormal sounds coming from the alternator area, as this could be an indication of an underlying issue that needs to be addressed.
7. Observe Electrical System Performance
An overheating alternator may affect the performance of the vehicle's electrical systems. Keep an eye on how well the headlights, air conditioning, and other electrical accessories are functioning. If you notice any issues, it could be related to the alternator's temperature.
8. Inspect for Signs of Overheating
Regularly inspect the alternator and its surrounding components for signs of overheating, such as burnt or discolored wires, melted plastic, or unusual smells. Detecting these signs early on can help prevent further damage and avoid costly repairs.
Risks of Excessive Alternator Heat
1. Electrical Component Damage
One of the primary risks of excessive alternator heat is the potential damage it can cause to various electrical components within the alternator itself. The heat can lead to the deterioration of sensitive parts such as diodes, voltage regulators, and rectifiers. Over time, this damage can disrupt the alternator's ability to generate and regulate electricity effectively.
2. Battery Performance Reduction
Excessive alternator heat can also have a negative impact on the vehicle's battery. The battery works in conjunction with the alternator to store and supply electrical energy to power the vehicle's electrical systems. When the alternator produces excessive heat, it can lead to accelerated battery aging and reduced battery performance. This can result in frequent battery replacements and increased maintenance costs.
3. System Malfunctions
An overheating alternator may cause various electrical systems in the vehicle to malfunction. As the alternator struggles to maintain proper voltage output, the electrical systems may experience fluctuations in power supply, leading to issues with lights, radio, and other electronic components. This can lead to inconvenience for the driver and potential safety concerns.
4. Engine Overheating
In some cases, excessive alternator heat can contribute to engine overheating. The alternator's close proximity to the engine allows heat transfer between the two components. If the alternator produces too much heat, it can raise the overall temperature of the engine, causing it to overheat. Engine overheating can lead to engine damage and even breakdowns, leaving the driver stranded.
5. Reduced Fuel Efficiency
An overheating alternator can also negatively impact the vehicle's fuel efficiency. As the alternator works harder to compensate for the increased electrical load, it draws more power from the engine, which in turn consumes more fuel. Reduced fuel efficiency can result in higher fuel costs for the vehicle owner.
6. Premature Alternator Failure
Prolonged exposure to excessive heat can lead to premature alternator failure. The heat can cause internal components to wear out quickly and may lead to complete alternator breakdown. This unexpected failure can be costly to repair or replace, and it may leave the driver without a functioning vehicle until the issue is resolved.
7. Safety Concerns
Overall, the risks associated with excessive alternator heat can pose safety concerns for the driver and passengers. Malfunctioning electrical systems, engine overheating, and sudden alternator failure can result in hazardous driving conditions and increase the likelihood of accidents.
8. Additional Vehicle Repairs
Addressing the consequences of excessive alternator heat may also lead to additional vehicle repairs. For example, if the alternator damages the battery or other electrical components, those parts may need replacement as well. These additional repairs can further increase maintenance costs for the vehicle owner.
Alternator Temperature Measurement Techniques And Tools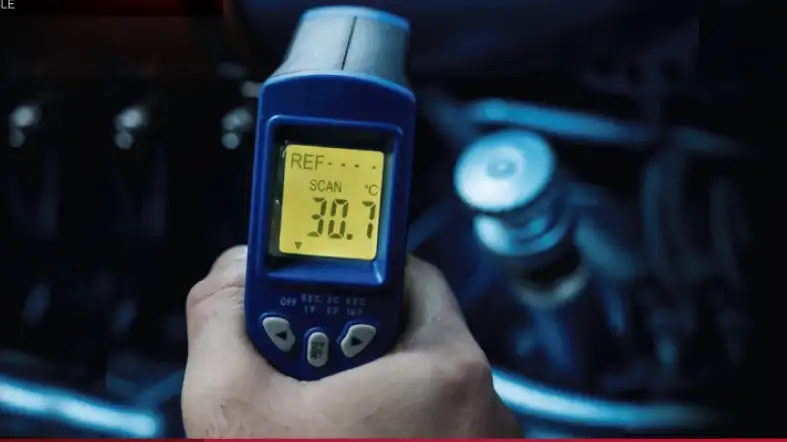 Thermocouples
A thermocouple is a type of temperature sensor that measures the temperature at a specific point by using the principle of two different metals producing a voltage when heated.
Thermocouples are commonly used to measure the temperature of alternators. They are simple to install, accurate, and durable.
However, thermocouples may require frequent calibration and are sensitive to electromagnetic interference.
Infrared (IR) Thermometers
Infrared thermometers are non-contact temperature measurement devices that work by detecting the radiation emitted by an object.
They can be used to measure the temperature of alternators from a distance, which is particularly useful when access is limited.
IR thermometers are easy to use, provide fast and accurate measurements, and are ideal for spot checks.
However, they are less accurate than thermocouples and can be affected by ambient temperature.
Thermal Imaging Cameras
Thermal imaging cameras are sophisticated tools that can detect and display the temperature of an alternator's surface in real time.
They work by converting the infrared radiation emitted by an object into an image that shows the temperature distribution across its surface.
Thermal imaging cameras are highly accurate and can detect temperature variations as small as 0.1°C.
They are particularly useful for detecting hotspots in alternators, which can indicate potential problems. However, thermal imaging cameras are expensive and require specialized training to operate.
Temperature Data Loggers
Temperature data loggers are devices that can measure and record temperature over time.
They can be used to monitor the temperature of an alternator continuously and provide a comprehensive temperature profile.
Temperature data loggers can be battery-powered, which makes them portable and easy to install.
They are also accurate and provide high-resolution data. However, they may require software to read and analyze the data and are not suitable for spot checks.
Strategies For Reducing Alternator Heat During Operation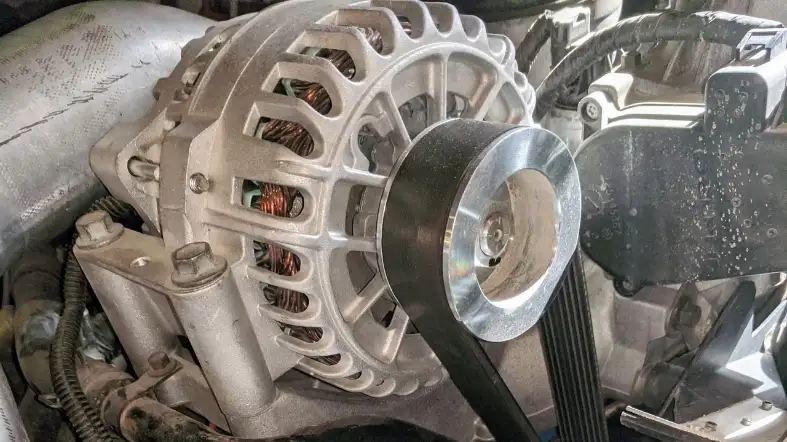 Choose the Right Alternator
To effectively reduce alternator heat during operation, it is important to select the appropriate alternator for your vehicle.
Take into account factors such as the size of your engine, the electrical load of your vehicle, and the type of driving you do.
If your vehicle has a large electrical load or frequently operates at low RPMs, a higher output alternator may be necessary.
A higher output alternator can handle the increased electrical demands and prevent overheating.
Use High-Quality Belts
The belts that drive your alternator play a crucial role in ensuring proper operation and minimizing heat buildup. It is vital to use high-quality belts made of durable materials that can withstand the demands of your vehicle's operation.
Poor-quality belts are more likely to slip or break, leading to overheating of the alternator.
By using belts specifically designed for your vehicle's make and model, you can minimize the risk of belt failure and reduce the chances of excessive heat generation.
Improve Airflow
Proper airflow around the alternator is essential for reducing heat buildup. Make sure there is adequate clearance around the alternator to allow for the free flow of air.
Consider installing a heat shield or ducting to direct cool air towards the alternator. This will help dissipate heat and maintain optimal operating temperatures.
Additionally, installing a larger diameter pulley can increase the speed at which the alternator rotates. This increase in speed improves airflow over the alternator, enhancing heat dissipation and reducing the risk of overheating.
Maintain Proper Belt Tension
Maintaining proper belt tension is crucial for the efficient operation of your alternator and preventing excessive heat generation.
Both loose and tight belts can lead to overheating issues. To ensure proper tension, use a belt tension gauge to measure the tension of your belts.
If the tension is too loose or too tight, make the necessary adjustments to bring the belts to the manufacturer's recommended tension levels.
Proper belt tension ensures that the alternator operates smoothly and minimizes friction, reducing the heat generated during operation.
Monitor Electrical Load
Keeping track of your vehicle's electrical load is essential in preventing alternator overheating. Excessive electrical load can strain the alternator and lead to increased heat production.
To reduce unnecessary electrical usage, be mindful of the electrical systems that are in use. Turn off non-essential electrical systems when they are not needed to lessen the strain on the alternator.
If your vehicle frequently utilizes high electrical load devices such as audio systems or winches, consider upgrading to a higher output alternator.
A higher output alternator can handle the increased demands and minimize the risk of overheating.
Frequently Asked Question
Can High Ambient Temperatures Affect The Temperature Of The Alternator?
Yes, high ambient temperatures can cause the temperature of the alternator to rise, as the surrounding air will be hotter.
This is why it is important to ensure that there is adequate airflow around the alternator to dissipate heat.
Is It Normal For The Alternator To Get Hotter During Heavy Electrical Usage?
Yes, heavy electrical usage can cause the alternator to generate more heat than during normal operation.
This is because the alternator is working harder to generate the increased electrical output required by the electrical system.
Can A Failing Alternator Cause The Temperature To Rise Significantly?
Yes, a failing alternator can cause the temperature to rise significantly as it may not be functioning properly, leading to increased heat generation.
If you notice a sudden increase in temperature, it may be a sign of a failing alternator.
Is It Safe To Touch An Alternator When It Is Hot?
No, it is not safe to touch an alternator when it is hot, as it can cause burns.

Allow the alternator to cool down before attempting any maintenance or repairs.
What Are The Consequences Of An Alternator Getting Too Hot?
If an alternator gets too hot, it can cause damage to the alternator itself or other surrounding components.
This can lead to reduced alternator performance or even total alternator failure.
Can Regular Maintenance Prevent The Alternator From Getting Too Hot?
Yes, regular maintenance, such as ensuring proper belt tension, using high-quality belts, and maintaining adequate airflow, can help prevent the alternator from getting too hot.
Conclusion
Understanding the optimal operating temperature of an alternator is essential for ensuring its longevity and efficient performance.
A temperature range of 130 to 150 degrees Fahrenheit is generally considered ideal for an alternator's operation.
Factors such as electrical load, driving conditions, alternator efficiency, engine heat, and ambient temperature can influence the temperature of the alternator.