If you own a Harley-Davidson motorcycle with a Twin Cam engine, you probably already know that these bikes are renowned for their power and performance.
However, like any complex piece of machinery, they can also be prone to issues. 
One common problem that Twin Cam owners have reported is with the crankshaft.
In this blog post, we'll examine some of the most prevalent Harley Twin Cam crankshaft issues and how to prevent them.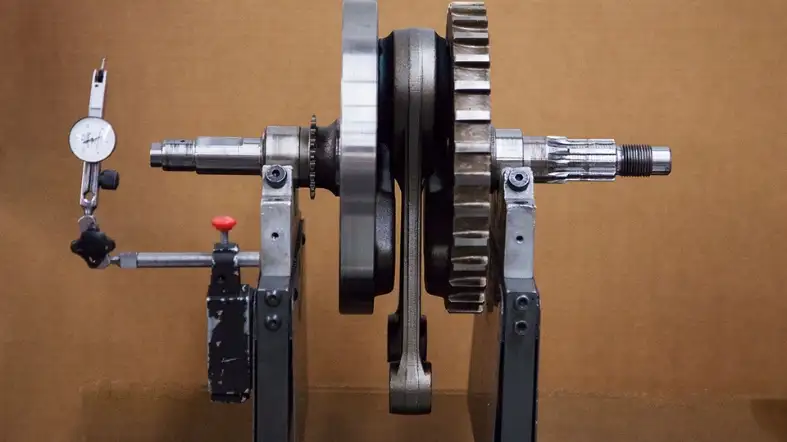 Harley Twin Cam Crankshaft Problems
The Harley Twin Cam crankshaft has had some issues. Tensioner and bearing problems can cause unpleasant knocking sounds, and crank runout on 2003-2006 models can cause vibration. 
Some solutions include upgrading to hydraulic cam plates or swapping to gear drives.
Some years to avoid include 2003-2006, while 2007-2009 models have hydraulic oil-fed tensioners. 
Common Crankshaft Problems in Harley Twin Cam Engines
Here are common crankshaft problems in harley twin cam engines
Crankshaft Flywheel Slipping or Twisting
If you hear knocking noises in the bottom end or near the gear case and feel noticeable engine vibrations, it's possible that your crankshaft flywheels are slipping or twisting.
Damaged or improperly tightened flywheels might cause this. 
This can cause engine wear and more significant concerns over time. A mechanic should inspect your engine to fix this issue.
They can assess flywheel conditions. Make sure your engine is well-maintained and all its parts work.
Crankshaft Runout
Crankshaft runout is another issue that can cause knocking noises and vibrations in your engine.
This problem is more prevalent in Twin Cam engines made between 2003 and 2006 and seems to affect stage 2 and stage 3 engines.
It is less common than camshaft chain tensioner failures in pre-2007 Twin Cam engines.
When the crankshaft isn't straight and has some runout, this happens. This can exacerbate engine wear and produce more significant issues over time.
This issue may require engine disassembly and crankshaft inspection. If the runout is adequate, you can rebuild the engine and ride.
Crankshaft repair or replacement may be necessary if runout is severe.
Maintaining your engine and its parts is also crucial. Oil changes and other maintenance can avoid crankshaft runout and other engine issues.
Bearing Problems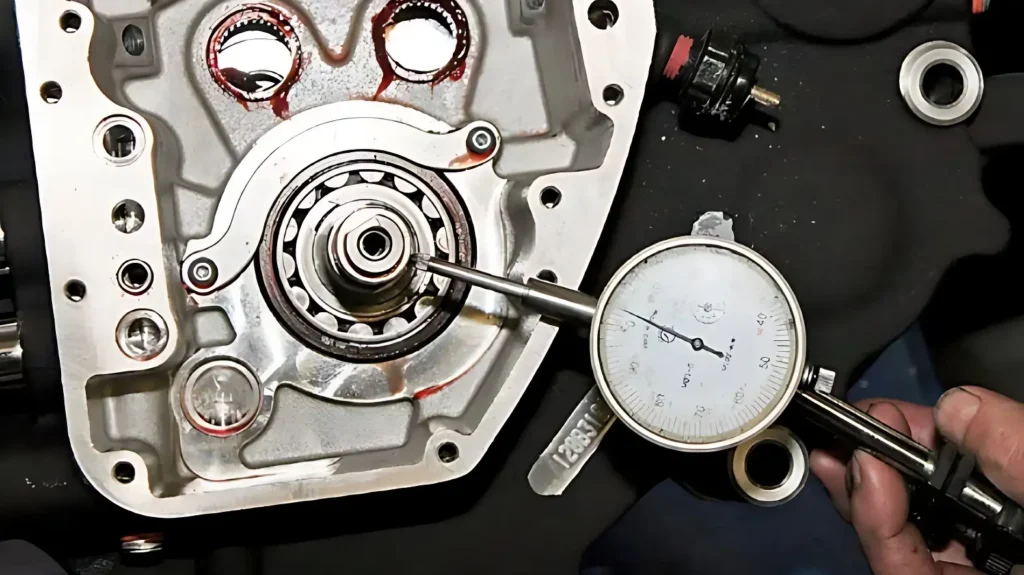 Bearing problems can also cause unpleasant sounds coming from your engine.
This issue can occur when the cam chain tensioner is removed and the oil pump is jammed. 
It can also occur after the cam chain tensioner fails and the chain jumps, leading to excessive wear on the crankshaft bearings.
To address this problem, you may need to have the bearings replaced.
It's important to have your engine inspected by a qualified mechanic to determine the extent of the damage and the best course of action. 
It's also important to make sure that your engine is properly maintained and that all of the components are functioning as they should.
Crankshaft Runout
Crankshaft runout is a condition where the crankshaft's main journal or connecting rod journal is not perfectly aligned with the centerline of the engine's rotation. 
This can cause excessive vibration and premature wear on the engine components, including the crankshaft itself. 
The cause of this problem can be due to a variety of factors, including improper installation of the engine, worn or damaged bearings, or excessive force during the installation or removal of the flywheel.
To address this issue, a professional mechanic will need to perform precise measurements and potentially re-machine the crankshaft or replace it entirely.
Worn Connecting Rod Bearings
Connecting rod bearings connect the connecting rods to the crankshaft and allow them to move smoothly.
Over time, these bearings can wear out due to normal wear and tear or inadequate lubrication. 
When the bearings wear out, they can cause a knocking sound in the engine.And if left unaddressed, they can lead to catastrophic engine failure.
 If you hear a knocking sound in your engine, it's best to take your motorcycle to a professional mechanic immediately to diagnose and fix the issue.
Pressed-together Crankshafts: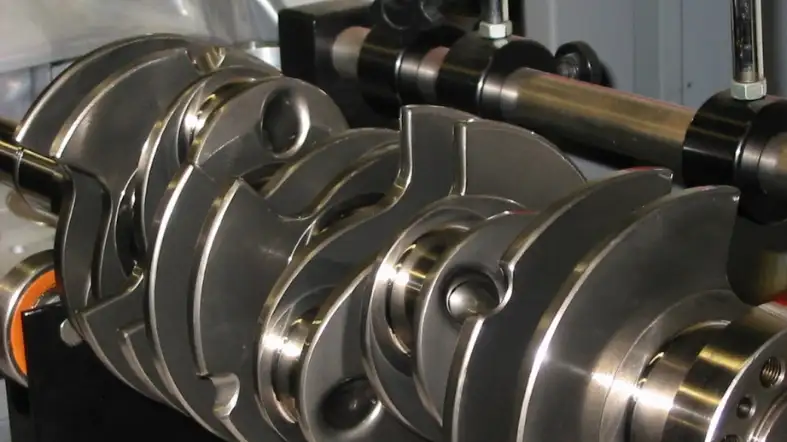 The crankshaft flywheels in the Twin Cam engine are pressed together and have the potential to twist or slip, causing a knocking noise in the bottom end or near the gear case, along with noticeable engine vibration. 
Some riders have criticized the design of the pressed-together crankshafts [8].
However, the pressing together of the crankshaft assembly is not necessarily a bad thing, and many Twin Cam engines have gone for over 100,000 miles without any issues [9].
Unreliable Crankshaft: 
The Harley Twin Cam engines have unreliable crankshafts [2]. However, specific details about what makes the crankshaft unreliable are not provided.
Note
The other problems in the Twin Cam engines can cause crankshaft issues.
For example, inadequate cam chain tensioners can cause the crankshaft to fail, and camshaft problems can lead to bearing issues and crankshaft damage. 
Therefore, it is crucial to properly maintain and inspect your Harley Twin Cam engine to prevent potential crankshaft problems.
Maintenance Tips to Prevent Harley Twin Cam Crankshaft Problems
Here are some essential maintenance tips that can help prevent Harley Twin Cam crankshaft problems.
Regular Oil Changes
One of the most important maintenance tasks to prevent crankshaft problems is to change the oil regularly.
The oil in your motorcycle's engine lubricates the moving parts, including the crankshaft. 
Over time, the oil breaks down, and its lubricating properties diminish, which can lead to increased wear and tear on the crankshaft. 
By changing the oil and oil filter as per the manufacturer's recommended intervals, you can help ensure that your crankshaft stays in good condition.
Use High-Quality Oil
Apart from changing the oil regularly, using high-quality oil is also essential.
Low-quality or inferior oils can break down more quickly and may not provide the necessary lubrication required by the crankshaft. 
Using high-quality, full-synthetic oil that meets the manufacturer's specifications can help keep your engine running smoothly and extend the life of your crankshaft.
Keep the Engine Cool
The Harley Twin Cam engine produces a lot of heat, and high temperatures can cause metal fatigue and eventual failure of the crankshaft.
Therefore, it is essential to keep your engine cool by maintaining the cooling system, including the radiator, fan, and coolant levels.
Regular cleaning of the cooling fins and checking for any leaks in the system can also help prevent overheating.
Avoid Overloading the Engine
The Twin Cam engine is designed to deliver high performance, but overloading it can put excessive strain on the crankshaft.
Overloading the engine can be in the form of carrying too much weight, using improper accessories or attachments, or riding in challenging terrain.
By following the manufacturer's recommended weight limits, using approved accessories, and avoiding rough terrains, you can help prevent undue stress on the crankshaft.
Get Regular Professional Inspections
Regular professional inspections by a qualified Harley-Davidson technician can help identify any potential crankshaft problems before they become major issues. 
A professional inspection can detect early signs of wear and tear, such as metal shavings in the oil or unusual noises, and recommend the necessary repairs or replacements.
Cost of Repairing or Replacing a Harley Twin Cam Crankshaft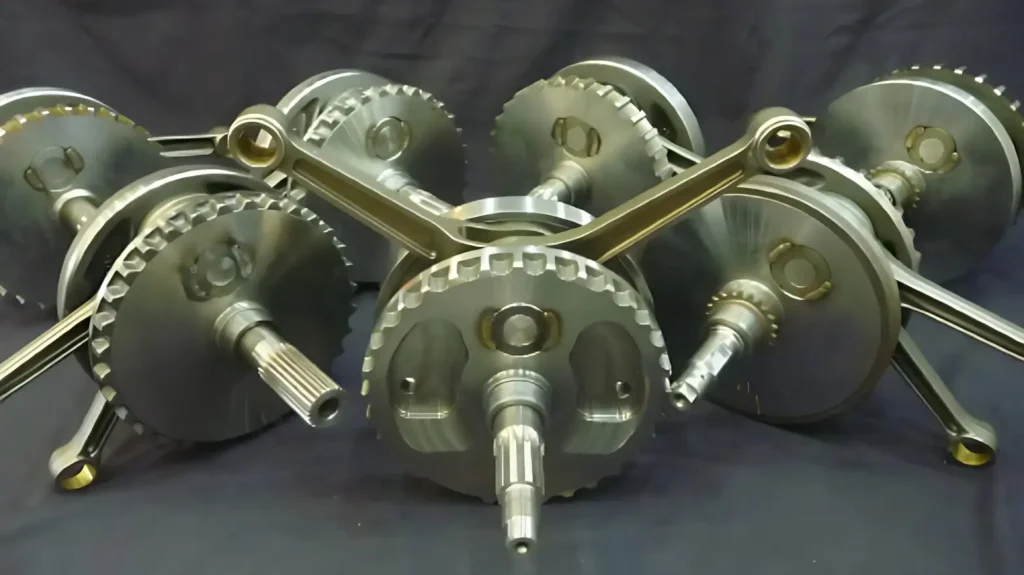 Here is the overall idea of repairing or replacing a Harley twin cam crankshaft
Basic Crankshaft Service
If you're experiencing common issues with a pressed-together Harley-Davidson Twin Cam crankshaft, basic crankshaft service may be all you need. 
This type of service can cost around $300 to $400 and involves disassembling the crankshaft, cleaning it thoroughly, and replacing any worn bearings or seals. 
It's important to note that this service may not be suitable for more severe issues, such as a bent or cracked crankshaft.
Crank Bearing Replacement
If your crankshaft is experiencing more severe issues, such as worn-out bearings, a complete replacement may be necessary.
This procedure involves splitting the case and installing new bearings, which can cost between $1,000 to $1,400. 
If you're already having your crankshaft serviced, it may be an excellent time to install adjustable pushrods as well, which can add an additional $300 to $400 to the total cost.
Cam Swap and Dyno
If you're looking to improve your bike's performance, a cam swap and dyno can be an excellent option.
A cam swap involves replacing the camshaft with a higher-performance option, while the dyno measures the bike's performance and makes any necessary adjustments. 
The cost of this service can range from $1,300 to $1,600, depending on the dealership or shop you use. However, some shops may offer a more affordable 3-4 hours of labor.
Rod Resizing and S&S Crankshafts
If you have a damaged rod, resizing it on a Sunnen rod hone can cost around $250. Additionally, if you're looking to upgrade to an S&S crankshaft, you can expect to pay between $600 to $800.
It's important to note that the costs listed here are just estimates and may vary depending on the specific model of Harley-Davidson and the location of the dealership or shop.
Repairing vs. Replacing
When it comes to servicing your Harley-Davidson crankshaft, you may be wondering whether repairing or replacing is the better option.
In general, repairing your crankshaft is a more cost-effective option if the damage is minimal. 
However, if the damage is extensive or the crankshaft is severely worn, replacement may be necessary.
Ultimately, the decision to repair or replace your crankshaft will depend on the specific issue you're experiencing and the advice of your mechanic.
FAQs
What Causes Twin Cam Crankshaft Problems?
Twin Cam crankshaft problems are caused by several factors, including high runout in the flywheels, a weak press-fit of the crank pin, and the use of synthetic oil, which can cause bearing failures.
How Can I Prevent Twin Cam Crankshaft Problems?
To prevent Twin Cam crankshaft problems, it is recommended to use conventional oil instead of synthetic oil, which may cause bearing failures.
It is also advised to monitor engine sounds and vibrations and address any issues promptly.
What Are The Symptoms Of Twin Cam Crankshaft Problems?
Symptoms of Twin Cam crankshaft problems include knocking or rattling sounds coming from the engine, increased engine vibrations, and reduced engine performance.
How Common Are Twin Cam Crankshaft Problems?
While Twin Cam crankshaft problems are not uncommon, they do not affect all engines made between 2003 and 2006.
Can Twin Cam Crankshaft Problems Be Fixed?
Twin Cam crankshaft problems can be fixed by replacing the faulty bearings or by welding the pressed-in crank pin to the flywheels to prevent scissoring of the built-up crank assembly.
Are Certain Twin Cam Models More Prone To Crankshaft Problems?
Certain Twin Cam models, such as those with stage 2 or stage 3 upgrades, may be more prone to crankshaft problems due to increased horsepower and torque, which can exacerbate the issue of high runout in the flywheels.
What Years Of Twin Cam Engines Should I Avoid?
While Twin Cam crankshaft problems are not limited to a specific year, some sources recommend avoiding the 2005 FXSTB Night Train model due to its particularly problematic engine design.
Conclusion
If you own a Harley Twin Cam, you might face crankshaft problems. The tensioners can fail between 1999-2006.
A knocking sound is typical when bearing problems arise after the cam chain tensioner is removed.
In 2003-2006, the crank runout is high. Welding the crank pin to the flywheels is an option. 
However, 2007-2009 were good years for the Twin Cam 96 with hydraulic oil-fed tensioners. The press fit on the crank pin slipping causes the flywheels to go out of balance and alignment.
The 2005 FXSTB Night Train was one of the worst Harley Twin Cam engines ever built. S&S crankshafts can be a solution.