Today, we'll be examining the distinctions between two renowned products: B12 Chemtool and Seafoam.
Join us as we uncover the unique qualities and benefits of each additive, helping you make an informed decision on which one is best suited to optimize your vehicle's performance and effectively clean your engine.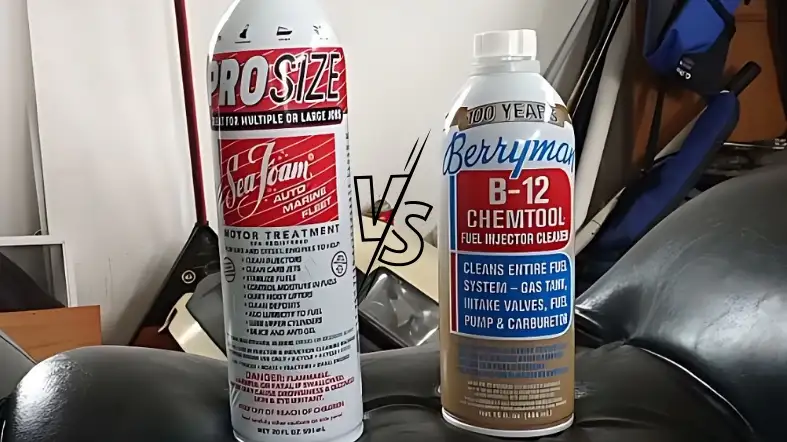 Key Features: B12 Chemtool vs Seafoam

Here is a table comparing the key features of B12 Chemtool and Seafoam:
| Feature | B12 Chemtool | Seafoam IC5 Fuel Injector Cleaner |
| --- | --- | --- |
| Type of cleaner | Solvent-based | Solvent- and oil-based |
| Primary purpose | Cleans fuel injectors and carburetors | Cleans and lubricates the entire fuel system |
| Effects | Removes carbon deposits, varnish, and gum | Removes carbon deposits, varnish, and gum; lubricates moving parts; stabilizes fuel; prevents moisture condensation |
| Application | Add to fuel tank | Add to fuel tank or intake manifold |
| Dosage | 1 ounce per gallon of fuel | 1-2 ounces per gallon of fuel |
| Frequency of use | Every 5,000-10,000 miles | As needed |
| Safety | Flammable | Flammable |
side by side Comparison: B12 Chemtool and Seafoam
1. Type of Cleaner:
B12 Chemtool is a solvent-based cleaner, meaning it contains powerful solvents that effectively dissolve and remove deposits in the fuel system.
These solvents break down carbon deposits, varnish, and gum, allowing them to be expelled from the system.
Seafoam, on the other hand, is a unique blend of solvents and high-quality petroleum oils.
The combination of solvents and oils allows Seafoam to not only clean but also provide lubrication to the various components of the fuel system.
2. Primary Purpose:
B12 Chemtool is specifically formulated to clean fuel injectors and carburetors.
Its strong solvents penetrate and dissolve deposits that can hinder fuel flow and reduce engine performance.
By eliminating these deposits, B12 Chemtool helps restore fuel efficiency and proper fuel atomization.
Seafoam, while also cleaning fuel injectors and carburetors, goes beyond that.
Its primary purpose is to clean and lubricate the entire fuel system, including valves and cylinder heads.
This comprehensive cleaning and lubricating action ensure smooth operation and enhance the overall performance of the fuel system.
3. Effects:
Both B12 Chemtool and Seafoam are effective in removing carbon deposits, varnish, and gum, which can accumulate over time and impede fuel system performance.
B12 Chemtool's solvents break down these deposits, allowing them to be carried out through the exhaust system.
Seafoam not only cleans but also provides lubrication to the moving parts within the fuel system.
The petroleum oils in Seafoam reduce friction and wear, promoting smoother operation and extending the life of the components.
Additionally, Seafoam stabilizes the fuel, preventing oxidation and fuel deterioration.
It also contains additives that prevent the formation of harmful deposits and moisture condensation within the fuel system.
4. Application Method:
To use B12 Chemtool, you simply add it to the fuel tank when filling up.
As you drive, the cleaner mixes with the fuel and circulates through the entire fuel system, including the injectors and carburetors, effectively cleaning them.
Seafoam offers two application methods. The first method is similar to B12 Chemtool, where you add it to the fuel tank.
The second method involves introducing Seafoam directly into the intake manifold through a vacuum line.
This allows Seafoam to clean the intake valves and the upper cylinders as it is drawn into the engine during normal operation.
This method provides a more thorough cleaning of the upper engine components.
5. Dosage:
To achieve optimal cleaning, B12 Chemtool is typically used at a dosage of 1 ounce of cleaner per gallon of fuel.
This recommended ratio ensures that the solvents effectively dissolve the deposits within the fuel system.
When using Seafoam, the dosage varies depending on the desired level of cleaning and lubrication.
The general recommendation is to use 1 to 2 ounces of Seafoam per gallon of fuel.
The higher dosage is suitable for more intensive cleaning and lubrication, while the lower dosage is effective for regular maintenance.
6. Frequency of Use: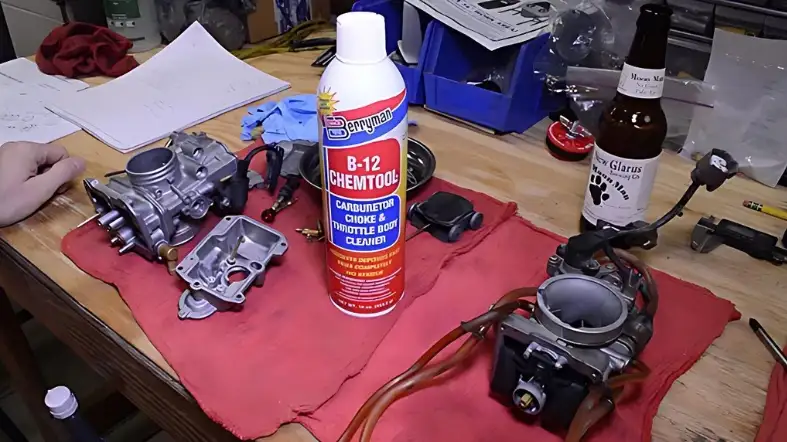 B12 Chemtool is typically used every 5,000 to 10,000 miles to maintain the cleanliness and efficiency of the fuel system.
This periodic use helps prevent the buildup of deposits and keeps the fuel injectors and carburetors in optimal condition.
Seafoam, on the other hand, can be used as needed. It is often used for periodic maintenance to keep the fuel system clean and lubricated.
However, Seafoam can also be used when specific issues arise, such as rough idling, hesitation, or poor fuel economy.
7. Safety Considerations:
Both B12 Chemtool and Seafoam are flammable substances and should be handled with care.
It is important to follow the safety instructions provided by the manufacturers.
When using these cleaners, it is crucial to store them away from open flames and heat sources. It is also important to keep them out of reach of children and pets.
8. Aggressiveness:
B12 Chemtool is known for its more aggressive cleaning action due to its powerful solvents.
This aggressive action enables it to effectively remove stubborn deposits from the fuel system.
However, the strong solvents in B12 Chemtool can potentially cause damage to sensitive engine components if not used properly or if used excessively.
Seafoam, on the other hand, takes a milder approach to cleaning. It is designed to provide effective cleaning without the risk of causing harm to the engine.
This makes Seafoam a safer option for engines that require gentler treatment.
9. Effectiveness:
B12 Chemtool's aggressive cleaning action makes it highly effective in removing stubborn deposits from the fuel system.
It is particularly useful for engines with heavy carbon buildup or those that have been neglected for an extended period.
B12 Chemtool's solvents penetrate and dissolve the deposits, improving fuel flow and restoring engine performance.
Seafoam, although milder in its approach, still provides effective cleaning for most fuel system deposits.
It helps remove carbon deposits, varnish, and gum, enhancing fuel atomization and overall fuel system efficiency.
However, in cases of extremely stubborn or severe deposits, B12 Chemtool's stronger cleaning action may be more suitable.
10. Suitable Engines: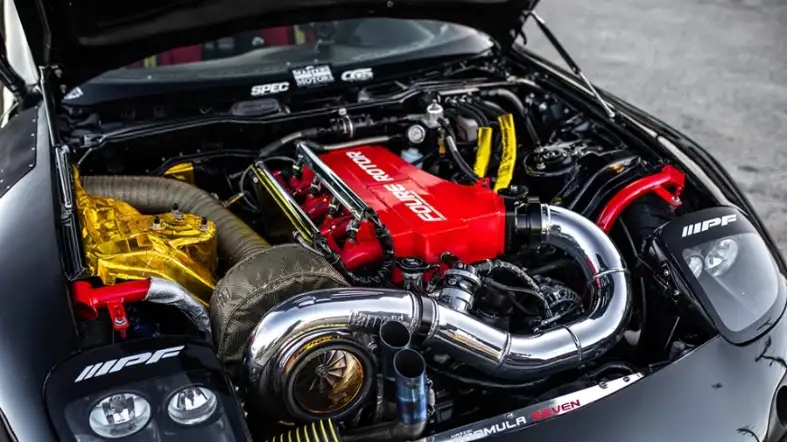 From B12 Chemtool, and seafoam to any other cleanser, each one is made to be compatible with particular kinds of engines.
Particularly, these two renowned detergents are primarily engineered to suit gasoline engines and work most effectively with such engines.
However, you can use seafoam with all sorts of diesel engines as well. The active ingredient of seafoam suits finely with both gasoline and diesel as has been shown by the manufacturer and individual experts in this field.
But the same is not true for its counterpart, Berryman B12 Chemtool, which should not be used with diesel engines.
So, Seafoam appears to be the apparent victor in this specific area due to its adaptability and wider application.
11. Individual Needs and Preferences:
Choosing the best fuel system cleaner between B12 Chemtool and Seafoam ultimately depends on individual needs and preferences.
If you have a heavily-deposited engine or are dealing with severe performance issues, B12 Chemtool's more aggressive cleaning action may be the preferred choice.
However, if you are looking for a milder cleaner that provides additional benefits such as lubrication and fuel stabilization, Seafoam can be a suitable option.
It is important to consider the specific requirements of your vehicle and consult the manufacturer's recommendations before making a decision.
B12 Chemtool vs Seafoam: The Winner
While both B12 Chemtool and Seafoam offer effective cleaning and maintenance for fuel systems, the decision ultimately depends on your specific needs.
If you're looking for a more aggressive cleaner to tackle stubborn deposits, B12 Chemtool is the clear winner. Its potent solvents provide powerful cleaning action.
However, if you prefer a milder cleaner that offers lubrication and broader system protection, Seafoam is the top choice.
Its unique blend of solvents and oils ensures comprehensive cleaning and smoother operation.
Consider the severity of deposits, desired benefits, and manufacturer's recommendations to determine the winner for your particular fuel system.
FAQs:
Q.Which Detergent Is Stronger?
A: Practically speaking, B12 chemtool has all the ingredients, either directly or in substitution form, needed to be called a stronger detergent compared to seafoam.
Q. Does Seafoam Have Any Damaging Effect On The Fuel Injectors?
A: Not at all, as it has only petroleum ingredients. There are no abrasive chemicals or harsh detergents in it and, in no way, it can harm any component of the fuel system or engine.
Q. Why Does B12 Use Methanol?
A: Because it is a very good cleaner. It can remove all sorts of sediments from the engine parts.
Final Words:
So, you have already decided on which cleaner out of this you are going to use to clean up your vehicle engine, haven't you?
Well, we really believe your response is resoundingly in the affirmative as you have been through this all-inclusive b12 chemtool vs seafoam discussion.
To sum it all up, it is not at all an exaggeration to emphasize once more how effective these cleaners are at cleaning our car engines, and, of course, they possess unique benefits and purposes.
Last, but not least, ensure that you are all informed and have decided first on which part of the vehicle's fuel system requires cleaning.