How To Fix Scratched Cylinder Walls?
Scratched cylinder walls can be a nightmare for any vehicle owner. These scratches can reduce engine power and efficiency, leading to poor performance and increased fuel consumption.
If left untreated, they can also cause permanent engine damage. However, there is no need to panic just yet! 
This article will discuss some effective ways to fix scratched cylinder walls and restore your engine's performance.
How To Fix Scratched Cylinder Walls?
Several factors, such as inadequate lubrication, dirt or debris in the engine, or piston damage, can cause scratches on the cylinder walls.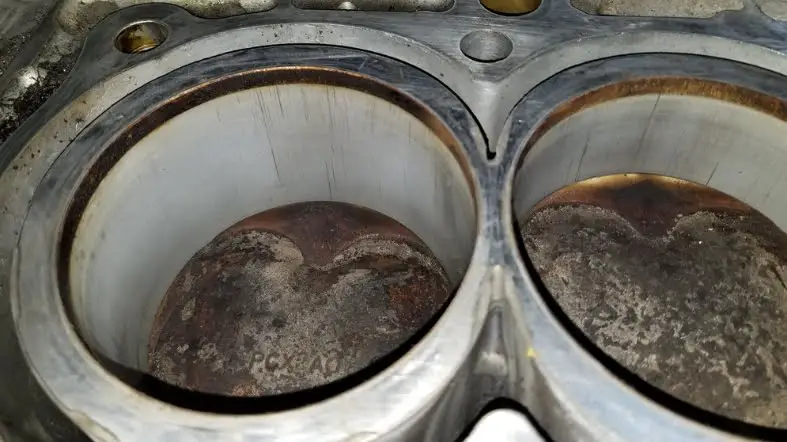 Depending on the severity of the scratches, there are a few possible ways to fix them:
Honing: 
If the scratches are relatively shallow, honing the cylinder walls may be enough to remove them.
Honing involves using an abrasive tool to remove a small amount of material from the cylinder walls, which can help smooth out any scratches or imperfections.
However, this process should only be done by a professional with the proper equipment and expertise.
Re-boring:
Re-boring may be necessary if the scratches are too deep to be honed out.
This involves removing material from the cylinder walls to make them smooth again and then installing oversized pistons to compensate for the increased cylinder diameter. 
Cylinder sleeve installation:
Installing a cylinder sleeve may be the best option if the scratches are too severe for re-boring.
A cylinder sleeve is a removable liner that is installed inside the cylinder to create a new smooth surface for the piston to move against.
A professional mechanic can do this process and can save the engine from further damage.
Causes Of Cylinder Wall Damage And How To Prevent It?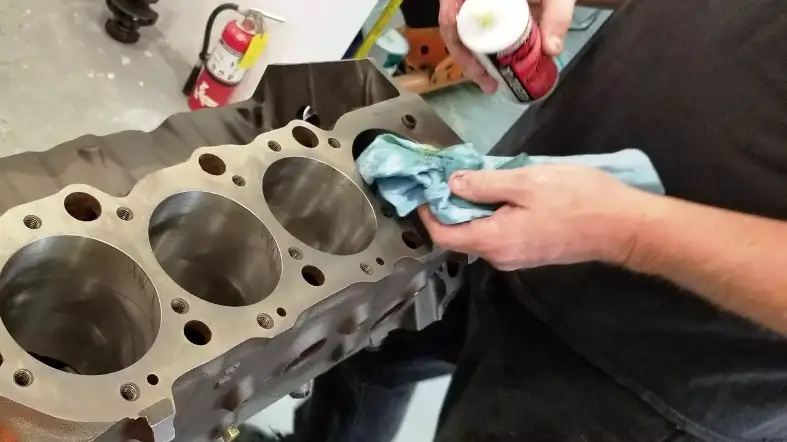 Below are some of the causes of cylinder wall damage and how to prevent it:
Corrosion 
Cylinder walls can corrode due to exposure to moisture, salt, and corrosive.
To prevent corrosion, cylinders should be stored in a dry place, such as on a concrete surface.
Impact 
Cylinder walls can suffer damage due to impact with foreign objects. The damage can cause cracks or weakening of the cylinder wall.
To prevent impact damage, cylinders should be handled with care and stored correctly.
Glazing 
Combusted oil residue and carbon can accumulate on the cylinder wall, leading to glazing.
To prevent glazing, engine oil should be changed regularly, and the engine should be operated at recommended temperatures.
Overheating 
Overheating of the cylinder walls can cause damage due to the expansion and contraction of the cylinder walls.
To prevent overheating, cylinders should be properly cooled, and the engine should be operated within the recommended temperature range.
Rust 
Cylinder walls can rust due to exposure to moisture. Rust can be removed with fine steel wool and naval jelly.
To prevent rust, cylinders should be stored in a dry place, and the engine should be properly maintained.
Contamination 
Contamination of the hydraulic system oil can lead to cylinder failure.
Properly filtering the hydraulic system oil and monitoring and changing oil filter elements at regular service intervals can prevent hydraulic cylinder failure.
Pitting 
Cylinder liner pitting can occur due to the pistons striking the liners as they travel up and down the cylinder walls.
To prevent pitting, cylinder liners should be installed correctly with crevice seals to seal the lube oil system from the cooling system across the liner.
Symptoms of damaged cylinder walls in an engine?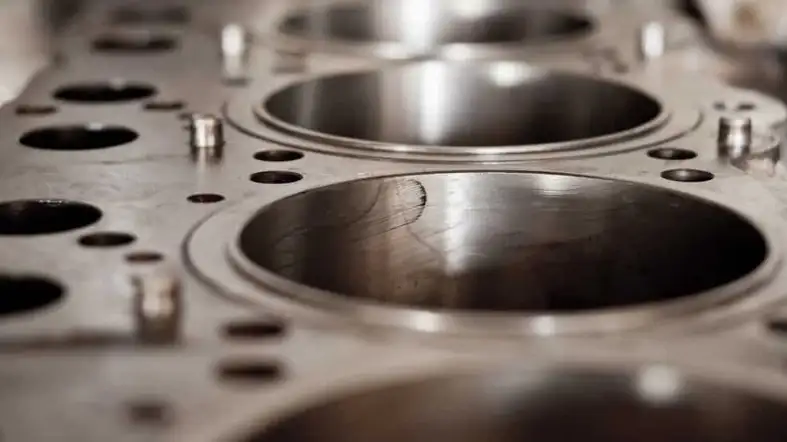 Here are some symptoms of damaged cylinder walls in an engine:
Poor Compression
One of the most common symptoms of damaged cylinder walls is poor compression.
This happens when the cylinder walls are no longer smooth and straight, leading to a loss of pressure in the combustion chamber.
A compression test can determine if the engine is experiencing this problem. 
Engine Seizure
If the cylinder walls are severely damaged, the engine may seize up and fail to turn over.
This happens when the pistons become stuck and cannot move up and down freely.
If this happens, apply penetrating oil to the walls of each cylinder through the spark plug wells and give the oil some time to work its way past the piston rings.
This process may require several applications over several days. 
Engine Blow-by
Blow-by occurs when compressed air and fuel in the cylinder combustion chamber go through the piston rings and into the crankcase ventilation.
This is usually due to worn piston rings, worn pistons, or a damaged cylinder wall.
Increased engine oil consumption and smoke coming from the exhaust are common signs of blow-by. 
Excess Fuel Consumption
When the engine experiences blow-by, some of the energy produced from the burning fuel is used to push combustion gases through the gap between the rings and the cylinder walls.
As a result, increased fuel consumption is a common symptom of engine blow-by. 
Illuminated Warning Lights
A cracked cylinder head can trigger several warning lights, including the check engine light, low coolant level light, and the engine over-temperature light.
If your car is equipped with a temperature gauge, you may also see it begin to climb. A cracked cylinder head is a severe issue that requires immediate attention. 
Glazing
Glazing occurs when excess fuel washes the oil from the cylinder walls, causing the cylinder wall to become dark in color.
A rich fuel mixture, low engine loads, and short driving distances can cause this.
The only correct solution for glazing is to disassemble the engine and re-hone the cylinder walls. 
Factors that affect the cost of cylinder wall repair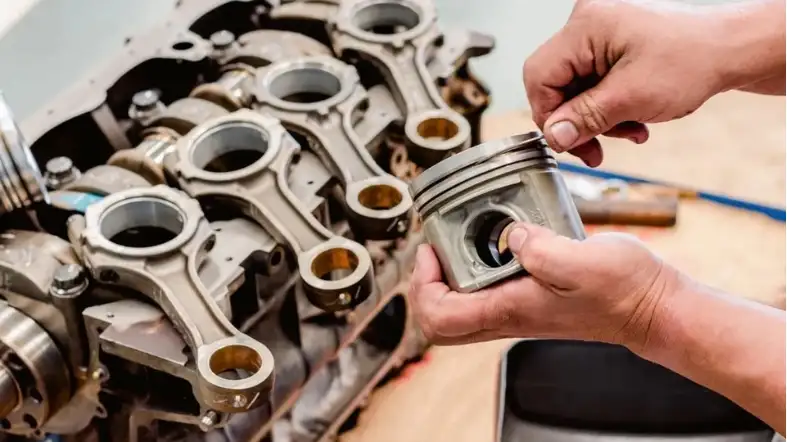 Here are some key factors to consider:
Cylinder Wall Damage
The type and severity of cylinder wall damage will significantly impact the cost of repair.
Vertical scratches, piston seizing, and apparent piston damage can all be indications that a cylinder needs to be rebored, which will increase the overall cost of repair. 
On the other hand, if the cylinder wall only has glazed residue buildup, it may be possible to clean and restore it without needing a full rebore, which would be less expensive.
Boring and Wall Thickness
When a cylinder is rebored, the cylinder wall becomes thinner, which can lead to overheating in some cases, depending on the block.
Additionally, some blocks are prone to cracking in the cylinders after an overbore.
As a result, it's important to have the wall thickness checked to ensure it can support your power goals. This process can add to the cost of cylinder wall repair .
Type of Engine and Cylinder Head
The type of engine you have can also impact the cost of cylinder wall repair.
Luxury brands may cost more to repair a broken cylinder head compared to a standard vehicle.
Moreover, the complexity of the engine, such as whether it's a V6 or a V8, can also affect repair costs.
Labor Costs
The cost of labor for cylinder wall repair can also vary depending on the project's scope and complexity.
For instance, if the repair requires consultation with a structural engineer, the hourly charges may range from $100 to $200 per hour.
Additionally, the mechanic's location may also impact labor costs.
Raw Material Costs
The cost of raw materials is another crucial factor that can affect cylinder wall repair costs.
If the supply of the necessary materials is low, it can drive up the cost of repair.
How to choose a reliable mechanic for cylinder wall repair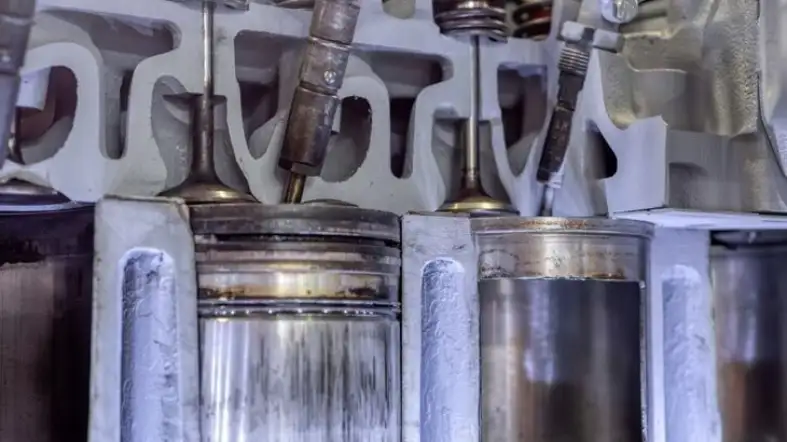 Research mechanics in your area
The first step to finding a reliable mechanic for cylinder wall repair is to do some research.
You can start by checking out consumer resources like Consumer Reports' Car Repair Assistant and their car repair estimator to get an idea of what repairs should cost in your area and to find top-rated mechanics. 
Additionally, you can search for local mechanics on websites like Angie's List and the Mechanics Files at Cartalk.com.
Ask for recommendations
Another way to find a reliable mechanic for cylinder wall repair is to ask for recommendations from friends, family, or coworkers who have had similar repairs done on their vehicles.
You can also check online reviews for mechanics in your area to get a sense of their reputation.
Ask questions
Once you have identified a few potential mechanics, it is important to ask them some questions to ensure that they are qualified and trustworthy.
We recommend asking mechanics these 10 questions, such as:
Do you have experience working on this type of repair?
What kind of warranty do you offer on your repairs?
Can you provide a written estimate for the work?
Are you certified by any professional organizations?
Check their credentials
Before you let a mechanic work on your vehicle, it is important to check their credentials.
You can verify that they are licensed, insured, and certified by professional organizations like the National Institute for Automotive Service Excellence (ASE).
Ask about their repair process.
It can be helpful to ask mechanics about their repair process to ensure that they are thorough and follow best practices.
For example, Engine Builder Magazine recommends asking about the mechanic's approach to cylinder wall repair and whether they use techniques like cylinder sleeving to strengthen cylinders.
Review the estimate
Before you agree to any repairs, it is important to review the estimate carefully.
State Farm recommends asking the repair shop to go through each line item with you and explain it clearly to find out whether the repairs are recommended or essential.
Frequently Asked Questions
What Is Honing, And How Does It Help Fix Scratched Cylinder Walls?
Honing is a process that uses a honing tool to remove material from the cylinder walls, creating a crosshatch pattern that improves lubrication and reduces friction.
This process can remove minor scratches and restore the cylinder to its original shape. 
Can I Prevent Cylinder Wall Scratching From Occurring In The First Place?
Cylinder wall scratching can be prevented by maintaining proper engine oil levels and regularly changing the oil and filter.
It is also important to ensure that the engine is properly warmed up before driving to prevent excessive wear on the cylinder walls. 
Can A Cylinder Wall Scratch Cause Engine Failure?
Yes, cylinder wall scratching can lead to engine failure if left unaddressed.
Scratches can cause loss of compression, oil consumption, and increased wear on engine components, leading to reduced performance and potential engine damage. 
How Much Does It Cost To Repair Scratched Cylinder Walls?
The cost of repairing scratched cylinder walls varies depending on the damage's severity and the repair method.
Honing can cost anywhere from $50-$200 per cylinder while re-sleeving or re-boring can cost several hundred dollars or more.
It is recommended to consult with a professional mechanic for an accurate cost estimate.
Conclusion:
Scratched cylinder walls can be a serious problem for any vehicle owner. But with the right tools and techniques, you can fix them and restore your engine's performance.
Remember to identify the root cause of the scratches and address it before attempting any repairs. Additionally, regular maintenance and inspection can prevent scratches from occurring in the first place. 
So, don't hesitate to take action if you notice any symptoms of scratched cylinder walls in your engine.