We often are busy with our work and don't have enough time to go to the car cleaner to wash our car. We also think about how to clean tires with household products.
The simplest and most cost-effective way to maintain the tread on your car tires is to utilize household goods.
You don't have to spend a fortune at a vehicle spa to remove these unsightly stains.
As an alternative, they can be eliminated with household items like vinegar and baking soda.
There are countless ways to get the job done. In terms of tire shine, there are a variety of products that may help you achieve it.
We'll show you various ways to clean your car's tires using household products in this post.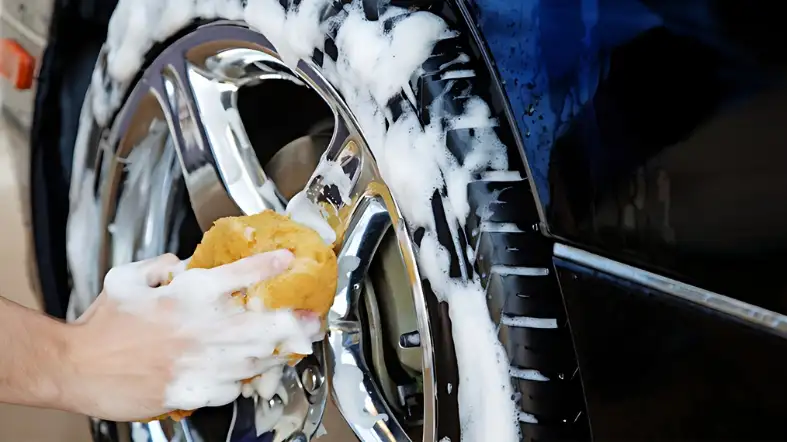 Tires and Wheels: How to Clean Them
A big bucket, a tire brush, a soft wheel brush, a sponge, a garden hose and nozzle, spray wheel cleaner, and your preferred soap for the vehicle wash are all you'll need for thorough cleaning of your jeep tires.
Dawn dishwashing liquid can be used as a substitute for vehicle wash soap.
We have put together a list of some of my favorite tips for tire cleaning:
One tire and wheel at a time, wash and rinse
Before you wash your automobile, make sure to clean the tires and wheels.
In addition to your wheel cleaner, use a pail of soapy water to make a cleaning solution. Your wheel cleaner will last longer, and the soapy water lubricates to avoid scratches due to this method.
Apply a generous amount of wheel cleanser to the filthy wheels and let them soak for a few minutes before cleaning (up to three minutes).
The surface of the wheels and tires should be cleaned with appropriate brushes and soapy water. To remove any leftover dirt film, use a sponge and spray nozzle.
Repeat scrubbing the fender wells with soapy water and your wheel brush.
Keep your car's tires, wheels, calipers, and fenders clean by thoroughly rinsing them with water after a wash. Once you've completed cleaning, all of the cleaners should be flushed down the drain. The cleaner should not be allowed to dry out.
Afterward, be careful to dry your car's tires and wheels. Towels made of cotton are excellent.
How To Clean Tires With Household Products
Getting started was a breeze. We may use a soft-bristled wheel brush or a spray bottle to apply the cleanser to the tire.
We then used a wheel/tire brush to clean and rinse each one. We recorded the data when the tire had dried thoroughly. To begin, we focused on two primary points.
The first thing to look at is how simply the cleaner removes the mud spots from the carpet.
On the other hand, I was surprised at how well it restored the black in the sidewall.

Purple Power is one of our go-to cleaners when dealing with an oily situation in the store.
With this substance, a little goes a long way. It performed an outstanding job of removing the mud stain and restoring a bolder black look, as shown in the photo.
Despite its flaws, Simple Green is a considerably better option than this. This cleaning may be too abrasive for some wheel finishes, so we'd advise caution here.
This makes us highly wary of recommending it. Yes, it does work. However, you'll want to double-check that it won't damage the finish of your wheel.

Simple Green is our favorite all-purpose cleaner. There were still noticeable dirt streaks after using this product over Meguiar's.
It performed a better job of bringing the tire back to its original black color as a step forward.
However, this is not the ideal application for this cleaner. Also, the fluid was not diluted in any way.

Dawn dish soap appears to be the most prevalent cleaner in this test. We used a bottle we found beneath our sink. It was successful in reviving the tire's black color.
However, it was only able to remove the mud stains to a limited extent. Using it as a dishwashing detergent is a no-brainer for us.

To be clear, unless you're cleaning a white wall, we do not advocate using pure bleach on your tires.
Even so, there are cleaning products specifically designed for this purpose. In any case, we wanted to be sure we tested this, as it was yet another of the "sworn by" procedures from the olden days.
Generally speaking, we were pleased with the results.
I was able to get rid of some of the dirt stains and bring back some of the original colors.
Not enough for us to suggest it above other substances we've put to the test. The bleach myth may date back to a time when whitewall tires were more widespread.
These bottles should be stored in your laundry area and away from your vehicle.

A bottle of Turtle Wax Wheel & Tire Cleaner was purchased as a baseline from which to evaluate the other cleansers.
Why did we choose this particular manufacturer? That one was the cheapest one on the shelf.
When you try this brand for the first time, the tire remains restored to its original color, and the sidewall stains are eliminated.
Sidewall lugs may not be thoroughly cleaned, but the majority of the sidewall will significantly improve.
A caution on the label states that this cleaner should not be used with certain aftermarket wheel coatings. So, make sure you read the fine print before you buy.

Car detailers have been using Kaboom bathroom cleansers for years as secret weapons.
We weren't sure what to make of it, but we decided to give it a go. We were astonished at how well it worked.
It was able to remove the mud marks and restore the tire to its original color.
We'd be careful about putting it on your wheels, just like Purple Power. Our test, however, found it to be a high performer.
Difference Between Professional and Homemade Tyre and Wheel Cleaner
Tyre and Wheel Cleaner with Professionals
Various sorts of professional wheel cleaners are available. Cleaners are available for a variety of uses.
These household cleaners do a fantastic job. They last for about a day and a half.
Additionally, these cleaners prevent the wheels from being damaged. Some tire cleaners also include UV protection.
Pros
It will last a long time.

Extra safety measures are included in the package.

Automobile dealerships are an excellent place to find them.
Cons
Depending on the quality, these are pricey.

Chemicals in specific cleansers can affect the environment.

They are composed of hazardous substances.
Tyre and Wheel Cleaner You Can Make At Home
Homemade wheel cleaners may be made using only a few everyday home items. Everything you need is there in your kitchen.
You don't need any extra equipment or resources for this. Adding one element to another is all that is required to get the job done.
These tire cleaners do a fantastic job. It's also safe for the tire and the environment because it's created at home.
They are environmentally beneficial to a large extent. There is no need to spend much time making these DIY cleansers.
Pros
These wheel cleaners are just as eco-friendly as other everyday home items.

It does not harm the wheels in any way.

You won't have to pay extra for this service.

Preparation is quick and easy.
Cons
The quality of the mix influences the effect.

It only exists for a short period.
What's the point of keeping your tires clean if you don't?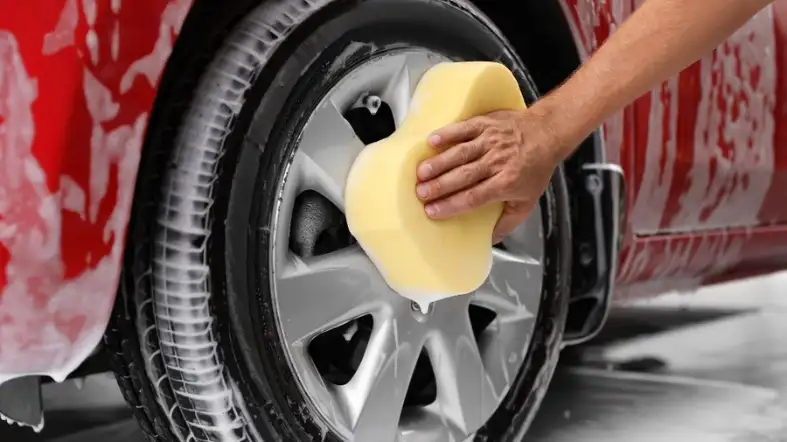 For a vehicle to appear its best, it's imperative that you clean your tires! Keep your car's tires clean, as they're the only portion of the vehicle that comes into contact with the road when you're driving.
Aside from the fact that unclean wheels don't look good, washing your tires is an excellent strategy to prevent corrosion or other damage.
Wheel coatings might peel and become more porous if you leave dirt and dust on the rims for too long (which could create tire pressure leaks).
Maintaining your tires on a regular, bi-monthly basis may help keep them free of salt, dust, and oil accumulation, all of which can shorten the lifespan of your car.
Additional Tips for Car Tire Cleaning
Try to wash your car at a commercial car wash whenever possible since they are legally mandated to recycle gray water and dispose of cleaning products properly.

Before applying any tire-cleaning chemicals, make sure your tires and aluminum wheels have cooled down.

Clean and dry your tires with the same clothes you use to wash the rest of your car. Tire dressing is also an important issue.
Several advantages of Cleaning The Wheels
It is recommended by vehicle manufacturers and dealers alike that you get your tires professionally cleaned on a monthly or bi-monthly basis.
Your tires will last longer and perform better if they are cleaned regularly. As a result, it's a job worth taking on. Some of the advantages to cleaning your automobile tires include:
Increase Efficiency
Clean tires will make driving on uneven terrain much easier if you wish to do so. When a vehicle hasn't been thoroughly cleaned in a while, it can lead to several issues.
Safe and Secures
Clean tires are safe for you. Enhanced braking and more excellent traction can help prevent accidents and loss of vehicle control if the tire grime and wheel wax are clean.
If you leave dust or debris on your tires, it may quickly eat away at the coating and pits of metal, causing them to degrade over time.
Simpler Task
When it comes to keeping your automobile in top shape, frequent tire cleanings are a tremendous help.
If you keep up a regular cleaning schedule, you will save time and work in the long run.
As a result, your automobile will perform better and last longer than any other vehicle that does not receive regular maintenance.
Appeal to The Senses
Clean both the tires to make the automobile appear and feel better than you may expect.
Clean tires enhance the vehicle's visual attractiveness and make it appear new and shining.
Even though you have to drive every day, nobody wants to see tires covered in filth or mud.
Conclusion
Regular tire cleaning is critical for your vehicle. It's a vital component of a thorough exterior automobile washing.
Additionally, regularly cleaning your car's tires is essential to preventing brake dust from splattering onto your vehicle.
Your car's appearance might be damaged if you don't properly clean your car's tires.
We've done our best to answer how to clean tires with household products and the other cleaning issues with everyday home items in this post.
You can clean your automobile tires at home as well as use a professional wheel cleaner.