Ever tried to start your Honda only to hear nothing but a faint click? Could it be a bad starter?
Though Honda is known for its reliability and performance, even the most dependable vehicles can experience issues like bad starters.
In this article, we will dive deep into the world of Honda bad starter symptoms, so you can quickly diagnose and fix the problem.
Keep reading to learn more about the causes, symptoms, and solutions for a bad starter in your Honda vehicle. Don't let a faulty starter ruin your day; knowledge is power!
Top 10 Honda Bad Starter Symptoms 
Unusual Noises During Startup
Pay attention to any strange noises you hear when trying to start your Honda. A grinding or screeching sound may indicate a failing starter.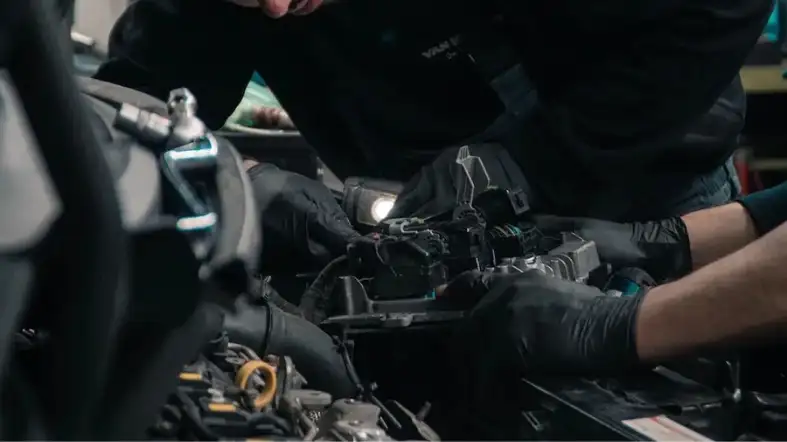 The noise occurs when the starter's gear doesn't properly engage with the engine's flywheel, causing friction and damage to both components.
Frequent Clicking Sounds without Engine Turnover
A clicking sound without the engine turning over often points to a bad starter.
The clicking results from the starter solenoid attempting to engage the starter motor, but the motor doesn't have enough power to crank the engine.
You'll need to address this issue promptly to avoid further damage.
Intermittent Starting Issues
Experiencing occasional difficulty when starting your Honda is another sign of a failing starter.
The problem may worsen over time, leading to more frequent starting issues. If left unaddressed, your car may not start at all, leaving you stranded.
Slow or Labored Cranking
A slow or labored cranking noise during startup suggests that the starter motor isn't generating sufficient power to turn the engine.
This could be due to a worn-out starter or other underlying issues, such as a weak battery or corroded connections.
Dimming or Flickering Dashboard Lights
Notice any dimming or flickering of your dashboard lights when attempting to start your car.
This could mean the starter motor is drawing excessive power, leaving insufficient energy for other electrical components. A faulty starter often causes this issue.
Swollen Starter Solenoid
If you inspect the starter solenoid and find it swollen or visibly damaged, this is a clear indication of a bad starter.
The solenoid may have overheated or short-circuited, leading to its malfunction.
Smoke or Burning Smell from the Engine Bay
A burning smell or smoke coming from the engine bay can signify a failing starter.
This issue arises when the starter motor or solenoid overheats due to continuous cranking.
You should address this immediately to prevent further damage to your vehicle.
Starter Motor Remaining Engaged
A starter motor that stays engaged even after the engine starts is another symptom of a faulty starter.
This could lead to severe damage to both the starter and the engine's flywheel, as they grind against each other.
Freewheeling or Spinning Sound
If you hear a freewheeling or spinning sound when starting your Honda, it's likely the starter motor isn't engaging the flywheel.
This issue is commonly associated with a bad starter and needs prompt attention.
Battery Problems Leading to Starter Issues
Finally, battery issues can contribute to starter problems. A weak or dead battery may not provide enough power for the starter motor to crank the engine.
In this case, it's essential to address the battery problem to prevent damage to the starter.
How to Replace a Faulty Honda Starter: Step-by-Step Guide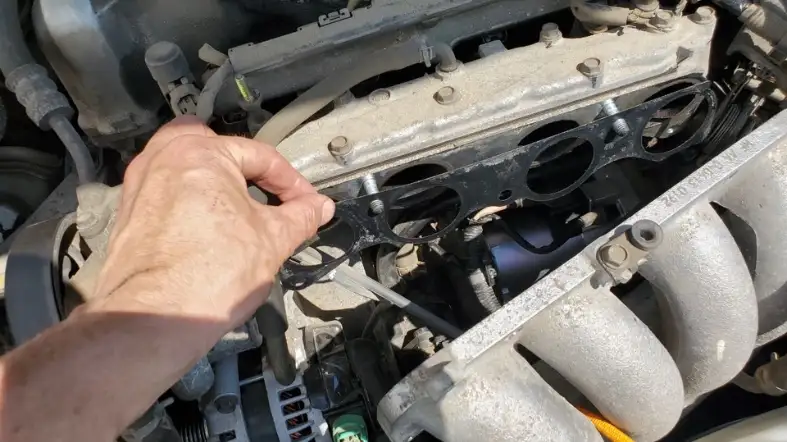 Identify the Faulty Starter
First, confirm that the starter is indeed the culprit behind your Honda's starting issues.
When you turn the key or push the start button and hear a clicking sound, but the engine doesn't turn over, it's a strong indication of a faulty starter.
Make sure the battery and connections are in good shape before proceeding.
Gather Necessary Tools and Supplies
To replace your Honda's starter, gather the following tools and supplies:
A new starter compatible with your Honda model
Socket set with ratchet
Wrench set
Screwdriver
A car jack and jack stands
Work gloves and safety goggles
Disconnect the Battery
Safety first! Put on your work gloves and safety goggles. Then, open the hood and locate the battery.
Disconnect the negative cable from the battery to prevent any electrical shocks or short circuits while working on the starter.
Raise and Support the Vehicle
With the car parked on a level surface, use the car jack to lift the front end of your Honda.
Place jack stands under the appropriate support points to ensure the vehicle remains safely elevated while you work.
Locate and Remove the Starter
Crawl under the vehicle and locate the starter. It is usually found near the transmission, mounted to the engine block.
Note the location of the electrical connections and mounting bolts, as you'll need this information when installing the new starter.
Disconnect the electrical connections, making sure to remember their positions for reattachment.
Using the socket set and ratchet, remove the mounting bolts holding the starter in place. Carefully slide the faulty starter out of the engine compartment.
Install the New Starter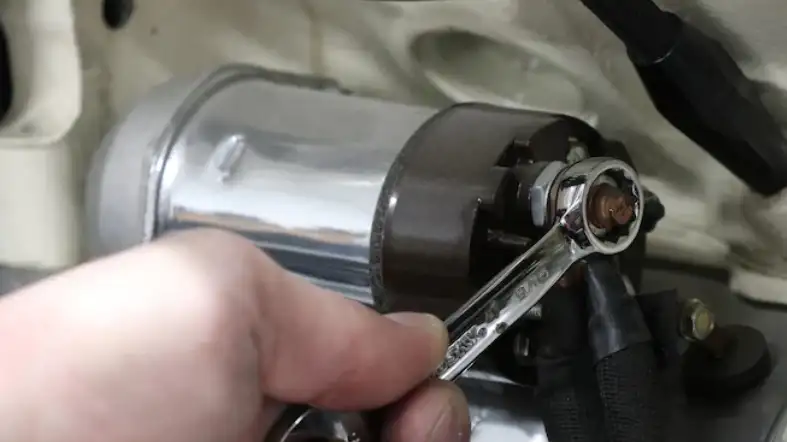 With the old starter removed, it's time to install the new one. Slide the new starter into the engine compartment and align it with the mounting holes.
Tighten the mounting bolts using the socket set and ratchet, ensuring a secure fit.
Reattach the electrical connections to the new starter, making sure they're connected in the same order as before.
Double-check that all connections are tight to avoid any issues during startup.
Lower the Vehicle and Reconnect the Battery
Remove the jack stands and carefully lower your Honda using the car jack. Reconnect the negative cable to the battery, ensuring a snug fit.
Test the New Starter
Now it's time to test your handiwork. Start your Honda to ensure the new starter is functioning properly.
If the engine turns over without any issues, congratulations! You've successfully replaced your Honda starter.
If you still experience starting problems, double-check your work and consult a professional mechanic for assistance.
Preventative Maintenance: Tips for Prolonging Your Honda's Starter Life
Keep Your Battery in Good Condition
A healthy battery reduces the strain on your Honda's starter. Regularly check the battery terminals for corrosion, and clean them with a wire brush when necessary.
Additionally, test your battery's charge with a multimeter to ensure it's providing sufficient voltage.
Monitor Your Ignition Switch
A worn ignition switch may cause starting issues that can be mistaken for a failing starter.
Pay attention to any signs of trouble, such as difficulty turning the key or a loose key slot.
Addressing these problems promptly can help prevent unnecessary wear on the starter.
Inspect Wiring and Connections
Regularly check the wiring and connections between your battery, starter, and ignition switch.
Look for any signs of wear, corrosion, or loose connections. Maintaining a clean, secure electrical system helps your starter operate more efficiently.
Don't Overuse the Starter
Avoid cranking the starter for extended periods, as this can cause it to overheat and wear out prematurely.
If your Honda doesn't start within a few seconds, stop cranking and wait a moment before trying again.
Prolonged cranking may indicate a different issue that should be addressed.
Keep Up with Regular Maintenance
Regular maintenance, such as oil changes and tune-ups, helps keep your Honda's engine in good condition.
A well-maintained engine places less stress on the starter, potentially prolonging its life.
Listen for Unusual Noises
Pay attention to any unusual noises when starting your Honda, such as grinding or whirring sounds.
These could indicate a problem with the starter or its components, such as worn gears or bearings.
Addressing these issues promptly can help prevent further damage and extend the life of your starter.
Don't Ignore Warning Signs
If you notice any issues with your Honda's starting system, such as slow cranking, intermittent starting, or dashboard warning lights, don't ignore them.
Consult a professional mechanic for a thorough inspection and diagnosis.
Catching potential problems early can help prevent more significant issues down the road and prolong the life of your starter.
Common Honda Models and Their Starter Issues
| Honda Models | Starter Issues |
| --- | --- |
| Honda Accord | Faulty solenoid.Worn brushes.Damaged starter motor. |
| Honda Civic | Faulty solenoid.Worn pinion gear.Damaged starter motor. |
| Honda CR-V | Faulty solenoid.Damaged starter motor.Worn brushes. |
| Honda Fit | Faulty solenoid.Worn pinion gear.Damaged starter motor. |
| Honda Odyssey | Faulty solenoid.Damaged starter motor.Worn brushes. |
| Honda Pilot | Faulty solenoid.Worn pinion gear.Damaged starter motor.Weak battery. |
Cost of Starter Replacement: What to Expect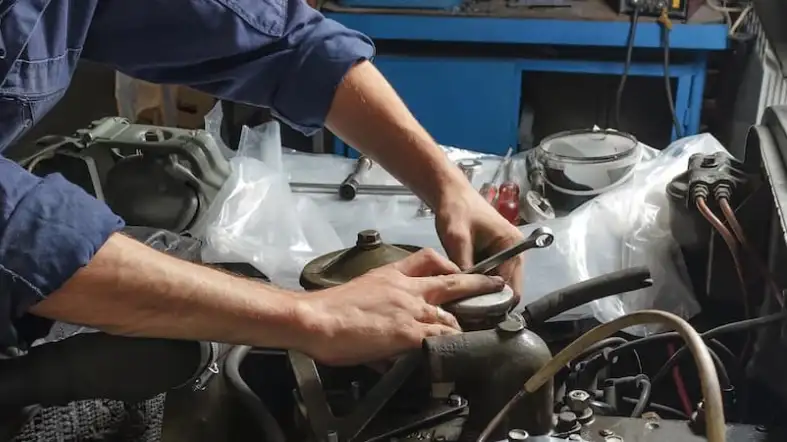 When it comes to replacing a starter, the cost can vary depending on several factors, including the make and model of your vehicle, the type of starter needed, and labor costs in your area. Here's a general breakdown of what to expect:
Parts Cost
The cost of a new starter can range from $100 to $300, with some high-end or luxury models potentially costing more.
The price will depend on the specific starter needed for your Honda model and whether you choose an original equipment manufacturer (OEM) part or an aftermarket option. 
OEM starters typically come with a higher price tag, but they are specifically designed for your vehicle and may offer better quality and reliability.
Labor Cost
Labor costs for starter replacement can vary depending on the complexity of the job and the hourly rate of the mechanic or auto repair shop.
Generally, you can expect to pay between $70 and $150 per hour for labor.
The time it takes to replace a starter can range from 1 to 3 hours, so the total labor cost could be anywhere from $70 to $450.
Total Cost
Considering both parts and labor costs, the total cost for a starter replacement can range from $170 to $750 or more.
Keep in mind that these prices are just estimates, and the actual cost may vary based on your location and the specific requirements of your vehicle.
To save money on starter replacement, you can shop around for the best prices on parts and labor or even consider tackling the job yourself if you have the necessary tools and skills.
However, if you're not confident in your abilities or don't have the proper tools, it's best to consult a professional mechanic to ensure the job is done correctly and safely.
When to Seek Professional Help: Signs Your Honda Needs a Mechanic
It's crucial to recognize the signs that your Honda may need professional attention to prevent further damage and ensure your vehicle remains safe to drive.
Here are some common signs that indicate it's time to seek help from a mechanic:
Difficulty Starting
If your Honda has trouble starting, or you hear a clicking sound when turning the key or pressing the start button, it could indicate a problem with the starter, battery, or another component in the ignition system.
Warning Lights
Dashboard warning lights are designed to alert you of potential issues with your vehicle.
If a warning light comes on, such as the check engine, battery, or oil pressure light, it's essential to consult a mechanic for a proper diagnosis.
Unusual Noises
Strange sounds, such as grinding, squealing, or knocking, can indicate various problems with your Honda.
If you notice any unusual noises coming from your vehicle, it's best to have a professional mechanic inspect it to identify the source and recommend the appropriate repairs.
Poor Performance
A sudden decrease in your Honda's performance, such as reduced acceleration, stalling, or rough idling, could signal a problem with the engine, transmission, or another essential system.
A mechanic can perform a thorough inspection and diagnosis to pinpoint the issue and suggest the necessary repairs.
Leaks
Fluid leaks, such as oil, coolant, or transmission fluid, can cause severe damage to your vehicle if left unaddressed.
If you notice any leaks or puddles under your Honda, consult a professional mechanic to identify the source and repair the leak.
Overheating
An overheating engine can lead to severe damage if not addressed promptly.
If your Honda's temperature gauge reads higher than normal or you see steam coming from the engine, pull over immediately and call a mechanic for assistance.
Unusual Vibrations
If your Honda starts vibrating excessively, especially during acceleration or braking, it could indicate a problem with the tires, suspension, or brakes.
A mechanic can determine the cause of the vibrations and recommend the appropriate repairs.
FAQs
Can A Bad Starter Cause A Check Engine Light To Come On?
While a bad starter may not directly cause the check engine light to come on, it can trigger other issues that could activate the light.
For example, a weak or failing starter can cause a slow cranking engine, leading to incomplete combustion and misfires, which could turn on the check engine light.
Can A Bad Starter Damage My Honda's Engine Or Other Components?
A bad starter can potentially cause damage to other components, such as the flywheel or the starter motor itself.
If the starter remains engaged after the engine starts, it can cause the starter's pinion gear and the flywheel's ring gear to wear out prematurely.
It's essential to address any starter issues as soon as possible to prevent further damage.
How Long Should A Honda Starter Last?
The lifespan of a Honda starter can vary depending on factors such as usage, maintenance, and environmental conditions.
Generally, starters can last anywhere from 100,000 to 200,000 miles.
However, some starters may fail earlier or last longer, depending on individual circumstances.
Can I Replace My Honda Starter Myself?
If you have the necessary tools, skills, and knowledge, you can replace your Honda starter yourself.
However, if you're not comfortable with the process or lack the proper tools, it's best to consult a professional mechanic to ensure the job is done correctly and safely.
Final Words
Identifying Honda's bad starter symptoms is crucial to avoid being stranded with a non-responsive vehicle.
By being aware of the signs, such as clicking or grinding noises and a lack of engine response, you can address the issue promptly and keep your Honda running smoothly. 
Remember, it's always better to consult a trusted mechanic, like our expert John Doe, for accurate diagnosis and professional repair.
Stay informed and maintains your vehicle regularly to ensure a trouble-free driving experience. Safe travels!