Difference Between Motul RBF 600 Vs 660: Which Is Best In 2022?
Feeling nervous between Motul RBF 600 and 660? Relax, you are in right place.
Today we will make it clear for you as well as provide the following information in this guide
Motul RBF 600 vs 660 comparison table
What are Motul 600 and 660?
Key differences between Motul RBF 600 and 660
And much more!
Quick Comparison
Image
Product
Key Features
Price
Motul RBF 660 Dot-4 Synthetic Racing Brake Fluid
● 325 degree centigrade or 617 degree Fahrenheit
● No boiling fluid or brake problems.
Check Price
Motul RBF 600 Factory Line Dot-4 Racing Brake Fluid
● 312 degree centigrade or 594 degree Fahrenheit.
● Helping to prevent vapor lock and brake fade during hard use.
Check Price
Motul 660 Vs RBF 600 Racing Brake Fluid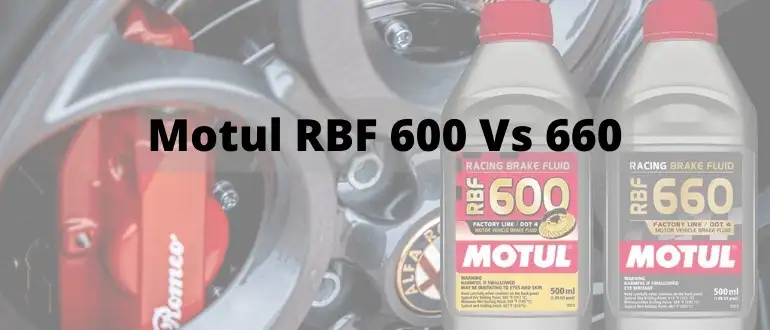 Brake fluids are usually made from glycol that is hygroscopic. Thus these can effectively absorb moisture when exposed despite being just in the air.
However the brake system is a sealed system, but moisture can still make its way through hoses and seals. If it happened after a long time, brake fluid will help absorb moisture and water down them.
At the same time, it degrades the performance or capabilities. Water also helps lower the boiling point to make the fluid work, even in a less effective situation when the car or bike warms up.
So both of the brake fluids will be a great option for any rider who is riding or driving more extremely. However, if you compare, both come with a higher dry and wet boiling point so that you can ensure the braking is performing ideally rather than being abused.
Besides, these are glycol-based brake fluids, and their rating easily surpasses Dot 5 silicone or 5.1 non-silicones. Even, both are equally reliable and come from the same brand. So Motul 600 vs 660 are close brothers and if you ever use Motul 600, then the 660 will feel similar.
However, 660 brake fluids are designed amazingly which makes it more acceptable for extreme applications. If you consider the popularity, then the Motul 600 will come first as it has already worked great and make a position among a range of options.
Apart from the similarities, let's discuss some differences between these two brake fluids so you can choose the better one according to your needs.
Purpose
Comparing both of the brake fluids, likewise other aspects these are both used for car and motorbike. These are made for all types of hydraulic actuated brake and clutch system which needs the synthetic racing brake fluid.
But if you need some extra performance you should go for Motul 600 brake fluids. It greatly helps prevent vapor lock and brake fade during hard use.
So if you have a racing bike or car and want to enjoy the extreme performance, Motul 600 brake fluids will allow you to do so.
Rating
Moving to the brake fluid types, these Motul 600 vs 660 both are DOT 4 type brake fluid as you can see on the name tag and bottle.
Besides, DOT 4 is currently the most used grade. If you don't know about the grade, let me clear to you there are DOT 3, 4, 5, and 5.1 available in the market.
Among them, DOT 3, 4, and 5.1 types are similar to each other as they are made from glycol and allow mixing together if needed.
Apart from these Motul 600 comes in a bit higher advantage. It is designed in such a way that exceeds both DOT 3 and DOT 4 specifications.
Boiling Temperature
Another key difference between these two brake fluids is their boiling temperature. However both of them are made on the same substance, but they aren't the same because of their boiling temperature.
Racing brake fluid should have the ability to take the heat generated from many braking. In this case, 600 fluids can make the job done before reaching boiling point at 312 degrees Celsius.
Especially the feature makes it much better than DOT 5.1 non-silicone based brake fluid. Conversely, 660 brake fluids are even better if you compare with 600 fluids as it is rated to boil at 325 degree Celsius or 617 degrees Fahrenheit.
However both of the brake fluid promotes effective brake in extreme conditions and reduce air entrance for brake cooling, but 660 brake fluids will be better because of their slightly higher performance.
Performance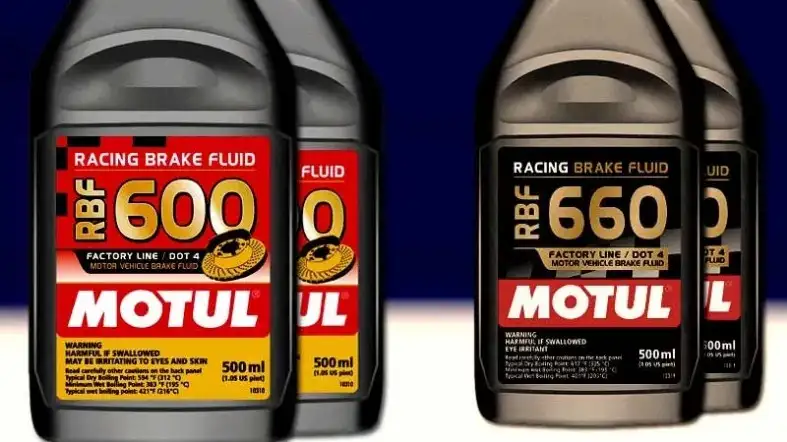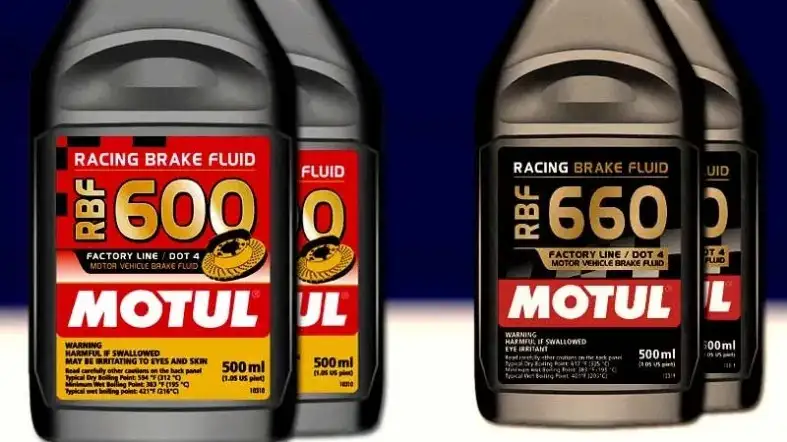 Undoubtedly both of the brake fluids surpassed the higher-rated fluid test easily. Even after deeply comparing both of them, there weren't any differences found in regular aggressive driving or riding.
So it is a bit difficult to choose one while both of them provide the same performance in practice.
Price
Finally, you can consider something that can easily help you choose the one and that is your budget. However both of them are pretty same in the class of purpose, performance, rating, and temperature, but the price makes the biggest difference between Motul RBF Motul 600 vs 660.
While Motul 660 is available at an inexpensive price, Motul 600 will cost you twice if you compare it with 660 fluids. However, price is not the only factor to judge the quality but it will help you make a decision based on your budget.
Final Words
Are you satisfied with this Brake fluid Motul RBF 600 vs 660 combating guide? Though we have delivered complete information about these two brake fluids, but at the end of the day, the decision is yours.
However both of the fluids are top class and ready to offer you quality performance, we will recommend you to choose Motul RBF 660 full Synthetic Racing Brake Fluid.
It's an amazing brake fluid at is surprisingly available at an affordable price even compared with Motul RBF 600 full Synthetic Racing Brake Fluid.